Bentornati su Wanna Be, ladies and gents. Nel momento in cui ho deciso di scrivere questo articolo, Sherlock era ancora in onda, e il mio hype stava raggiungendo livelli astronomici (poi é finito tutto e io sto ancora attraversando le fasi di accettazione del dolore e sono orribilmente ferma al rifiuto. Non mi ci smuoverò mai, mi sa.)
Dunque, siamo qui per capire come diventare Sherlock Holmes – impresa difficile, sì, perché lui é l'unico consulting detective al mondo e comunque guardate quegli zigomi, non sono umani. Ma non tutto é impossibile: ecco a voi i nove (dieci é così mainstream) step per trasformarsi in un perfetto Holmes. Let's go solving crimes together!
1. Il primo passo é talmente banale che non ci sarebbe neanche bisogno di dirlo, ma questa é una guida seria e precisa: dovete essere dei geni. Di maestri di logica. Al vostro cospetto deve impallidire anche il signor Spock e l'intera Accademia delle Scienze Vulcaniana deve inchinarsi e gridarvi cori osannanti di «Lunga vita e prosperità». Dovete essere capaci di capire come si chiama la nonna della cognata della vittima basandovi su una singola scucitura nell'orlo dei pantaloni che indossava al momento dell'omicidio. E dovreste anche sfruttare questo vostro incredibile e del tutto plausibile potere di deduzione con un lavoro inventato, che solo voi praticate, in tutto il mondo. Facile, no? Era ovvio.
Prendere in giro la polizia e far sentire inferiore a voi tutto il resto dell'umanità dovrebbero completare il quadro iniziale. A questo proposito, arricchite il vostro vocabolario di insulti con frasi immortali tipo, «Voltati, abbassi il QI dell'intera strada».
2. Il secondo, fondamentale, vitale step che non potete assolutamente saltare é procurarvi un amico. Ora, non un semplice amico, no. Deve essere L'amico. Quello della vita (nonché l'unico che abbiate mai avuto e che mai avrete in saecula saeculorum), e se é del vostro sesso meglio ancora (tanto non vi scambierete mai intense occhiate piene di unresolved sexual tension facendo sentire a disagio tutte le altre persone presenti nella stanza assieme a voi). Sorprendetelo al vostro primo incontro con una serie di fenomenali deduzioni che vi faranno fare la figura del gran visir degli stalker, a livelli che manco Edward Cullen si sognava. Sarà così affascinato che non potrà resistervi, ma tanto per andare sul sicuro aggiungete anche una strizzatina d'occhio decisamente wanky (Santana Lopez docet), e anche il vostro indirizzo. Così, giusto per non farsi mancare nulla: del resto, non é mica uno sconosciuto incontrato per caso in un laboratorio, ma la vostra persona, e voi l'avete capito perché siete superiore a qualsiasi altro essere umano, come detto nel punto 1. Bless you.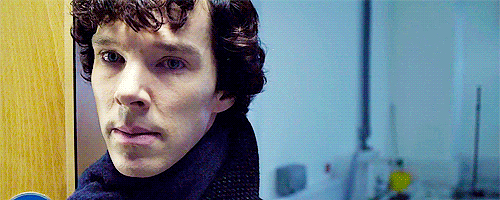 3. Ora, questo passo é più o meno coesistente con l'essere un genio. Almeno, credo. Non mi é mai capitato di essere un genio, purtroppo, prendevo 3 in greco al liceo ed ero veramente scarsa in fisica. Dishonor on me, dishonor on my cow, lo so. Ma ritornando al nostro discorso. Assieme all'essere un umano nettamente superiore alla media, dovete essere anche un incredibile, immenso, gigantesco, colossale, titanico bastardo. Di quel genere che fa venire voglia alle persone intorno a voi di mettervi le mani al collo e stringere finché non diventate blu. O di spingervi sotto alla prima metropolitana che passa. O di buttarvi giù da un edific… Ahah, no. Let's not go there. Insomma, avete capito, no? Se siete così incredibilmente unici e intelligenti e speciali, allora va da sé che dovete trattare il resto del gemere umano come gomme da masticare attaccate alle suole delle vostre perfette scarpe da vero gentleman. Tanto alla fine vi ameranno tutti comunque (*coff coff* siete il protagonista *coff coff*)
4. Da che mondo e mondo ad ogni adolescente alle prese con il primo, vero grande amore si dice IL grande consiglio. Ossia quello di non restare in un angolo a guardare con occhi ardenti l'oggetto delle nostre attenzioni amorose, ma prendere il coraggio a due mani e confessare. E puntualmente, quasi nessun adolescente lo fa, preferendo restare nel suddetto angolo e continuare a lanciare occhiate che se potessero trapasserebbero anche una schermatura contro i raggi gamma. Ecco, sentitevi (obbligati) liberi di seguire questo schema d'azione. Avete presente l'amico di cui si parlava qualche punto più sopra? Ecco, dopo avergli neanche troppo subdolamente detto il vostro indirizzo, dovreste procedere ad intraprendere con lui/lei la relazione più intensa, emotivamente devastante e profonda tanto quanto la fossa delle Marianne che abbiate mai avuto in vita vostra, e che di certo non avrete mai più. Ovviamente, confessare apertamente questo tipo di sentimenti, sentimenti talmente immensi che vi hanno fatto buttare giù da un edific- ahah, no. We keep not going there. Dicevo, confessare questi sentimenti (e thus rendere felici stuoli di fan) é fuori questione. Tutto questo amore che probabilmente é più grande e forte persino di quello di Snow White e Charming di Once Upon A Time dovrà restare meravigliosamente platonico. Quindi ricordate: true love, platonico. Tutti vi chiedono se state assieme? Platonico. Tutti le vostre arci-nemesi sanno che il vostro punto debole é il vostro amico? Platonico. Vi sono concesse solo frasi altamente sibilline come «Sherlock is actually a girl's name.»
5. Il prossimo punto é facile. Perché non solo siete dei geni, siete anche britannici. E questo si riassume in due piccole parole che non hanno bisogno di troppe spiegazioni: SASS KING (o queen, come preferite. Long may you reign)
6. Oltre agli zigomi out of this universe di cui abbiamo parlato all'inizio di questo triste papiro che state leggendo (non so, l'ultima puntata di Teen Wolf vi ha definitivamente sconvolti e per la disperazione siete approdato qui?), é fondamentale nel vostro processo di diventare Sherlock Holmes andarvene in giro nudi. Non tutti i giorni, ovviamente. Ma almeno in un'occasione molto molto importante (dovete incontrare Obama? Portare a spasso i corgi della cara vecchia Lizzie? Andare in qualche palazzo a Roma? Va bene, é tutto perfetto), fate in modo di drappeggiarvi in un lenzuolo e ostentare tutta la carne che state a malapena nascondendo. E quando vi spediranno a mettervi indosso un paio di pantaloni, perché ammettiamolo, siete adulti e il mondo non é un posto così comprensivo come Tumblr, purtroppo, rendete epica la vostra uscita facendo in modo di flashare i presenti con un po' di butt. Perché tutti adorano un po' di butt. Butts, butts everywhere. (N.B., con «i presenti» intendo il vostro immenso e platonico amore di cui si parla così bene nel punto quattro. Not gay at all.)
7. Ora, questo é probabilmente il punto più cruciale e fondamentale e vitale di tutti. Questo punto sta all'essere Sherlock così come Donna Noble sta all'universo (leggasi: the most important woman and feels feels feels). Quando le vostre avventure contro il crimine raggiungono il climax assoluto, risolvete la situazione fingendo la vostra morte. Magari in un bel modo plateale e da come porco grifondoro hai fatto? Tipo buttarvi giù da un edific- ahah, no. Still too painful. Ma insomma, mi avete capita. Fatevi tirare sotto da un treno in corsa, attraversate bendati l'autostrada, fate bungee jumping senza elastico, potete anche essere creativi. La cosa da tenere bene a mente é che deve essere una morte finta, inscenata per salvare il vostro platonico amore, e che vi porterà a stargli lontano per anni, sempre per assicurarvi che sia al riparo da ogni tipo di pericolo. Nel frattempo, sappiate che ci sarà gente che impazzirà e perderà ogni neurone disponibile per capire come abbiate fatto. Ovviamente, non degnatevi di dare una spiegazione che fosse una su come ci siate riusciti. Ma questo ça va sans dire.
8. Avrei potuto parlarvi di come fare un comeback spettacolare dopo la vostra finta morte, MA, nope, plot twist. Il nostro penultimo punto comprende un matrimonio, un discorso strappalacrime e una morning suit perfettamente stirata. Quando sarete invitati al matrimonio del vostro ormai famoso platonico amore (sempre lui, sì. Dev'essere una costante nella vostra vita, ancora non é chiaro?) fate il più bel discorso da testimone d'onore che sia mai stato sentito nella storia dei matrimoni ever. Un discorso in cui in realtà infonderete tutte le dichiarazioni che vi siete tenute ben strette tra i denti nel tempo che avete passato a correre da una part all'altra della città a sventare possibili catastrofi immani. Così farete sospirare le signore, applaudire i signori, e commuovere il suddetto amore (e far ululare di dolore e disperazione le fangirls. Do you hear the fandom cry?). Perfetto, no?
9. Il nostro ultimo punto non ha bisogno di parole e presentazioni. Basta un'immagine. Dovete essere capaci di fare questo. Non si discute. Esercitatevi davanti allo specchio e fatelo. E finalmente sarete i perfetti Sherlock Holmes.
Bene, sono ufficialmente deceduta. É stato un onore scrivere questo articolo per voi. Venitemi a trovare, e a dire alla mia lapide, "One more miracle. For me. Don't be dead." E non dimenticatevi di seguire le pagine Together We Fandom e Sei Telefilm Dipendente Se… . Alla prossima!