Cari British Addicted, sarà la primavera o sarà un regalo per la Pasqua, fatto sta che questa settimana abbiamo un appuntamento davvero molto ricco di news! Direi allora di non perderci in chiacchiere e di entrare subito nel vivo della nostra rubrica.
Per prima cosa andiamo a Buckingham Palace per due succulenti casting. "
The Crown
", dopo aver trovato in Olivia Colman la sua nuova regina, ha finalmente un volto anche per la principessa Margareth e per il principe Filippo: nella terza stagione infatti vedremo niente meno che
Helena Bonham Carter
e
Tobias Menzies
("
Outlander
", "
Game of Thrones
" e il recente "
The Terror
"). Dopo i vari
rumours
sulla possibile scelta di Hugh Laurie e Paul Bettany per interpretare il ruolo che era stato fino alla scorsa stagione di Matt Smith, alla fine è stato il magistrale interprete di Black Jack Randall ad avere la meglio – una notizia a sorpresa, ma indubbiamente sarà in grado di fare un ottimo lavoro.
Passiamo ora alla Cornovaglia per darvi un piccolo sguardo sul nuovo look di Ross Poldark. Nella quarta stagione di "Poldark" il nostro intrepido capitano concorrerà per entrare a far parte del parlamento e dovrà quindi abbandonare i suoi classici abiti per un qualcosa di più impostato e raffinato. Cappello nuovo o meno, lo sguardo intenso di Aidan Turner rimane sempre una certezza.
Una buona notizia per chi di voi ha seguito (o sta seguendo) "Save me", il drama di Sky Atlantic con protagonisti Lennie James ("The Walking Dead") e Suranne Jones ("Doctor Foster"): grazie agli ottimi ascolti della prima messa inonda, infatti, lo show è già stato rinnovato per una seconda stagione. le riprese inizieranno nel 2019 ed i due protagonisti sono stati confermati; per avere invece maggiori informazioni sul resto del cast dovrete aspettare i prossimi appuntamenti e vi terremo aggiornati.
Facciamo ora una breve incursione nel mondo di "Doctor Who".
La star dello show targato BBC One "Would I lie to you?", Lee Mack, ha rivelato che probabilmente ricoprirà un piccolo ruolo nella prossima stagione dello show. Da grande fan (per sua stessa ammissione, possiede infatti una riproduzione del Tardis ed una di un Dalek) ha praticamente pressato Chibnall e la produzione affinchè gli fosse concesso di essere in qualche modo a fianco di Jodie Whittaker. Non c'è stata nessuna conferma ufficiale da parte della BBC, ma sarebbe la realizzazione del sogno di qualunque fan del Dottore.
Per Pearl Mackie, che ha interpretato l'ultima companion del Dodicesimo Dottore Bill Potts, c'è all'orizzonte un nuovo progetto. Si tratta di una radio comedy (che sarà trasmessa da BBC Radio 2) dal titolo "Proposal" che ruota appunto attorno agli imprevisti comici di una proposta di matrimonio. Pearl interpreterà Lucy, la futura sposa, e al suo fianco ci sarà Jamie (Joe Thomas di "The Inbetweeners"). Ovviamente non vediamo l'ora di rivederla anche sul piccolo schermo!
Dopo il grande successo di "The Hollow Crown" (che aveva portato sul piccolo schermo l'adattamento di grandi classici di Shakespeare quali Riccardo III, Enrico IV e Enrico V, con protagonisti di grande talento come Jeremy Irons, Tom Hiddleston e Benedict Cumberbatch), il regista Richard Eyre si prepara al debutto su BBC Two di "King Lear". Come sempre ci sarà un cast d'eccezione: Anthony Hopkins sarà il protagonista, affiancato da Emma Thompson, Emily Watson, Jim Broadbent, Andrew Scott, Tobias Menzies e Christopher Eccleston. Per tutti gli estimatori del Bardo e non, sarà una gioia per gli occhi e per lo spirito, una vera esperienza catartica.
Un altro grande classico potrebbe presto avere un suo adattamento televisivo. ITV ha infatti confermato che lo sceneggiatore di "Orgoglio e Pregiudizio" e "Guerra e Pace" Andrew Davies sta lavorando a un progetto sul capolavoro di Victor Hugo "Notre Dame de Paris". Non ci sono ancora conferme ufficiali, ma Tom Hollander ("The Night Manager", "Taboo") avrebbe espresso il desiderio di interpretare Quasimodo. Hollander e Davies hanno già collaborato in passato, per cui l'ipotesi di un nuovo sodalizio artistico non è da escludere. Come sempre vi terremo aggiornati su qualsiasi novità in merito.
Per la sezione news è tutto, lascio la parola a Syl per il British Addicted Consiglia di questa settimana.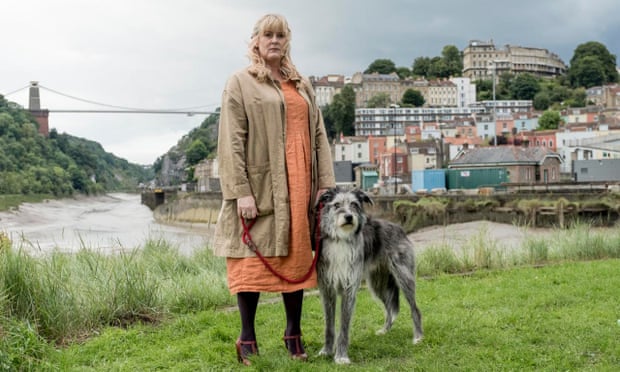 Sarah Lancashire è una magnifica attrice britannica di enorme talento e lo è soprattutto come protagonista della miniserie in quattro puntate, Kiri, in cui veste i panni (stravaganti) di Miriam, un'assistente sociale dalla vita un po' trasandata, con alcuni dolori alle spalle e un sistema di coping che la tiene in piedi e che non è esattamente il migliore che si possa augurare a un essere umano.
Miriam si dedica con amore, passione e intensa devozione al suo lavoro, che è il centro della sua vita disordinata e solitaria. È una donna molto sensibile, tenace, è arguta, volitiva, ha una mente affilata, e sa prendersi ottima cura dei minori che deve tutelare. Tiene a ciascuno di loro quanto e più di quello che la sua professione prevede e ha poca pazienza con tutto il resto, politica compresa.
Il suo unico compagno, il suo unico centro emotivo – tralasciando la madre con cui ha un rapporto ferocemente spassoso -, è un cane altrettanto trasandato che si porta in giro ovunque.
Nel suo lavoro Miriam si affida grandemente al suo istinto,  spesso forzando le regole – senza mai spostarsi nell'illegalità o compiendo scelte irresponsabili – e qualche volta facendo pressione perché le cose avvengano secondo quello che crede sia il bene di tutti, soprattutto – e forse esclusivamente – quello dei bambini.
La serie si apre presentandoci Kiri, una bambina nera che sta per essere adottata da una famiglia bianca, che si è deciso, su indicazione di Miriam, che frequenti occasionalmente da sola, cioè senza supervisione, la casa dei nonni, per una sorta di "continuum culturale". Ovvero, la bambina ha bisogno di stare con persone che condividano le sue radici,  il suo retaggio, qualcuno a cui possa assomigliare e da prendere a esempio, cosa che non può avvenire nella famiglia affidataria e nel quartiere in cui abita.
La bambina stessa se ne rende conto ed è al corrente del motivo di questa decisione.
"I'm black, I need to find out how black people live, I get it."

Succede il peggio. Kiri scompare e la situazione degenera spostandosi immediatamente sul piano politico e, alla fine, si trasforma in una battaglia razziale che ha al centro, come unico capro espiatorio, Miriam. Le si dà colpa di aver voluto favorire l'identificazione culturale di Kiri invece che provvedere alla sua sicurezza. Agli occhi dell'opinione pubblica, Miriam è LA colpevole. Come si può immaginare, le cose per lei si fanno drammatiche, ma nonostante questo non perde mai la forza di difendere il proprio operato.
La faccenda nel tempo si complica e si arricchisce di più piani narrativi e interpretativi che coinvolgono diversi personaggi, tutti ottimamente interpretati dagli attori coinvolti.

È una storia che sulla carta può apparire molto cupa, e lo, è tratti. Ma è anche accompagnata da uno humor persistente che alleggerisce la tragedia, pur non sminuendone mai la portata. Sono rappresentati momenti di solitudine così estrema da farmi chiedere come possa la gente sopravvivere a tanto. Ma ci sono altrettanti momenti di condivisione e solidarietà che scaldano il cuore e ci fanno credere che il mondo, tutto sommato, non sia un posto tanto orribile.
Su tutto emerge il personaggio di Miriam, insolito, sopra le righe, capace di accettare e farsi carico di tutto lo schifo che le riversano addosso, senza mai traballare nel rivendicare la sua assoluta e totale convinzione di aver fatto la scelta giusta. Per Kiri. E per tutti gli altri venuti prima di lei.
Eccovi il trailer.
Anche per questo appuntamento abbiamo finito, Buona Pasqua e alla prossima!
Un saluto alle pagine affiliate e a rileggerci tra due settimane!
Gli attori britannici hanno rovinato la mia vita – British Artists Addicted – Sherlock Italy – Sherlock BBC Italia – Sherlock Italia – take care of Jenna Louise Coleman Italia – » Same old, same old just Jenna Coleman & Peter Capaldi – Don't be a warrior, be a D o c t o r ϟ – Emma Watson Fans – Downton Abbey Italia – The Crown Italia – An Anglophile Girl's Diary – The White Queen Italia