Come sempre la Scuola Salvatore non finisce mai di stupire: questa settimana ho quasi pensato di trovarmi davanti Aragog e Hagrid. Naturalmente il magico trio ha sconfitto la creatura malefica anche questa volta!
Voglio trovare un nome per questa friendship Hope-Lizzie-Josie: facciamo Hozzie? Oppure Johozzie? Sì, va bene, non si possono sentire ma ammettiamolo: queste tre insieme fanno faville. Si è capito che mi piacciono?
Bando alle ciance e ciancio alle bande, siamo qui per parlare di questo episodio. La scorsa settimana vi avevo lasciato dicendovi che secondo me il responsabile degli attacchi a Sasha e Dana era Kaleb. E naturalmente sbagliavo. Il mio Sherlock Holmes interno dev'essersi addormentato.
Scopriamo infatti che la scomparsa delle ragazze è causata da un ragno gigante (ecco quindi il mio appunto iniziale su Aragog) che ha morso Dana facendola morire squagliata: questa scena è stata raccapricciante. Vi giuro, ho distolto lo sguardo. Ho sopportato tante scene splatter ma questa… no, anche no. Ho quasi preferito Connor mezza faccia, il ragno e pure il badass della prossima settimana.
Nonostante Kaleb non c'entrasse nulla con la scomparsa delle ragazze, è pericoloso.
Quanto meno a me dà questa impressione. L'ideologia che ha di voler mettere davanti a tutti e tutto i vampiri mi fa rabbrividire. E non vorrei che portasse su questa strada anche MG, che dopotutto è "un bravo ragazzo", ossessionato dai fumetti: dopotutto è grazie a lui che si scopre la vera identità del mostro di questa settimana (e, per la cronaca, chapeaux a Julie Plec per il "crossover" con The Flash e Scream).
Comunque, ricapitolando: a Mystic Falls ci sono vampiri, streghe, licantropi, ibridi e diciamo che a questi ormai ci avevamo fatto l'abitudine, ma se non bastasse abbiamo visto draghi, gargoyle e ragni giganti. Ma come diceva Elena Gilbert: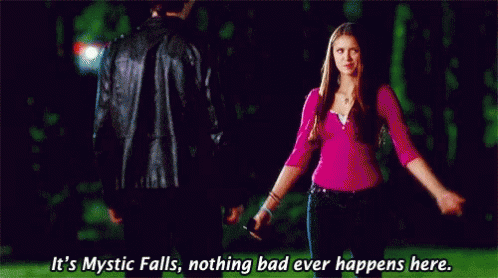 E in tutto questo casotto chi c'è come sceriffo? Matt Donovan.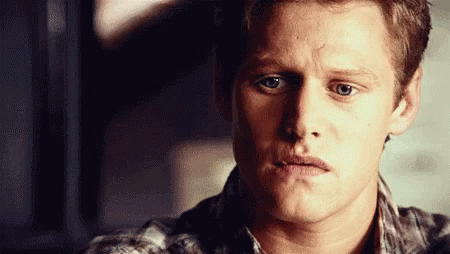 Fa già ridere così, vero? Sì, in effetti sì. Eppure lui è lì, umano da sempre, sopravvissuto a tutto e ora fa il gradasso con Alaric: "Faccio questo lavoro da tempo, Ric", probabilmente da due o tre anni. "Se i tuoi ragazzi rappresentano un pericolo ci penso io". Davvero? No, vi prego, ditemi quando questa cosa succederà perché voglio essere fisicamente presente. Pop-corn e bibitona non me li toglie nessuno. Matt, tesoro mio, non t'allargare che ti è andata bene finora. Non esageriamo con la dea bendata, eh. Cosa dici? Fai il bravo?
Mi è dispiaciuto vedere Landon messo da parte. È vero che è un personaggio che ancora non abbiamo conosciuto a fondo, ma vedere che il gruppetto di "amici" l'abbia rilegato in un angolo non mi è piaciuto. Ripeto, è un personaggio ancora avvolto nel mistero, per il quale avremo parecchio da dire e da discutere prossimamente. In realtà non è un personaggio che amo molto, tra tutti quelli che ci hanno presentato finora è quello che se venisse sacrificato non mi dispiacerebbe. Ma sicuramente ci sono piani per lui che conosceremo chissà quando.
Josie e Rafael sembrano dover seguire strade separate a causa della gerarchia sociale: Rafael ha bisogno di sottomettersi all'alfa licantropo per rimanere a scuola e fuori dai guai, Josie lo osserva da lontano ma intanto è pronta per iniziare una rivoluzione.
Forse combatterà per la loro amicizia, forse per altro? Per ora si accontenterà di usare la fiducia che ha trovato per ottenere risposte da suo padre e, sopratutto, per farsi ascoltare.
Lo spero per lei, e anche per la sorella. L'ho detto e lo ripeto ancora: spero che Alaric si dia una svegliata e si metta a fare il padre per queste due ragazze. Si meritano una famiglia o quanto meno quello che resta.
Prima di lasciarvi alla top 3 di questa settimana mi chiedo: Jeremy Gilbert si è già volatilizzato nel nulla? Non sarebbe stato utile averlo nei paraggi?
Top 3 (per questa volta faccio 4, ma solo per questa volta)
Il discorso di Hope
Nel momento in cui MG ha dovuto soggiogare Sasha, Hope ha parlato con il cuore, ci ha detto quello che prova per la perdita di così tante persone a lei care, ed è stato un bellissimo momento, triste ma molto bello. E se n'è accorta pure Lizzie… questo ci fa riflettere.
Lizzie che si offre volontaria
Quanto ho riso in questa scena. Premetto che quando c'è lei la risata è assicurata, ma il richiamo ad Hunger Games è stato epico. Non che le cose si eguagliassero naturalmente, ma dopotutto "questo è quello che fanno gli eroi", no?
Landon che cerca di sconfiggere il ragno con un bastone
Va bene che vuoi farti accettare, va bene che non vuoi essere inferiore agli altri, ma… sei serio? Un bastone? Sei pari ad Alaric che chiude i cancelli per tenere i draghi lontani. E non è un complimento, però mi hai fatto sbellicare dalle risate.
Hope è una Pussicat – Welcome to Riverdale
Post muto.
Bonus
Avete capito che si sono delineate le ship della stagione, vero? Nonostante non siano come le volevo, questo è quanto.
Che squillino le trombe, che rullino i tamburi: Habemus Ship.
Vi lascio con il promo della prossima settimana dove finalmente scopriremo qualcosa in più su Landon. Sarà un umano? Sarà una creatura magica? Non ci resta che attendere.