Bentornati a Wanna Be, dove dispensiamo consigli per diventare come i nostri personaggi preferiti (ma parlandoci chiaro, avete visto in quanti casini finiscono? Volete davvero essere come loro?). E questa settimana, il nostro argomento é un lupo mannaro. No, non Jacob Black. Please. IL lupo mannaro. Derek «Mai una gioia» Hale.
Dunque, i passi per diventare Derek sono davvero semplici, in realtà. Quindi dopo esservi procurati un paio di lenti a contatto blu e aver chiamato il tatuatore per la vostra triskele sulla schiena, leggetevi questi punti. And then let's howl to the moon all together!
Partiamo dal background. Mai come nel caso di Derek il detto «parenti serpenti» fu più vero. Dovete portarvi sulla schiena un bagaglio infinito di family issues (é fumo quello? Sta bruciando qualcosa?), che comprendono soprattutto uno zio psicopatico dalle smanie di potere paurose, una sorella maggiore uccisa dal suddetto zio psicopatico, e una sorella minore che credevate morta ma che ritrovate dopo anni giusto in tempo per farvi inseguire in una notte di luna piena, in un turbinio di zanne e artigli e altre cose potenzialmente letali. Facile, no? E ho lasciato fuori la parte in cui ammazzate la vostra ragazza vicino ad un albero magico, dopo che avete cercato di farla Mordere ma le cose non sono andate esattamente secondo i piani.
Forse proprio per questo vostro tragico passato, non siete di molte parole. Del resto, é comprensibile, dovreste essere fortunati di non esservi trasformati in maniaci omicidi. Quindi non parlate mai più del necessario. Un grugnito qui e un cenno del capo là sono più che sufficienti per comunicare col mondo esterno. Ma nel caso ci fosse qualcosa di così importante da farvi aprire bocca, ricordatevi di abbondare in minacce. Sempre. Come se piovessero. A questo proposito, se posso consigliarvene una particolarmente efficace, io voto per «I'm gonna rip your throat out with my teeth» (che non dovrebbe suonare sexy, vero? Oh god, that's a problem)
Ragionando logicamente dal punto due, abbiamo stabilito che non dovete essere particolarmente ciarlieri. E se non vi sentite in vena di faticare, per dare voce ai vostri pensieri vi dovrebbero bastare- le sopracciglia. Quindi esercitatevi davanti allo specchio per perfezionare la perfetta alzata di sopracciglio che racchiude in sé tutta una serie di concetti, che possono essere tranquillamente riassunti come sass. E too Hale to care. E cose simili.
Mi sono forse dimenticata di citare che dovete essere una montagna di muscoli. Più alla Captain America che non alla Thor (stile orso grizzly, quindi), ma sì, tenervi in forma é fondamentale. E quindi, guardatevi: bicipiti importanti, taciturni, dal tragico passato. Cosa vi manca a completare il tutto? Una giacca di pelle. Non uscite mai di casa senza la vostra giacca di pelle, per l'amor del cielo. E magari una canotta bianca sotto non guasterebbe. E non preoccupatevi a farvi la barba. Del resto siete lupi mannari, ai peli ci siete abituati. Infine, una macchina veloce. Di quelle che fanno le fusa, quando si accende il motore. Perché, chiederete voi, se tanto sono una creatura sovrannaturale e posso correre molto più veloce? Non fate domande e basta. La macchina completa l'attitude da bad boy. Leather and fast cars and big muscles. Sono la triade perfetta.

(do you find this- distracting?)
Nonostante tutta la vostra prestanza fisica, ehm, come dire, potete anche evitare di essere combattenti perfetti. Potete allenarvi e sudare e faticare, e credere di essere il prossimo Jackie Chan, ma rassegnatevi, le prenderete comunque sempre. Da chiunque, in qualunque scontro. Se mai combatteste contro un bambino di cinque anni, troverebbe il modo anche lui di farvi il c*lo.

(é inutile che mostriate le zanne, tanto le prendete comunque)
Sarà forse conseguenza del vostro non essere particolarmente fortunati quando si tratta di menar le mani, ma se mai decideste di diventare Alpha, sappiate che non farete un grande lavoro. Quindi non stupitevi quando il vostro zio psicopatico (vi ricordate di lui?) vi dirà che non siete esattamente l'alpha of the year. Avete tante altre qualità. Avete una giacca di pelle. Quella consola sempre.
Ora, questo punto é fondamentale. Senza questo, non si può neanche sperare di avvicinarsi ad essere come Derek Hale. Siete pronti? Dovete avere una passione per i cattivi. E non nel senso del Loki's Army, quella é un'altra cosa. Nel senso che dovete essere sistematicamente attratto dal cattivo di turno che cerca di fare fuori voi e tutti i vostri amici e in generale il genere umano, anche. Una cacciatrice di creature sovrannaturali che poi brucerà la vostra casa uccidendo tutta la vostra famiglia? Il vostro primo amore. Una druida passata al Lato Oscuro della Forza che se ne va in giro sacrificando gente tagliandoli la gola che neanche a Catelyn Stark durante le Nozze Rosse? La donna con cui provate a ricominciare. Insomma, su questo stile. Portatevele a letto e state pure sicuri che si riveleranno essere pazze assassine. Al che mi viene da dire una cosa. Datevi agli uomini.
E questi ci porta al punto successivo. Avete presente quel ragazzino che probabilmente pesa un terzo di voi, é palesemente minorenne, e al quale avete chiesto, più o meno la seconda volta che vi scambiavate un paio di parole, di tagliarvi un braccio con una sega elettrica? Quel ragazzino che vi ha tenuto a galla per due ore in una piscina mentre un'inquietante creatura che sembra uscita da un sexy club é pronta a farvi fuori? Ecco, lui. Fedeli alla vostra tradizione del non parlare, non dovete dire assolutamente niente. Ma é chiaro per tutti che siate molto passive aggressively in love. Quindi sostituite le parole che renderebbero felici tutto il fandom a lunghe occhiate, costante preoccupazione, protezione, e sogni. Sì, dovete sognare di lui. Dev'essere la vostra ancora. E se ancora non avete capito che ne siete innamorati, svegliatevi, cosa aspettate? Inoltre, mi sembra che questo suddetto ragazzino sia stato recentemente posseduto da un malvagio demone giapponese. Ergo, é diventato il cattivo. Coincidenza? Io credo di NO!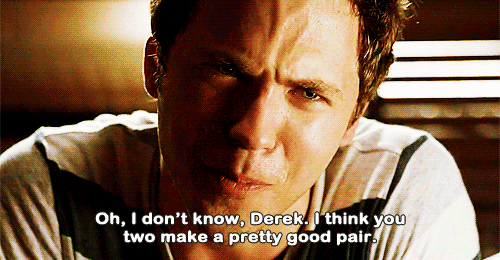 (nonostante tutto, matt aveva capito le cose veramente importanti della vita)
L'ultimo, fondamentale passo é questo. Dietro a tutta la vostra facciata da pezzo di ghiaccio intoccabile, dovete nascondere un'animo da mamma orsa, o meglio, mamma lupa. Quindi lasciatevi circondare da un branco (é proprio il caso di dirlo) di adolescenti in piena crisi ormonale. Roteate gli occhi ogni volta che aprono bocca e guardateli male, ma proteggeteli e difendeteli e guidateli. E poi soffrite brutalmente quando verranno uccisi uno dopo l'altro sotto i vostri occhi. Perché alla fine non sarete stati l'alpha of the year, ma ve l'avevo detto che avevate altre qualità, no?
Ci tengo a sottolineare che questo articolo é incentrato su Derek, e che comunque é stato scritto molto prima della 3×21 e di Allison. E vi assicuro, quest'ultimo punto é stata una sofferenza. Per consolarvi un po', e in attesa dell'articolo della prossima settimana, non dimenticate di passare dalle pagine Together We Fandom e Sei Telefilm Dipendente Se… . Alla prossima!