Ciao a tutti addicted e bentornati nel mondo delle curiosità telefilmiche, che in questo nuovo appuntamento si concentrerà su alcune memorabili "prime volte" nel mondo della serialità.
Ormai molte barriere sono state abbattute quando si pensa alla produzione di una serie tv, non ci si scandalizza più alla vista di un nudo frontale completo né all'uso di un linguaggio più colorito… eppure pensate che, all'inizio, anche qualcosa di apparentemente "innocuo" come il rumore di una flatulenza onscreen poteva essere considerato "rivoluzionario" all'interno del panorama televisivo.
Beh, se con i decenni siamo arrivati alla moltitudine di stili e generi diversi, con tutte le sfumature che possiamo trovare oggi, lo dobbiamo di certo a diverse tappe nello sviluppo della serialità… ve ne elenchiamo giusto un paio qui di seguito.
La prima volta che… una serie ha usato il suono dello sciacquone
Partiamo con quella che potrebbe a tutti gli effetti sembrare una banalità, tanto quanto la poco più su menzionata prima flatulenza perfettamente udibile in un programma televisivo broadcast (cosa che, per la cronaca, sembrerebbe risalire agli anni '60, all'interno dello show The Smothers Brothers Comedy Hour): il rumore di uno sciacquone. Niente di più quotidiano, verrebbe da pensare, eppure dobbiamo aspettare gli anni '70 per sentirlo in tv, nella serie All In The Family.
Al di là di questo "primato" decisamente più dozzinale, allo show sono in realtà da attribuire molti meriti dal punto di vista contenutistico, trattandosi di una delle prime serie di stampo comedy ad aver inserito temi considerati precedentemente poco consoni al medium: l'aborto, l'antisemitismo, l'omosessualità, la menopausa e l'impotenza, solo per menzionarne alcuni.
La prima volta che… è stata trasmessa una serie animata pensata per un pubblico adulto
Anche questa sembra una curiosità scontata, soprattutto visto che oggi il panorama televisivo abbonda di prodotti che rientrano in questa categoria.
Ma sebbene I Simpson abbiano rivoluzionato la tv americana fin dalla loro introduzione nel palinsesto Fox nel 1989, vedendo poi il proliferare di prodotti dal format simile negli anni successivi, come molti non più giovanissimi ben sanno non sono stati loro i pionieri dell'universo dei cartoon a nascere come prodotto non specificamente per bambini (pur avendo catalizzato il dibattito sui contenuti espliciti per via del fatto che nel periodo di lancio dello show il medium animato venisse ancora per gran parte associato a giovani fruitori). Ancora negli anni '90, il merchandise e le repliche televisive de I Flintstones erano molto comuni.
Seppur non fossero presenti la densità di linguaggi e situazioni ritenute non adatte ai più piccoli de I Simpson, anche questa serie animata nata nel 1959 è da considerarsi indirizzata a un pubblico adulto, specialmente nei primi anni di corso in cui era sponsorizzata dalle sigarette Winston (marchio interessato, ovviamente, a usare tale sponsorizzazione per raggiungere con spot ad hoc il proprio mercato di riferimento… decisamente non i bambini!).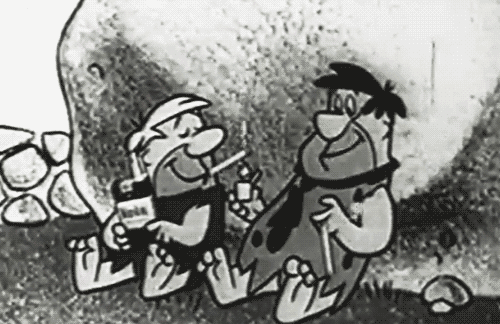 La prima volta che… una serie ha mostrato un bacio "interraziale"
La diversità all'interno di molti prodotti televisivi (o più spesso la sua mancanza, sebbene ricorderete che in queste pagine vi abbiamo anche raccontato di casi in cui è l'estremo opposto a creare perplessità nello spettatore) è senz'altro un argomento sentito di questi tempi. Ma se cinema e televisione si stanno gradualmente aprendo a storie che parlino alle persone e di persone di estrazioni sociali di tutti i tipi lo si deve anche a importanti tappe nella storia seriale, come l'introduzione nelle trame di personaggi che non rispondessero solo alle caratteristiche fisiche preponderanti dei decenni passati.
Un'importante tappa in questo senso è stata segnata da una delle serie di genere sci-fi più amata di tutti i tempi: Star Trek. La serie classica ha il merito di aver presentato per la prima volta una donna di colore (Nichelle Nichols) in un ruolo continuativo come co-star. Ciò ha non solo portato la Nichols alla fama mondiale, cosa che col tempo le ha anche permesso di vestire i panni di attivista per i diritti civili nella vita reale, ma ha consegnato alle cronache un altro importante primato: quello di primo bacio televisivo tra due persone di colore diverso.
Per quanto ciò sembri banale oggi, l'episodio 3×10 "Plato's Stepchildren" ha segnato un enorme passo avanti. Sebbene non si trattasse di un bacio prettamente romantico (il Capitano Kirk e Uhura sono "costretti" a farlo dai poteri telecinetici di un gruppo di alieni), l'importanza del gesto si misura anche nel contesto in cui è andato in onda: l'episodio è stato trasmesso nel novembre del 1968, ad appena dieci anni dai primi sondaggi Gallup che dimostravano come allora oltre il 90% della popolazione americana guardasse ancora con dubbio al matrimonio tra bianchi e neri.
La prima volta che… una serie ha mostrato un bacio gay
Rispetto al punto precedente, per arrivare a parlare di un'altra fetta di pubblico in passato praticamente mai rappresentata in tv il passo è breve. L'omosessualità è stata trattata come una sorta di tabù nell'arco dei decenni in gran parte degli show televisivi, facendo scalpore quelle rare volte in cui si accennava vagamente all'orientamento non eterosessuale di un personaggio.
La prima effusione esplicita tra personaggi dello stesso sesso in un telefilm deve aver per forza causato qualche critica di troppo: siamo nel 1991 e la serie è L.A. Law, procedural della NBC.
Lo show non era ovviamente il primo a presentare personaggi dichiaratamente gay sul piccolo schermo: il New York Times considera quella in That Certain Summer (film per la televisione del 1972 in cui un padre divorziato cerca di nascondere a suo figlio la propria relazione con un altro uomo) "la prima rappresentazione favorevole di persone gay in tv", e in seguito sono apparsi personaggi omosessuali anche in altri telefilm quali Hot l Baltimore e Soap.
L.A. Law è stato però il primo a mostrare apertamente un bacio appassionato tra due donne (C.J. Lamb e Abby Perkins), cosa che ha fatto ricevere al network decine telefonate (di cui la gran parte negative) dopo la messa in onda dell'episodio in questione. Ciò fortunatamente non ha impedito alla serie di proseguire il suo corso e rompere anche altri tabù, oltre a vincere diversi Emmy negli anni a seguire.
Se molti di voi ricordavano invece il terzo season finale di Dawson's Creek, l'episodio in cui Jack lascia finalmente cadere le proprie restrizioni e bacia Ethan, come il primo bacio gay in tv, non avete sbagliato di molto: si tratta infatti del primo in assoluto tra due uomini.
La prima volta che… una serie è stata premiata dalla Television Hall of Fame
La Television Hall of Fame nasce nel 1984 per premiare coloro che hanno contribuito con maggior successo allo sviluppo del panorama televisivo statunitense. Siamo nel 1990 quando, per la prima volta, a ricevere questo onore oltre a singole personalità è una serie tv: I Love Lucy, sitcom andata in onda tra il 1951 e il 1957, con protagonista Lucille Ball (già insignita dello stesso premio nella prima edizione degli award).
La serie è nota da noi come Lucy ed io ma non è popolare quanto in patria, essendo stata trasmessa in Italia per una sola stagione, per di più incompleta: solo 13 degli originali 35 episodi. Si tratta in realtà di uno dei prodotti statunitensi di maggior successo di sempre, essendo stato lo show più guardato per ben quattro delle sue sei stagioni (raggiungendo in alcune occasioni un record di oltre il 70% di audience ed essendo stata la prima serie a chiudere i battenti al di sopra dei Rating Nielsen, obiettivo in seguito raggiunto solo da The Andy Griffith Show nel 1968 e da Seinfeld nel 1998). È considerata la sit-com più influente di sempre, votata nel 2012 come la "Migliore Serie TV di tutti i tempi" da un sondaggio indetto da ABC News and People magazine e apparentemente uno dei primi prodotti televisivi americani a essere trasmesso con successo sulla tv britannica.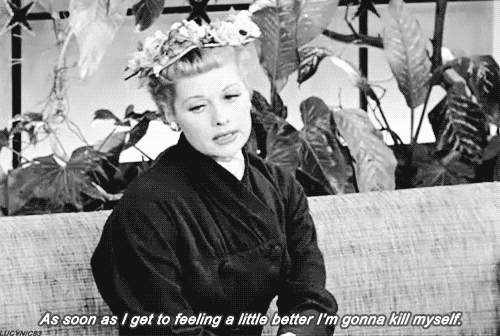 La prima volta che… una serie ha incorporato una gravidanza reale nella propria trama
Alla serie I Love Lucy è comunemente attribuito anche questo primato, oltre a quelli menzionati poco più su. D'altronde, specialmente su serie di lungo corso, può capitare che a un certo punto una o più delle protagoniste si trovino in dolce attesa durante le riprese. Ciò ha spesso costretto la produzione di vari show a inventare soluzioni più o meno originali per coprire il pancione, qualora non si ritenesse appropriato far avere un bambino a un determinato personaggio a quel punto della storia.
È chiaro che, potendo, inserire la storyline della gravidanza è sempre la scelta più semplice e diretta per rendere le cose meno complicate, ma Lucille Ball non è stata la prima a portare il pancione sul set dello show di cui era protagonista (anche se, giusto per ribadire quanto alcuni tabù telefilmici fossero assurdi, le era impedito usare la parola "pregnant" sulla tv nazionale): a batterla sul tempo di quasi un decennio è stata Mary Kay Stearns, protagonista della sitcom degli anni '40 Mary Kay and Johnny. Questa serie è celebre per essere stata la prima sitcom trasmessa dalla tv americana. La particolarità è che rappresenta episodi di vita quotidiana di una coppia di novelli sposi (sposati anche nella vita reale) e il pubblico ha letteralmente visto crescere quello che era il figlio della coppia sia nella finzione che nella realtà… Truman Show, anyone?
Conoscevate tutte le risposte a queste curiosità su alcune memorabili "prime volte" nella serialità televisiva? Ve ne vengono in mente altre da show che hanno fatto la storia o da alcuni dei vostri telefilm preferiti?
Aspetto di leggere le vostre idee qui sotto nei commenti.
Alla prossima!