È giunto alla sua ultima stagione per la seconda volta e ammetto di iniziare a sentirmi nuovamente un po' orfana quindi perché non spulciare qualche curiosità su Will and Grace?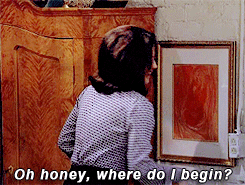 Il ruolo di Will sarebbe dovuto andare a John Barrowman ma l'attore fu messo da parte in favore di Eric McCormack. La motivazione? Barrowman – gay nella vita reale – era troppo etero rispetto a McCormack – etero nella vita reale.
Nel pilot, Megan Mullally/Karen, usava la sua vera voce, solo a partire dal secondo episodio, Mullally iniziò ad usare il timbro nasale che ormai conosciamo benissimo.
Il personaggio di Rosario avrebbe dovuto avere solo un ruolo marginale nella stagione in cui Jack la sposa per farle avere la Green Card ma piacque così tanto da diventare semi-regular.
In un'intervista Megan Mullally raccontò che quando le venne comunicato di aver ottenuto il ruolo stava lasciando gli studi della NBC, fece un'inversione ad U illegalmente e venne fermata dalla polizia. Ma disse che non le importava perché aveva ottenuto il ruolo di una vita.
Quando tre anni fa circa lo show è tornato per il revival, lo ha fatto con lo stesso cast, lo stesso regista, gli stessi produttori e sullo stesso canale.
Nick Offerman, marito di Megan Mullally, ha preso parte per ben due volte come guest alla serie tv. La prima come idraulico nella 4×09, la seconda come chef nella 9×08.
Will & Grace è stato uno dei tre show televisivi ad avere tutti i membri del cast premiati con Emmy. Gli altri due sono "Arcibaldo" e "Cuori senza Età".
Sean Heyes ha ricevuto 44 nomination per il suo ruolo, Megan Mullally 40, Debra Messing 36 e Eric McCormack 28. Il tutto durante le 8 stagioni principali.
Tra le personalità che hanno lodato lo show televisivo, c'è stato anche Joe Biden, ex vice presidente degli USA, che in un discorso pubblico sul sostegno al matrimonio fra persone dello stesso sesso ha affermato: "Penso che Will & Grace abbia probabilmente educato il pubblico americano più di tutto il resto che è stato fatto finora."
La bambola Cher che possiede Jack è parte di una collezione limitata venduta dalla Mattel nel 2001. In realtà, appartiene a Max Mutchnick, produttore e creatore della serie tv.
Il sito internet www.justjack.com per un po' è realmente esistito e si presentava proprio come il diario di Jack con foto e lettere di Rosario all'INS.
Il secondo nome di Grace è Elizabeth come Elizabeth Taylor, l'attrice preferita di sua madre. Nello show la madre di Grace è interpretata da Debbie Reynolds che nella vita reale si vide rubare il marito proprio dalla Taylor.
I primi spot dello show erano piuttosto vaghi per quanto riguarda l'omosessualità di Will perché l'NBC non era certa di come il pubblico avrebbe reagito.
A causa della gravidanza di Debra Messing nella sesta stagione il personaggio di Grace manca per ben cinque episodi.
Lo show ha avuto diverse guest decisamente importanti: Alec Baldwin, Matt Damon, Britney Spears, Patrick Dempsey, Minnie Driver, per citarne alcuni. Quando vi presero parte Cher e Madonna, le scene dovettero essere girate più volte a causa dell'entusiasmo del pubblico in sala.
La posa di Jack nel suo spettacolo (le mani accanto al viso e lo sguardo sognante) è una reinterpretazione della posa di Judy Garland in "È nata una stella".
Il nome completo di Karen non è Anastasia Beaverhousen (anche se sarebbe bellissimo) ma Karen Delaney St. Croix Popeil Walker.
Megan Mullally aveva tempo fa realizzato uno show per Broadway con protagonista il personaggio di Karen e la sua rivalità con Beverly Leslie. Purtroppo, all'ultimo, uno dei proprietari dei diritti si tirò indietro e non se ne fece più nulla.
Eric McCormack prese parte ad un episodio del crime con protagonista Debra Messing, "The Misteries of Laura". La chimica fra gli attori era le medesima e McCormack dichiarò che recitare con Messing era come "pedalare una bicicletta molto vecchia e scricchiolante".
La parte di Beverly Leslie sarebbe dovuta andare inizialmente a Joan Collins. Fortunatamente l'attrice si tirò indietro all'ultimo perché non condivideva una scena in cui avrebbero dovuto togliersi le parrucche a vicenda con Karen per cui il ruolo andò a Leslie Jordan. Onestamente, non riuscirei ad immaginarmi nessun altro.
Per il ruolo di Grace, i creatori avevano fatto un provino anche alla casalinga disperata Nicolette Sheridan e alla bagnina Yasmine Bleeth. Fortunatamente vinse il ruolo Debra Messing: con le altre due gli sketch sulla misura di reggiseno di Grace non si sarebbero potuti fare.
Noi spettatori non abbiamo mai visto Stan Walker, marito di Karen. Ne abbiamo solo intravisto una mano e le gambe in un episodio. Il resto del corpo era coperto da una pianta.
In un episodio, Grace dice di stare per incontrare la sua cotta del liceo alla Zelman Gallery, una galleria d'arte. Nella vita reale, il marito di Debra Messing è Daniel Zelman.
Allo Smithsonian – Museo di Storia Americana – sono conservati memorabilia dello show televisivo nel padiglione dedicato alla storia della comunità LGBT.
Per continuare con le voci sul casting: Sean Heyes ha ottenuto la parte di Jack dopo un provino finale che vedeva come alternativa Alexis Arquette, attrice transgender.
Il fratello di Will, Sam, ha avuto il volto di due attori differenti: John Slattery nel 1999 e Steven Weber nel 2005 e 2006.
Il primo episodio dell'ottava stagione andò in onda live in tv.
Nel pilot della serie tv, Will avrebbe dovuto avere un partner – Higgins – ma fu cancellato nell'ultimo montaggio.
Il revival di tre anni fa avrebbe dovuto essere di soli 10 episodi. Successivamente fu esteso a 13 poi a 16 e poi ha avuto altri due rinnovi completi di stagione.
Megan Mullally ha affermato scherzando che il revival di Will&Grace sia stato l'ultimo ordine dato da Barack Obama prima della fine della sua presidenza. Mullallly, che ha dovuto interpretare Karen accanto a Donald Trump agli Emmy Awards nel 2005, si riferì all'episodio come "la sua lettera di suicidio".
L'appartamento di Will e Grace si trova al 155 di Riverside Drive nell'Upper West Side di Manhattan.
Lo studio di Grace, invece, nel Puck Building del 295 di Lafayette Street, a sud di Houston Street.
Molti attori che ancora non avevano fatto coming out, presero parte allo show. Fra gli altri, oltre allo stesso Sean Heyes, Richard Chamberlain e Neil Patrick Harris.
Il nome completo di Jack è: John Philip McFarland.
All'inizio del primo episodio in cui compare la mamma di Grace, interpretata da Debbie Reynolds, i personaggi parlano di Star Wars, nel cui cast figura la figlia di Debbie Reynolds, Carrie Fisher.
E parlando di classici del cinema, le madri di Jack e di Karen hanno il volto di Veronica Cartwright e Suzanne Pleshette, interpreti di "Gli Uccelli" di Hitchcock.
Restando nell'argomento "Grandi di Hollywood", il padre di Will fu interpretato dal grande regista Sidney Pollack, che nella serie tv tradisce la moglie – Blythe Danner – con una donna di nome Tina, che ha il volto di Lesley Anne Warren.
Nell'episodio in cui Will e Grace si candidano ad amministratori del condominio, uno degli inquilini lamenta che il suo ombrello scomparso assomiglia sospettosamente a quello di Tim Kaiser dell'appartamento 12-b. Tim Kaiser è il nome di uno dei produttori della serie tv. Allo stesso modo, Karen capisce che il cognome di Grace fosse Alden (e non Adler) come Bruce Alden, un altro produttore dello show.
Nella nona stagione, l'episodio sei, vede Grace piangere la morte di sua madre. Ciò è dovuto alla reale morte di Debbie Reynolds avvenuta il 28 dicembre del 2016, il giorno dopo la morte di sua figlia Carrie Fisher.
Quando andò in onda il reboot di Will & Grace, il corrispondente di ET Canada disse: "Era veramente necessario? Voglio dire, ok che le persone sono affezionate ai personaggi ma veramente?". Chi ride ora?
Nel 2002 o 2003, il cast e la troupe della serie tv dovettero seguire un seminario sulle molestie sessuali sul luogo di lavoro. Sean Hayes raccontò ad Ellen che durante il seminario, ad un certo punto, si spogliò ed iniziò a correre per l'auditorium scatenando l'ilarità dei presenti (e l'orrore).
Anche il padre di Grace ha il volto di un grande di Hollywood: Alan Arkin, Premio Oscar per "Little Miss Sunshine".
Malgrado il personaggio di Karen sia uno dei più amati della serie, la sua attrice Megan Mullally confessò che dovette renderla strana per poterla fare propria: la sentiva, infatti, troppo simile ad un altro personaggio televisivo, quello di Christine Baranski in "Cybill".
Nella nona stagione, il personaggio di Rosario dovette essere ucciso perché la sua interprete, ormai in pensione, declinò l'offerta di riprendere il ruolo.
Nel 2017, il reboot della serie tv riprese ignorando completamente la conclusione dell'ottava stagione: quindi la separazione fra Will e Grace, il matrimonio di Grace e i figli di entrambi. Era tutto un sogno (o un incubo?) alcolico di Karen. Qui.
Alla prossima!