Due cose mi sono saltate all'occhio durante la visione di questa tredicesima puntata, che arriva dopo la splendida chiusura della premiere di metà stagione della scorsa settimana: la prima è l'incredibile pazienza dimostrata dal dottor Melendez Santo Subito, che è stato bersagliato per l'intera durata dell'episodio da consigli non richiesti, opinioni non richieste, diagnosi gratuite sul suo stato mentale, dubbi sulla sua affidabilità professionale e varie ed eventuali. Mancava giusto l'edicolante all'angolo e avremmo avuto un quadro completo del suo stato emotivo e della sua capacità di operare in ambito sanitario. La seconda è che mi piace moltissimo la presa di coscienza e di posizione di Claire che non intende assolutamente lasciar cadere la questione delle molestie subite dal dottor Coyle, opportunamente trasferito altrove e con un aumento di stipendio (WTF?!)
Claire non intende lasciare che lui la faccia sentire una vittima, e intende combattere. Ho molto apprezzato questa sua affermazione:
"There's a doctor here who harassed me.
He made me feel vulnerable, worthless… neither of which I am".
Una delle conseguenze delle molestie è proprio la vittimizzazione, che genera, tra le altre cose sgradevoli, una perdita di autostima. Claire è cosciente di questo meccanismo, a cui è arrivata dopo un lavoro interiore e non intende accettare che qualcun altro la definisca attraverso la sua visione perversa. Non è semplice, e infatti ammiro la sua enorme forza e il canalizzare la rabbia in qualcosa di costruttivo e pro-attivo, in modo da poter essere d'esempio a chiunque. La sua è una battaglia per tutti.
La via della giustizia è ancora lunga, ma lei non si fa abbattere e si muove con determinazione.

Shaun è tornato stabilmente a lavorare in ospedale, nonostante il cuore un po' ammaccato per via della fine della (non) relazione con Lea. Ha perso un'amica e una confidente. Nonostante questo, l'ho trovato molto energico, attivo, quasi su di giri e con una per nulla spiccata predisposizione al grilloparlantismo alla conversazione, che li ha prosciugati tutti, dottor Melendez in primis. Shaun mi è sembrato desideroso di fare quei passi avanti e attuare quel cambiamento che la gente si aspetta da lui e per farlo deve aver deciso che dirà esattamente quello che pensa, nel momento in cui lo pensa, farà ogni genere di domanda gli passi per la mente, perché gli vengano chiariti concetti sociali che ancora gli sfuggono, e non accetterà risposte di convenienza. Ovvero, date a tutti una flebo prima che venga sera. Il tutto accade in una giornata particolarmente tesa, in cui magari non era il caso di proclamare ad alta voce per filo e per segno quello che la gente cercava di mascherare per il bene comune e per non darsi sui nervi a vicenda. (Naturalmente la mia è ironia colma di affetto).
Uno snodo emotivo molto importante della puntata è stato lo scambio intenso avvenuto tra Shaun e il suo amico-mentore-figurapaterna. Se avete letto le altre mie recensioni, saprete che il dottor Glassman non ha mancato di irritarmi ogni volta in cui è comparso in scena nell'ultimo periodo si è approcciato a Shaun con quel fare paternalistico/supponente, dovuto alla'apparente presunzione di sapere perfettamente che cosa fosse meglio per il ragazzo, ridotto a interlocutore passivo delle sue disposizioni, atteggiamento che ha portato inevitabilmente al disastro e alla ribellione di Shaun. In questa occasione Glassy ci svela la sua umanità, il dolore che prova per come sono andate le cose che hanno provocato il distacco tra loro, e il suo affetto immutato per il ragazzo, che lui vede come un figlio, inutile negarlo.
Shaun gli chiede di essere suo amico, smettendo quelle vesti paterne ormai troppo strette (che lui odia, come dargli torto), ma Glassman ammette con grande onestà di non farcela a essere, di colpo, qualcosa di diverso. Sta, in assoluta buona fede, riconsiderando il loro rapporto secondo i termini imposti da Shaun e da lui condivisi razionalmente, ma ammette anche un'umanissima impossibilità a ridefinirli in modo soddisfacente per entrambi senza un minimo di percorso interiore necessariamente da farsi per metabolizzare gli eventi e tornare a frequentarsi serenamente.
È un uomo di parola: ha accettato le condizioni di Shaun e le mette subito in pratica, rifiutandosi di dire a Shaun se debba o meno fare rapporto su un possibile errore del dottor Melendez. È una decisione che potrà avere conseguenze, anche se potenzialmente ingiuste (ancorché umane, secondo Glassman), ma è una decisione che deve prendere da solo. Glassman l'ha protetto e ha fatto da schermo tra lui e il mondo reale. Essere adulto significa invece assumersi le proprie responsabilità. E non è cattiveria o rivalsa, Glassman è stato giusto e fermo e ha rispettato le richieste di Shaun.
Mi piace molto il fatto che Shaun si renda conto di aver bisogno di qualcun altro oltre se stesso, che si apra ai rapporti umani (la colazione con Claire), che esprima le sue emozioni in tal senso, ma che mantenga un certo equilibrio, ovvero, non è che adesso va a bere una birra con il primo che capita, giusto perché glielo ha chiesto, se non si sente dell'umore adatto. Mi sembra stia facendo passi avanti nella gestione del mondo esterno, nel rispetto delle sue esigenze.
Il dottor Melendez, come si diceva, è stato sottoposto allo scrutinio dell'intero ospedale (ma perché tutti sanno i fatti suoi e perché la rottura è di dominio pubblico?!) e sopporta tutto e tutti in modo decisamente stoico. È un momento di grande difficoltà, è anche lui sofferente per una rottura molto più drastica di quella di Glassman e Shaun e meno ricomponibile. E tutti quanti sono convinti che non sia in grado di fare quello che gli riesce meglio, cioè il chirurgo. Ha perfettamente ragione Shaun quando gli fa presente che l'arroganza lo rende un medico migliore e che prendere una decisione sulla base di un precedente errore, che non sa se ha effettivamente commesso – partendo cioè da una posizione di insicurezza-, non è la cosa più raccomandabile da fare. Melendez viene spinto da chiunque a vedersi meno affidabile di quello che lui stesso crede di essere e non gli si fa certamente un favore, perché nonostante la pressione, nonostante la sofferenza, rimane un ottimo medico con spiccate doti di resilienza.
Il caso parallelo, quello dato in gestione a Claire e alla dottoressa Lim, rappresenta una di quelle circostanze della vita in cui, se pure è chiaro dove si situa la legalità (non si può lasciar morire qualcuno solo perché la sua morte ci libererebbe da una schiavitù), è altresì vero che, per rispetto alle persone coinvolte, rimane ben poco da dire, ancor meno giudicare. La situazione della moglie maltrattata e del figlio che interviene a sua insaputa per porre fine alle sofferenze della madre è straziante. A peggiorare le cose c'è il fatto che, anche se Claire si è preoccupata di offrire aiuto e sostegno alla donna, proprio la scelta da parte della donna di confidarsi (decisione difficile, anche se augurabile) l'ha immediatamente messa con le spalle al muro, tanto che è quasi sembrata più un'estorsione utile a fini medici, che non una vera e propria offerta di aiuto. Ovviamente, trattandosi di Claire, sappiamo perfattamente che l'intento è più che nobile, ma vedersi sbattere davanti la possibilità di denuncia, non appena ha aperto bocca, non è stato il massimo dell'altruismo, anche se doveva per forza andare così, da un punto di vista medico-legale. Mi è sembrata lasciata da sola con i suoi incubi e i suoi depliant, alle prese con un enorme tragedia, mentre all'ospedale interessava unicamente salvare il paziente. E sì, è effettivamente il primo dovere dell'ospedale, quello di pensare alla vita dei pazienti e non a quella dei familiari, ma la parte relativa al dramma umano è stata svolta in modo troppo sbrigativo e superficiale.
Non mi è piaciuto per niente l'atteggiamento molto sprezzante di Jared, del tutto convinto di aver fatto la cosa giusta, quando ha minacciato l'ospedale di una causa di discriminazione inesistente, dopo essere stato sospeso per aver aggredito un medico, e il tutto perché "ci teneva a lavorare lì". E senza vergognarsene minimamente. Quante cose sbagliate è riuscito a collezionare, in un colpo solo?
Tre momenti TOP della puntata:
1. Shaun che annusa l'arbre magique, per immergersi nella memoria sensoriale di una Lea assente. Poor Shaun!


2. Il confronto tra Jess e Melendez, entrambi derelitti e sofferenti, ma capaci di mantenere fede alla loro decisione, nonostante la tentazione di porre fine al dolore, tornando sui loro passi.
– If we're hurting so bad, maybe we made a mistake.
– No. It just means that what we had mattered.
Quello che hanno avuto è stato molto importante, ma non necessariamente questo significa che fosse giusto per loro. (Melendez, mio eroe per sempre)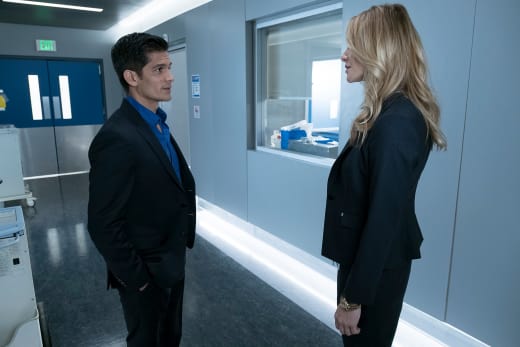 3. Shaun e Claire che fanno colazione insieme.
* Momento "MEH"
Shaun che se ne esce con la teoria che la paziente che non la racconta giusta, sia di fatto una terrorista. L'ho trovato forzatissimo. Shaun ha una logica molto stringente che non sempre tiene conto dei chiaroscuri e che lui segue fino all'estremo, con il rischio di perdere di aderenza con la realtà, ma non è per forza islamofobico. E tutto lo spiegone su "pensavo che almeno tra noi emarginati ci si aiutasse", è stato messo lì senza alcun senso. Tra l'altro, il fatto di essere autistico non implica per forza essere al di sopra dei normali difetti delle persone, tra cui anche, volendo, qualche pregiudizio (pur continuando a non sembrarmi il caso, lo dico solo per amore di discussione).

Ecco il promo della prossima puntata!
– Syl