Una nuova puntata, un'altra piccola perla. Ogni volta mi dico che questa è senza dubbio la mia puntata preferita, ma noto con molto piacere che il telefilm migliora progressivamente, mantenendo la formula lineare con cui era partito e la sua semplicità, ma divenendo sempre più capace di scavare nelle vite e nella complessità umana dei personaggi.
Shaun si trova ad affrontare una situazione particolare, quando si imbatte in un paziente con la sua stessa sindrome, che lui sa riconoscere subito e che lo porta a intervenire attivamente in favore del ragazzo, per far capire a chi si sta occupando di lui che non è psicotico, ma autistico (l'attore che ha interpretato Liam è Coby Bird, attore quindicenne che ha un disturbo dello spettro autistico).
Da questo punto in avanti sarebbe naturale aspettarsi un certo tipo di svolgimento: Shaun salva la situazione, aiuta il ragazzo a gestire lo stress dovuto al ricovero ospedaliero, fa la sua brillante diagnosi e siamo tutti felici. Il che corrisponde approssimativamente al vero, ma le cose non filano decisamente così lisce.
Shaun non si sente del tutto a suo agio con Liam, anche perché è la prima volta che incontra qualcuno così simile a se stesso e non sa come rapportarsi. È indeciso, cerca di evitare di prendersene cura e finisce con il chiedere l'aiuto di Claire, rivolgendole anche quello che io ho letto come un grande elogio da parte sua, tenendo conto della sua irriducibile schiettezza: "Tu sei molto brava con le persone autistiche". Claire, che è la nostra Claire, si presta a sostituirlo, ma allo stesso tempo affronta Shaun in modo diretto sul suo comportamento sfuggente, mettendolo di fronte alla realtà, ma soprattutto dandogli una chiave di lettura diversa della situazione. Shaun è molto candido nell'affermare che il fatto di essere autistico non implica che gli piaccia frequentare gente autistica, facendolo con un lapidario: "A te piace stare con persone che soffrono di psoriasi?" (E, devo ammettere, è una logica inattaccabile). Il senso, come gli fa comprendere Claire, non è che Liam gli deve necessariamente piacere, ma forse può aiutarlo a gestire il disagio, grazie alla sua esperienza e la capacità di capirlo a un livello precluso agli altri, come medico ed essere umano.
Sono quindi rimasta interdetta e dispiaciuta per Shaun quando si vede opporre un rifiuto netto da parte della famiglia, che non vuole che partecipi all'intervento. Mi ha colto del tutto impreparata. Ero certa che anche i genitori la vedessero come noi, cioè che fossero felici di aver trovato qualcuno che potesse anche essere un esempio per il figlio e che potesse aiutare l'intera famiglia, oltre che essere un ottimo medico (questo almeno glielo riconoscono). Inoltre, sono abituata ad aspettarmi che Shaun venga trattato con diffidenza dagli altri medici, che non hanno tenuto nascosta la loro disapprovazione di fronte alla prospettiva di assumere un chirurgo affetto da autismo, fin dall'inizio. Non è una cosa piacevole, ma è uno schema familiare e ce ne siamo fatti una ragione. Il colpo è quindi molto spiazzante.
Ci troviamo di fronte a una situazione ribaltata: il dottor Melendez, il primo ad averlo messo alla prova, ostracizzato e sminuito, si erge in piedi a difesa del chirurgo del suo team, disposto a rinunciare all'intervento pur di mantenere fede a quello in cui crede. E lui crede in Shaun. E la meraviglia non finisce qui perché, dopo che la situazione con la famiglia si è appianata, è lui stesso a offrire il bisturi a Shaun, in un implicito riconoscimento della sua idoneità come chirurgo. Melendez mio nuovo eroe assoluto!!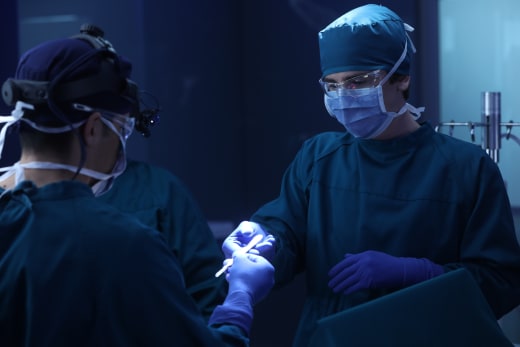 Intendiamoci, non sto biasimando i genitori, visibilmente stressati e abituati a relazionarsi con il figlio e ai suoi livelli di funzionalità rispetto al mondo esterno e convinti che sia così per tutti. Chiaro che si aspettavano che anche Shaun avrebbe reagito nello stesso modo in una situazione altamente complessa come un intervento chirurgico, ma per fortuna si convincono dopo che il figlio, che vede Shaun come una sorta di "guida", decide di volere che Shaun partecipi alla sua operazione. Bellissimo il consiglio di Shaun a Liam nelle insolite vesti di mentore:
"I make a lot of mistakes. You tried to walk. You made a mistake. But mistakes are good. You should make more."
Il nuovo atteggiamento del dottor Melendez non è solo opposto a quello della famiglia del paziente, ma lo è anche rispetto a quello del dottor Glassman che, cercando di fare il bene di Shaun, ha finito con il diventare iperprotettivo, accorrendo in suo aiuto in ogni occasione, senza lasciarlo libero di imparare, di crescere, di emanciparsi anche da lui. È una sottile, ma importante lezione per il medico anziano.
Sono molto felice che i personaggi secondari abbiano sempre più spazio, perché così possiamo conoscerli meglio e amarli (non sono possibili altre opzioni).
La storyline più commovente è questa volta quella di Jared, la cui interazione con un paziente che non intende continuare a vivere e che gli impone la sua insindacabile scelta, ci fa scoprire le terribili condizioni di anaffettività sperimentate durante la sua infanzia. Quelli che erano sembrati distacco, competizione e freddezza, sono solo un tentativo di non farsi coinvolgere troppo come essere umano. Di fatto gli stanno capitando pazienti che, invece, iniziano a scalfire sempre di più la sua corazza. Accetta la scelta del paziente e gli sta accanto fino alla fine, tenendogli la mano, commosso quanto noi. (La bellezza delicata di questo telefilm non si può descrivere!!).
Claire deve invece affrontare le conseguenze emotive dell'aver provocato la morte di un paziente per via di un suo errore, pur con tutte le giustificazioni del caso. Il dottor Glassman, che adesso è diventato anche per lei una sorta di amico/capo/mentore si rende conto che la ragazza non ha elaborato la sofferenza, nonostante cerchi di mascherarlo.
Come donna molto sensibile, consapevole, forte e intelligente, temevo infatti che potesse sforzarsi di adempiere al proprio dovere nascondendo le emozioni perfino a se stessa. Sono stata molto felice che abbia accettato il consiglio della psicologa di parlarne con qualcuno e che quel qualcuno sia proprio Jared.
Top Three della puntata:
1. "You are like me", pronunciato da Liam e indirizzato a Shaun, il riconoscimento della loro somiglianza e dell'aiuto che Shaun gli ha effettivamente fornito nel trovare una chiave di interpretazione e accettazione di una situazione difficile per lui da gestire.
2. Un'altra forma di riconoscimento, una sorta di testamento d'affetto lasciato in dono dal paziente di Jared al chirurgo provato dalla mancanza di amore da parte dei genitori.
"We all make… But you didn't get what you deserved… good parents who loved you."
3. Il solito candore di Shaun nel pronunciare frasi che ci fanno rotolare, senza rendersene assolutamente conto e la reazione divertita del dottor Melendez. Anche qui logica innappuntabile!
"You did what you thought was best for Liam. You love Liam. I didn't have that from my parents. It also means I didn't have to take kava root, so I didn't get hypereosinophilic gastroenteritis".
Vi lascio con il promo della prossima puntata!
– Syl