Cari amici e amiche addicted, è cosa ormai nota il fatto che adori discorrere insieme a voi (o anche solo con me stessa…nella mia testa) di manzi, manzitudine, sesso e altre goderecce gioie della vita. Ovviamente tali riflessioni sono spesso e volentieri legate a questa grande passione (o dipendenza, a seconda dei punti di vista) che abbiamo in comune, dato che essa si porta via probabilmente due terzi della nostra già breve esistenza. Va da sé che per noi telefilm addicted le "cose del mondo" siano plasmate, adattate, distorte e influenzate dal "nostro" di mondo, ovvero quello che vediamo scorrere sullo schermo e dal quale attingiamo modi di dire, atteggiamenti e insegnamenti che vanno poi a influenzare anche il nostro comportamento e i nostri gusti nella vita reale. Parlando di gusti personali, stavo appunto riflettendo su come il concetto di sex symbol sia notevolmente diverso se consideriamo il punto di vista di un/una telefilm addicted rispetto ai "normali" (e con normali intendo tutte le persone più o meno sane di mente che non si sognerebbero neanche lontanamente di fare maratone diurne/notturne davanti al pc per spararsi un'intera stagione di una serie-tv e il cui livello di cultura telefilmica è fermo alla Signora in Giallo – che, oltretutto, porta una sfiga tremenda…maledetta donnina!).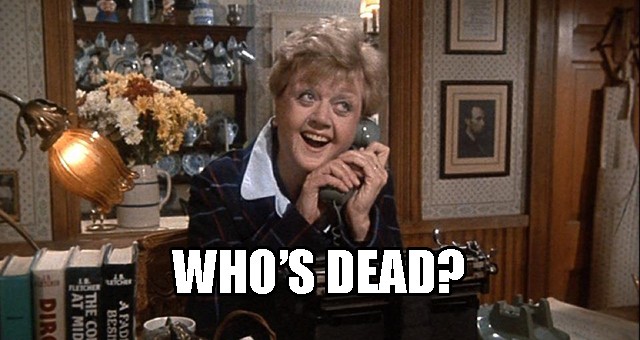 Vediamo innanzitutto la definizione di Sex Symbol:
"Personaggio pubblico, specialmente attore o attrice cinematografica, che per le proprie qualità fisiche e per la prorompente sensualità assurge a simbolo del sesso."
(fonte)
Spulciando un po' il web alla ricerca delle ultime news a tale riguardo, saltano sempre fuori le solite cose: calciatori, giocatori di basket, rugbisti, ecc…(quindi la categoria degli sportivi in generale), attori (volti vecchi e nuovi), rockstar varie e così via. Ecco, per i "normali" gli uomini più sexy del globo rientrano, spesso più che giustificatamente, in queste categorie. Ho escluso i tronisti di Maria perché quelli non riesco proprio a considerarli "masculi" e virili e non riuscirei neanche a definire la categoria di persone che li trovano attraenti…sicuramente non posso inserirli nei "normali".
Ma per un telefilm addicted, che spesso e volentieri non sa neanche che per giocare a calcio serve una palla, i Sex Symbol sono decisamente altri. Gli uomini che noi consideriamo sexy, di cui ci infatuiamo e che prendiamo come modelli di paragone per i vari poveri cristi che incontriamo invece nella vita reale (e che quindi hanno poche speranze di successo…), rientrano per la maggior parte in categorie che sicuramente i "normali" o schiferebbero o eviterebbero come la peste o di cui, semplicemente, non ne conoscono l'esistenza.
Vediamo quindi 5 personaggi telefilmici (alcuni nuovi di pacca) che solo dei drogati di serie-tv come noi possono arrivare a considerare dei sex symbol.
(Sono ben consapevole che le figure da citare sarebbero tantissime e che per soddisfare tutti i gusti non basterebbero dieci giorni…ho scelto di elencare quindi  alcune tra quelle più recenti).
L'ULTRATERRENO
Il vecchio detto "Bello come un angelo" effettivamente ha il suo perché. Nel nostro caso dovremmo dire "Bello come un Arcangelo". Prendete e gettate nel water riccioloni dorati, occhioni color del mare, voce cristallina e un'anima pura e pia. Immaginate invece un guerriero alato tormentato dagli errori del passato, che non disdegna un bell'orgione se gli capita l'occasione e che ha le fattezze di un incrocio tra il Keanu Reeves di Matrix e Brandon Lee. Apparentemente freddo come il ghiaccio (soprattutto per quegli occhi blu da strappa-mutande), è in realtà dotato di un temperamento passionale quando la sua furia si scatena. Se cercate un buon motivo per iniziare DOMINION (non sarà qualitativamente il telefilm dell'anno, ma è assolutamente godibile come serie "leggera"), Michael The Archangel dovrebbe essere già più che sufficiente.
Chi attrae:
Le cosiddette "puttansuore" (da "Jack Frusciante è uscito dal gruppo"), ovvero soggetti molto devoti, apparentemente tutti casa e chiesa, ma che puntualmente si rivelano essere maiale/i e lussuriosi di prima categoria. Il loro sogno è ovviamente quello di trombarsi qualcosa/qualcuno il più possibile vicino a Dio.
Il DELINQUENTE TEDESCO
Eheee Wolfie Wolfie Wolfie! Ci sarà un motivo se sei uno dei più apprezzati tra i SENSE8. Sarà forse perché per metà delle tue apparizioni eri senza vestiti? O per la questione "enorme proboscide" (chi ha visto sa di cosa sto parlando…). O per quel tuo sorriso malizioso che riesce a farci quasi (quasi eh!) dimenticare il tuo splendido lato B? Chi lo sa! Resta il fatto che il ladruncolo tedesco più sensibile della tv ha fatto breccia nel cuore di migliaia di persone e quella sua dolcezza contrapposta a una buona dose di badassaggine e sfrontatezza (ho iniziato ad amarlo da quando l'ho visto fare pipì sulla tomba di papà) fanno di lui una delle novità più sexy dell'anno televisivo in corso. Attendo con ansia la seconda stagione e continuo a consigliare Sense8 a chi ancora non l'ha vista.
Chi attrae:
Oltre a me, persone che alle piccole cose della vita preferiscono enormi proboscidi (e se non l'avete capita, andate a guardarvi Sense8!!!)
L'HACKER SOCIOPATICO
Allora, Elliot di MR ROBOT non sarà il classico figone statuario con scacchiera sull'addome e spalle larghe quanto una nuotatrice cinese però, nonostante quelle valigie Samsonite che si ritrova sotto agli occhi enormi e perennemente sgranati (che manco Alex di Arancia Meccanica durante la "terapia" aveva), ha comunque un fascino notevole. Indubbiamente è carino e particolare, fisicamente parlando, ma la cosa che sicuramente lo rende comunque sexy, a mio avviso, è quel mix tra la completa follia che lo avvolge e la sua estrema intelligenza. E si sa quanto un buon cervello conti spesso molto più che un bel faccino, soprattutto agli occhi di una donna (se poi ha anche un'enorme proboscide tanto meglio eh!). Anche il fatto di non capire un emerito c….o della sua personalità (e, forse, dell'intero telefilm, che comunque ho adorato) contribuisce a renderlo un qualcosa di estremamente affascinante agli occhi di chi ama i rompicapo stile Settimana Enigmistica.
Chi attrae:
Elliot è un sociopatico affetto probabilmente da disturbo da personalità multipla quindi, senza ombra di dubbio, attrae persone amanti delle sfide e che temono la noia nei rapporti di coppia.
IL TENERO PELOSONE
Si sa, le creature soprannaturali (soprattutto quando sono dei bei pezzi di carne) attraggono più fans di Gianni Morandi da quando usa Facebook. Vampiri, stregoni, elfi, David Gnomo, licantropi, ecc…sono da sempre figure dotate di un'innata sensualità. Sensualità dovuta soprattutto a quall'aura di mistero e pericolo che le avvolge. Ecco allora che, parlando di licantropi appunto, non posso non citare il nostro Mr Ethan Chandler (in sostanza, un lupo mannaro americano a Londra. Sì, esattamente come il film). L'uomo lupo di PENNY DREADFUL, per quanto mi riguarda, sprizza contemporaneamente sesso e tenerezza da tutti i pori. Come ci riesca non si sa e poco importa. L'unica cosa certa è che ti suscita, allo stesso tempo, voglia di farti sbattere al muro come se non ci fosse un domani e voglia di cantargli una ninna nanna per farlo addormentare. L'unica rogna è che fare sesso con lui sotto una romantica luna piena potrebbe diventare un attimino pericoloso…
Chi attrae:
Sicuramente potrebbe essere il sogno erotico di Emanuela Brambilla; più in generale, persone attratte da un uomo coccoloso da strapazzare di baci e carezze e da addestrare a proprio piacimento. Attenzione: le dimensioni non ne consentono il trasporto in borsetta.
GUERRIERI VARI PERENNEMENTE INSAGUINATI, SPORCHI E PUZZOLENTI MA DOTATI DI UN LIVELLO TALE DI MANZITUDINE DA FARTI DIMENTICARE TUTTO IL RESTO
No, non è il titolo di un film di Lina Wertmüller. Semplicemente non sapevo come riassumere in una sola parola la categoria che comprende i vari stalloni da riproduzione come Jamie di OUTLANDER, Wilkin Brattle di THE BASTARD EXECUTIONER (nuova serie ideata da Kurt Sutter in arrivo tra pochissimi giorni. Non vedo l'ora!), tutti i nostri carissimi VIKINGS, Uhtred di LAST KINGDOM (altra novità che aspetto con trepidazione), e chi più ne ha più ne metta. È evidente che qui si stia sparando sulla croce rossa dato che il livello di figaggine, badassaggine, sensualità, ecc…sfiori livelli disumani. Però, appunto per questo motivo, non potevo esimermi dal citare tali doni della terra. I guerrieri sono sexy di natura, sono delle rockstar innate, sono dei semi-dei dotati di muscoli e intelligenza. Insomma, più sex symbol di così!
Chi attrae:
Persone che non temono le emozioni e soprattutto gli odori forti e che amano farsi gli scrub al viso (sapete com'è…la barba gratta).
E voi di che sex symbol siete?
Alla prossima!