Rieccoci a una nuova puntata! Quest'oggi parliamo di *rullo di tamburi* lupi! E in particolare quelli di MTV… Vi lascio a #TeenWolfLikeTheFlash
A che livello è giunto il vostro fastidio per questa intro?
My name is Barry Allen and I'm the fastest man alive. When I was a child, I saw my mother killed by something impossible. My father went to prison for her murder. Then, an accident made me the impossible. To the outside world, I'm an ordinary forensic scientist, but secretly I use my speed to fight crime and find others like me. One day, I'll find who killed my mother and get justice for my father. I'm… the Flash.

Il mio nome è Barry Allen e sono l'uomo più veloce al mondo. Quando ero un bambino, ho assistito all'omicidio di mia madre da parte di qualcosa di impossibile. Mio padre è andato in prigione per il suo omicidio. Poi, un incidente ha reso me qualcosa di impossibile.  Per  il mondo esterno, sono un normale analista forense, ma segretamente uso la mia velocità per combattere il crimine e trovare altri come me. Un giorno, troverò chi ha ucciso mia madre e avrò giustizia per mio padre. Sono… Flash.
My name is Scott McCall and I am the useless alpha alive.
Il mio nome è Scott McCall e sono l'alpha più inutile della storia.
When I was younger, I was turned into a werewolf
Quando ero più piccolo, mi hanno trasformato in un lupo mannaro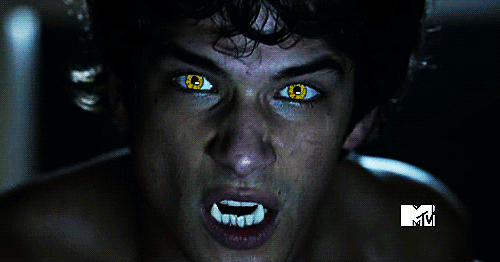 and I should have joined a pack. Now, I have a pack of my own (sure, a pack formed by the only other werewolf who is a whimpering teenage boy with anger management issue,
e avrei dovuto unirmi a un branco. Adesso, ho il mio branco (certo, un branco formato dall'unico altro lupo mannaro che è un ragazzino lagnoso con problemi di gestione della rabbia,
 by a really graceful kitsune,
da un kitsune pieno di grazia,
by a really sensitive coyote,
da un coyote molto sensibile,
by… That one… Oh, I can't remember her name…  The one that always screams… Come on, you've seen her for 2 or 3 minutes per episode…
da… Quella… Oh, non mi ricordo il suo nome… Quella che urla sempre… Dai, l'avete vista per 2 o 3 minuti a episodio…
and by a very mighty human,
e da un umano molto possente,
but still…). To the outside world I'm just a regular teenager with a low IQ,
ma comunque…). Al mondo esterno posso sembrare un normale teenager con un quoziente intellettivo basso,
but secretly I use my never-known-which power of True Alpha… Well, to wait until Stiles comes up with a plan.
ma segretamente uso I miei non-si-è-mai-saputo-quali poteri di True Alpha… beh, per aspettare finché Stiles non se ne esce con un piano.
One day, you're all going to understand why I'm an Alpha, and why I am the main character of this show. Just probably not in this episode, or in the next one, or in the one after that…
Un giorno, tutti voi capirete perché io sono un Alpha e perché sono il protagonista della serie. Solo, probabilmente non in questo episodio, o in quello successivo, o in quello dopo ancora…