Eccoci a un nuovo appuntamento con questa rubrica e ho una domanda per voi: avete mai provato a immedesimarvi nelle protagonista indiscussa di Glee? Beh, io sì, e questo ne è il risultato: vi racconterò come Rachel Berry avrebbe dovuto introdurre la sua scalata al successo e il suo cambio di look. #GleeLikeArrow.
Ed eccola l'onnipresente introduzione di Oliver Queen:
My name is Oliver Queen, after five years on a hellish island, I have come home with only one goal: to save my city. To do so, I can't be the killer I once was. To honor my friend's memory I must be someone else, I must be something else.

Il mio nome è Oliver Queen, dopo cinque anni su un'isola infernale, sono tornato a casa con un unico obiettivo: salvare la mia città. Per farlo, non posso più essere il killer che ero una volta. Per onorare la memoria del mio amico devo diventare qualcun altro, devo diventare qualcos'altro.
My name is Rachel Berry,
Il mio nome è Rachel Berry,
after five years of cryng, hormonal imbalance,
 dopo cinque anni di piagnistei, squilibri ormonali,
dramas about who has the best voice ever,
drammi su chi aveva la voce più supermega cazzuta di sempre,
lots, lots of unnecessary vocalisms,
tanti,  ma tanti vocalizzi gratuiti,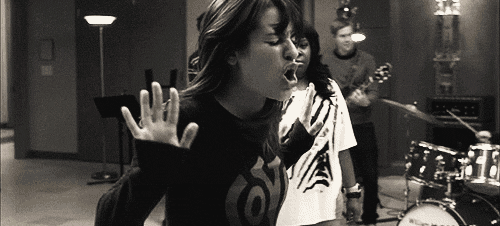 friendships,
amicizie,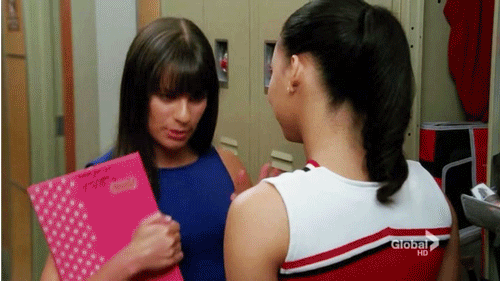 I-don't-talk-to-you because you steal my boyfriend,
 scompa mi-hai-rubato-il-ragazzo,
double I-don't-talk-to-you because I wanted a black, black, black cat and you gave me a white one (scusate ragazzi, intraducibile!)
doppio scompa volevo-un-gatto-nero-nero-nero-mi-hai-dato-un-gatto-bianco,
fake stammer and mortal enemies,
finte balbuzie e nemici mortali,
that they want us to believe it is "highschool".
che vogliono farci passare per "liceo".

I came to New York with only goal: attending NYADA.
Sono venuta a New York con un unico obiettivo: frequentare la NYADA.
I mean, play Funny Girl at Broadway.
Cioè, interpretare Funny Girl a Broadway.
Yes, play Funny… NO! Do a television show.
Ecco, sì, intepretare Funny… NO! Fare uno show televisivo.
Yes, here we are.
Sì, adesso ci siamo.
To do so I can't be the thirty year old woman who plays a teenager who dress herself like she's five.
Per farlo non posso più semplicemente essere una trentenne che interpreta un'adolescente che veste come una bambina di cinque anni.
To be THE star I told I want to become every 5 minutes of my existence,
Per essere LA stella che ho detto di voler essere ogni 5 minuti della mia esistenza,
I must be someone else,
devo diventare qualcun altro,
I must be a living diva stereotype.
devo diventare lo stereotipo vivente della diva.