Il lunedì è il giorno più odiato della settimana, da tutti e da sempre, è un dogma insomma: I HATE MONDAYS!

Rappresenta tutto il male che c'è al mondo, il dover riprendere la vita di tutti i giorni, il dover abbandonare il letto a causa di un BIIIIIP che continua imperterrito nonostante le vostre imprecazioni, il dover ricominciare a fingere che vi importi qualcosa anche delle persone reali oltre che della vostra OTP preferita.
Il vero telefilm addicted ha un rapporto complicato con i Lunedì, li odia eppure li ama, li brama come si fa con la mattina di Natale, eppure nel contempo il suo animo ha i conati di vomito come succedeva la sera dell'epifania, quando nella nostra mente compariva quel messaggio di allarme lampeggiante: DOMANI RICOMINCIA LA SCUOLA!
Sono certo vi sia capitato di dire/urlare: 'Oddio non vedo l'ora sia lunedì!', per poi rendervi conto del disagio che implica ciò che avete appena detto e cadere nello sconforto più totale al solo pensiero della settimana di studio o di lavoro che vi attenderà.
I HATE MONDAYS BUT I LOVE TV SHOW
Il lunedì è il giorno dedicato agli show più fighi: Game of Thrones, True Blood, Ouat, The Walking Dead sono solo un esempio…
Il lunedì è quel giorno in cui quasi tutti gli addicted si suddividono in 2 macrocategorie:
1) MI ALZO PRESTO, SCARICO E GUARDO
Questo è il vero addicted, colui che non teme la sveglia che lampeggia le 6.00 AM, quello che appena apre gli occhi sta già recuperando i suoi show che, dopo una tazza di caffè e un ritiro contemplativo in bagno, saranno pronti per il pre lavoro/studio.
2) NO CAZZO, GLI SPOILER
Spoiler Everywhere! E' l'addicted meno impavido, si sveglia all'ultimo secondo per fare le sue cose, corre a scuola, all'università o in ufficio e per tutto il giorno ha il continuo stimolo ad entrare sui social network, ma ogni volta che clicca sull'icona di Facebook nella sua testa scatta un allarme e si ricorda: 'CI SARANNO SPOILER OVUNQUE!!!' e ancora prima di realizzare e mettere a fuoco il pensiero il suo dito avrà già cliccato sulla X per chiudere la pagina.
Ho parlato di macrocategorie, perché il lunedì tira fuori il peggio da ognuno di noi, siamo nervosi, siamo incazzati e siamo addicted.
Solitamente quelli appartenenti al primo gruppo, dopo aver visto l'episodio hanno bisogno di trovare altri simili con cui discutere e parlare; è il richiamo della foresta, è come quell'istinto naturale che spinge gli animali all'accoppiamento… 'Se non trovi nessuno con cui sfogarti morirò e tu ti estinguerai!' urla il cervello sovrastato dai feelings e così l'esponente tipico parte alla ricerca di un "compagno". Ma come facciamo a riconoscerlo?! E' semplicissimo, il suo status di facebook sarà chiarificatore e conterrà queste esatte parole: 'HO BISOGNO DI PARLARNE!'.
E' un messaggio lampante che non ci lascia dubbi in merito, riusciremo a trovare qualcuno come noi… non saremo mai più soli!
Ma, c'è qualcuno dietro l'angolo che ci aspetta e ci spia, per tutto il giorno sentiamo l'angoscia di chi non è come noi, di chi quella mattina si è svegliato tardi e dobbiamo vivere con un solo terrore addosso: LA SECONDA MACROCATEGORIA.
Questa la si riconosce per i toni calmi che non ha. E' incazzata con tutto e con tutti, non tollera la vista di nessuno, è furibonda col mondo, una iena drogata in astinenza dalla propria dose, non potrete rivolgerle la parola che sarà pronta a sbranarvi urlandovi in faccia: '
SPOILER
!'.
Si possono riconoscere facilmente dai propri status: "
IL PRIMO CHE MI SPOILERA LO AMMAZZO
", ma state molto attenti perché alle volte si mascherano da finti gentili e potrebbero scrivere "PER FAVORE NON SPOILERATE" oppure "
OGGI NON ENTRO SU FB PER EVITARE SPOILER
".
DIFFIDATE!!!
Sono dei tranelli, loro sono lì, sono su facebook, sono sulla vostra bacheca e stanno solo aspettando di cazziarvi e sfogare la propria rabbia repressa per il non essersi svegliati prima!
Attenti, fuggite da loro e nel farlo non voltate mai le spalle, perché chi di spoiler ferisce di spoiler perisce!
GLI OUTSIDERS
Sono pochi, sono rari, eppure, proprio come un Mewtwo in Pokemon Rosso, questi esistono davvero! Sono affamati, vampiri che si nutrono di spoiler e bramano le conoscenze della prima macrocategoria. Vi chiederanno: 'TI PREGO SPOILERAMI, NON CE LA FACCIO', ma attenti, sono il diavolo tentatore che morsa la mela vi trascinerà nell'inferno di quelli che vi accuseranno di SPOILERARE SENZA RITEGNO! Uomo avvisato…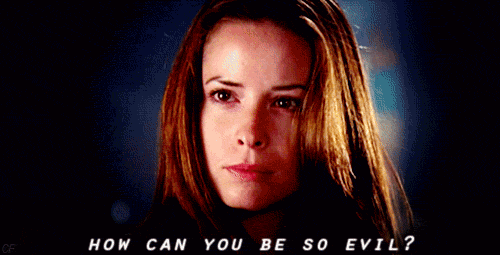 Ma torniamo all'argomento principale, il Lunedì, quel buco nero così pregno di tensione che solitamente si conclude nel modo più easy possibile: una serata sotto alle copertine calde in cui ci si gode gli episodi tanto bramati durante il giorno, o per chi li ha già visti ed è ancora infogato, con un bel rewatch.
Ah dimenticavo… KARMA IS A BITCH…
La seconda macrocategoria, dopo aver finalmente visto l'episodio è solita sfogare senza il minimo ritegno i propri feelings e, inevitabilmente, il mattino seguente si sveglia con la home invasa da insulti di chi, il giorno prima, si è dimenticato di vedere i propri show.
'NO SPOILER PLZ, DEVO ANCORA VEDERE L'EPISODIO!' è la frase che li contraddistingue…
Bene ho un messaggio per voi: NON SIETE DEI VERI ADDICTED!