Siamo alle solite: arriva il giovedì e io non ho ancora partorito una beata m… ehm…un'idea per il pezzo che dovrà uscire il venerdì (cioè oggi). Ogni volta mi ripeto "Devi imparare a metterti avanti, hai avuto millemila settimane di tempo non solo per pensare a qualcosa ma anche per scriverlo cazzarola!" e poi mi riduco sempre all'ultimo momento, esattamente come facevo sia a scuola che all'università, quando la notte prima della fatidica interrogazione o durante l'ultima settimana pre-esame sviluppavo due valigie Samsonite sotto gli occhi da far invidia a Eliot di Mr Robot (solo che io, a differenza sua, non mi facevo di niente).
Insomma, il lupo perde il pelo ma non il vizio. La ragione della mia disorganizzazione mentale, però, non è solo questa. Ultimamente, infatti, ho dovuto subire un tale repertorio di sfighe cosmiche che ho iniziato a chiedermi "Ma è per caso arrivata Elena Gilbert in città?!" (è risaputo quanto porti sfortuna…).
In sostanza ho avuto davvero poco tempo materiale sia per pensare che per scrivere. Poi ieri, mentre rimuginavo appunto su tutto quello che mi stava capitando, ho provato a focalizzare l'attenzione sulle poche gioie della vita che, nonostante tutto, ce la fanno amare lo stesso. Tra queste ovviamente un posto d'onore è occupato dalla mia (e vostra) condizione di telefilm addicted. Perché è vero che abbiamo pure tanti dolori da sopportare (tipo la cancellazione di una serie che ci piaceva o la morte di uno dei nostri personaggi preferiti o l'assistere al declino definitivo della nostra OTP, ecc…), ma questa sorta di esistenza parallela che viviamo nello spazio ristretto di uno schermo 15 pollici (almeno, nel mio caso) ci regala soprattutto tante gioie ed emozioni. Particolarmente poi in questo periodo dell'anno, il quale prevede il ritorno delle nostre serie preferite dopo la pausa estiva e, ancora di più, l'arrivo di pilot nuovi di zecca di cui fare indigestione. Winter is coming, certo, ma noi ne siamo più che felici!
Vediamo quindi cosa mi permette di vedere il bicchiere mezzo pieno nonostante questo periodo che definire di cacca è fargli un complimento…
Il ritorno di una tua serie preferita conclusasi da tempo
Quando, qualche mese fa, Fox annunciò un possibile ritorno (quasi una certezza) di Prison Break sottoforma di miniserie rischiai di rompermi non due ma ben tre femori cadendo dalla sedia. Quando, invece, due giorni fa è sgusciato da ogni angolo del web l'annuncio del ritorno delle ragazze Gilmore, sono letteralmente impazzita. Roba da ricovero coatto.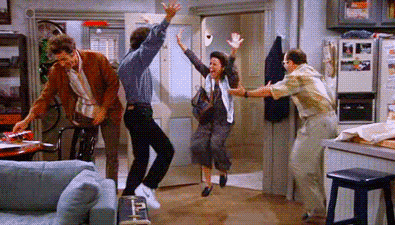 E, a giudicare dalla mia bacheca Facebook, sono più che convinta di essere stata in buona compagnia. Cioè, vi rendete conto?! Due delle serie tv più amate dei primi anni 2000, entrambe caratterizzate da un finale non totalmente soddisfacente, avranno la possibilità di (ri)chiudere definitivamente i battenti magari realizzando i desideri della maggior parte dei fan. Perché suvvia, quanti di noi avrebbero voluto l'happy ending per Michael e Sara e non il finale dolce-amaro che ci hanno rifilato? Quanti avrebbero voluto vedere una Rory finalmente realizzata e sistemata con l'amore della sua vita? (qualcuno ha detto Jess? No? Ah va bene niente…Mi era sembrato…). Questi sono regali enormi per un telefilm addicted! Pensate se domani annunciassero il ritorno di Buffy. Secondo me scatterebbe un black out globale totale per sovraccarico del web. Il telefilm addicted, a fronte di tali notizie, si tramuta nel peggior bimbominkia che si ritrova tra le mani l'ultimo modello di Play Station. Gli basta poco per raggiungere il Nirvana senza passare dal Via.
Guilty Pleasures (ovvero quel trash di cui non riesci a fare a meno)
Sì, How to Get Away with Murder e Quantico sto parlando di voi (Containment ti sto aspettando al varco). Chiedo perdono a chi, diversamente da me, guarda queste serie-tv con occhi "seri" (non sono riuscita a trovare modo più efficace per far passare il concetto).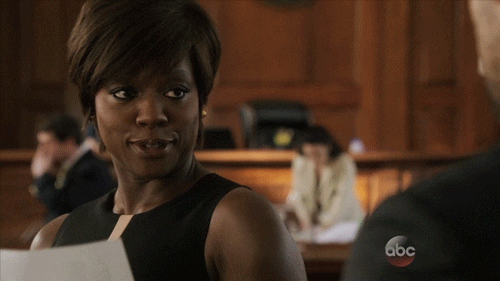 Lungi da me giudicare chi ha i gusti diversi dai miei. Anche perché, come dice il titolo, di queste serie non riesco a fare a meno neanch'io. Semplicemente, per me, i telefilm "seri" sono altri. Ma, se in generale, il compito di una serie-tv è quello di intrattenere allora prodotti di questo tipo il loro sporco lavoro lo sanno fare eccome. Che poi non sono trash nella forma (a parte forse un po' le parruccone di Annalise), bensì nei contenuti. Complotti su complotti costruiti su false prove per incastrare questo al posto di quell'altro che l'ha data a Caio ma in realtà è innamorata di Pinco ma nel frattempo uccide qualcuno random per Sempronio e così via…Trame assurde e talmente poco realistiche che sembrano essere partorite dagli autori di Pomeriggio Cinque. Il fatto è che non riesci a staccartene perché diventano una piacevole dipendenza e ne vuoi sempre di più, sempre di più, sempre di più, fino ad arrivare al punto in cui un po' te ne vergogni ma poi ti dici anche "Ma che cazzo me ne frega!" e via sotto con un altro episodio. Sono gioie della vita anche queste. L'importante è non arrivare al punto di sognare i parrucconi di Annalise che ti inseguono nel bosco con l'intento di sbranarti!
Il colpo di fulmine
Ecco, questo credo che per un telefilm addicted sia uno dei massimi momenti di giubilo che potrà provare lungo il corso della propria esistenza. Arriva questa nuova serie. In tanti la guardano. Tu, che non l'avevi mai sentita nominare prima, ti chiedi "Ma da dove è saltata fuori? Boh…". La ignori per un bel po' di tempo perché ti imponi lo spirito del bastian contrario per fare il figo (ma in realtà la curiosità ti sta divorando dentro).
Alla fine cedi e, pur mantenendo sempre una certa aria di sufficienza, ti scarichi il pilot. Lo tieni lì a maturare ancora qualche giorno. Poi non ce la fai più. Schiacci Play e sbaaammm. Folgorazione. Epifania. Illuminazione. Dopo tre miliardi di pilot deludenti che ti hanno lasciato più indifferente di un Matt Donovan qualunque, finalmente torni a provare l'emozione del colpo di fulmine. Il batticuore dei primi amori. Quel brivido che solo le maratone da "Una stagione in un giorno" ti sanno dare. Quest'anno mi è successo con Sense 8. L'anno scorso con Outlander e Kingdom. E spero continuerà ad accadere in futuro perché non esiste godimento migliore del trovare una nuova serie da amare e da cui farsi coccolare (e di cui diventare dipendenti).
Arriva un treno carico di…
Manzi! Eh sì amiche e amici, perché insieme alla caterva di nuovi pilot che l'autunno porta in dono non solo abbiamo la possibilità di gustarci nuove serie tv (dato che non ne seguiamo già abbastanza) ma abbiamo anche il piacere di veder sfilare davanti ai nostri occhi sognanti (e alla nostra bocca che perde bava quanto un San Bernardo dopo una corsetta) un carico di carne di manzo super fresca tutta da addentare. Per quanto mi riguarda, già quest'estate ho avuto un assaggio della nuova partita di bestiame che stava per arrivare grazie a Sense8 (e daje, so' fissata) e a quel supersexy birbante tedesco di un Wolfie.  La conferma è arrivata con The Last Kingdom e il suo Uhtred of bebbanburg,
passando per quel gran pezzo di manzo nostrano da esportazione che è Giacomo Gianniotti (from Garbatella) ovvero il novello Dr. De Luca di Grey's Anatomy, il cui sguardo mi ricorda tantissimo quello del suo amatissimo (e figaccionissimo) predecessore Eric – Dr Bollore – Dane (qui il suo saluto e ringraziamento a tutti i fan italiani) e a quella fiera dell'ormone che è il già citato Quantico. Inoltre aspetto con ansia ed eccitazione estrema (roba che manco Barbarona d'Urso manifesta dinnanzi all'ennesima tragedia da sfruttare) il ritorno televisivo di uno dei miei preferiti in assoluto: Chris Wood, indimenticato e indimenticabile Kai from The Vampire Diaries (personaggio dal potenziale altissimo sfruttato in maniera pessima e mandato, ahimé, in vacca quando poteva dare ancora tanto). Dicevo, tornerà sui nostri schermi durante la midseason (tra gennaio e maggio) più manzo che mai nei panni dell'agente di polizia Jake Riley in Containment. Non potete capire la mia gioia! Se nel cast non ci fosse stato Chris non me la sarei filata di striscio… Ah l'amore!
Essere felicemente consapevoli di non aver necessariamente bisogno di una vita sociale "là fuori" nel mondo reale (perché tanto ci sono i nostri amici immaginari in due dimensioni)
Per questa non credo ci sia bisogno di ulteriori spiegazioni…sono convinta che siamo tutti sulla stessa (folle) lunghezza d'onda.
Buon weekend e a presto!