"Il triangolo no, non l'avevo considerato"
Così cantava un giovane Renato Zero, ignaro del fatto che, anni dopo, alcuni produttori televisivi avrebbero capito davvero il potenziale "distruggi spettatori" di quel "il triangolo io lo rifarei".
Dati tre vertici, il triangolo non è altro che quella relazione nella quale uno dei tre vertici rimbalza continuamente verso gli altri due: vado e vengo, vado e vengo. Un moto quasi perpetuo. Insomma: una ragazza che passa da un ragazzo a un altro, un ragazzo in mezzo ad altri due e via discorrendo… ci siamo capiti. Ma il triangolo è un'arte e, a dirla tutta, non è così semplice da realizzare: servono dei personaggi solidi, spesso dai caratteri e dai modi opposti, personaggi che facciano innamorare di loro gli spettatori e che, ovviamente, scatenino le faide tra ship. Perché alla fine, è chiaro, deve rimanere solo una ship.
Io ADORO i triangoli, perché se c'è una serie TV è matematico che io ci trovi una ship per cui versare tutte le mie lacrime, e siccome il #maiunagioia è un marchio di fabbrica, la mia ship è sempre in preda agli eventi più drammatici e sfortunati. Ma ehi, che gusto ci sarebbe nel "tutto e subito"?!? Le ship bisogna sudarsele!
E allora non posso che condividere con voi i miei 5 triangoli preferiti, quelli che, nel bene o nel male, hanno segnato la mia carriera da Telefilm Addicted e che mi hanno fatto riflettere sulla mia innata capacità di scegliere sempre le ship migliori e per cui valga la pena lottare (dal mio punto di vista OVVIAMENTE!).
Brandon – Kelly – Dylan (BEVERLY HILLS 90210)
Ero solo una ragazzina alle prese con la sua prima serie TV (perché Supercar, A-team, Magnum PI non contano in questo caso) quand'ecco che gli autori mi regalano prima Kelly con Dylan (e già mi era partita la Hola in pompa magna alla faccia di quella pianta grassa di Brenda – ops, sorry) e poi Kelly con Brandon.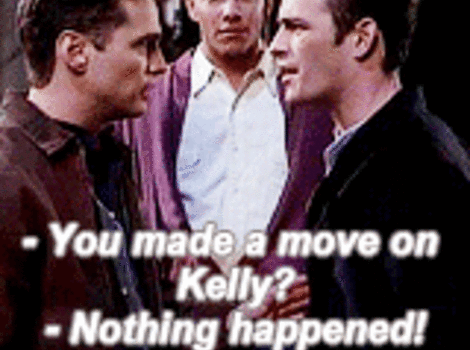 Io sono sempre stata abbastanza bipolare, ma la verità è che Kelly e Brandon sono LA SHIP. Punto, fine, stop.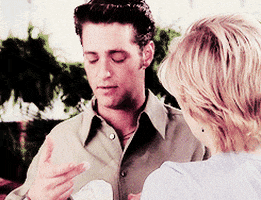 (immagini ad alto contenuto di lingua…)
Jack – Kate – Sawyer (LOST)
Lost è una serie che ti regala molto, come trama, emozioni, pensieri… e ovviamente anche qua non potevo non trovare una ship contesa e, ovviamente, non poteva che essere Kate con… Sawyer. Mi piacciono i cattivi ragazzi (e ne avrete sempre più conferma), però io confesso di non aver mai trovato molto di interessante in Jack.
(ciao.)
Dawson – Joey – Pacey (DAWSON'S CREEK)
Deve essere il fascino dell'incompreso, del cattivo ragazzo dall'animo buono, quello che devi guardare andando oltre, ma in questo triangolo purtroppo non c'è mai stata storia: Pacey Witter ha vinto subito a mani basse. 
Non so se rendo… le ha comprato un muro per permetterle di esprimere se stessa, per darle coraggio e sicurezza. E lui era praticamente un adolescente! E se non fosse sufficiente: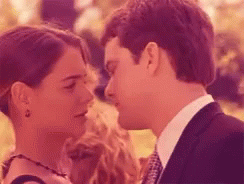 Damon – Elena – Stefan (The Vampire Diaries)
Questo è IL TRIANGOLO per me, quello che ho vissuto come una vera e propria ship war tra fandom (Delena vs Stelena), quello che, fino a un certo punto, è stato costruito alla perfezione.
Della serie: ti guardo con occhi di sfida, ma tanto il mio "mi ti farei" è tutto per te. 
Anche in questo caso, ovviamente non potevo che tifare per il bad guy, il cattivo dal cuore tenero, colui che il male lo fa (quasi sempre) solo quando serve, Damon Salvatore doveva stare con Elena. PER FORZA.
Caroline – Klaus – Camille (TVD – The Originals)
Ebbene, questo non è un triangolo vero e proprio visto che le due contendenti non si sono mai trovate di fatto in una stessa scena (e nemmeno nella stessa città in effetti direi); eppure l'alchimia tra Caroline e Klaus ha fatto sì che tutto il fandom vedesse come peste tutte le altre possibili partner cui Klaus si avvicinasse. E così ecco che il triangolo Caroline – Klaus – Camille ha preso forma oltre lo schermo.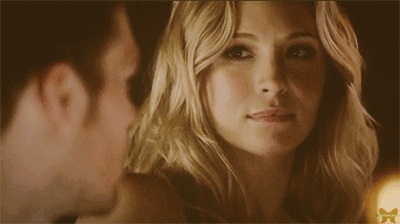 Chi ha seguito le serie sa come è andata, sappiate solo che io piango ancora tutte le mie lacrime per Camille e che la cara Pleccona non mi ha per niente accontentata con quanto fatto nell'ultima stagione di The Originals.
ATTENZIONE BONUS!
Finn – Clarke – Bellamy (The 100)
Confesso di essere ancora sconvolta per quanto successo, ed è storia non vecchia, vecchissima, eppure anche in The 100 il triangolo era partito agilissimo in tutto il suo splendore fin dalla prima puntata e io facevo il tifo per Finn. Va beh.
Non perdonerò mai gli autori per come hanno gestito il personaggio di Finn, mai. Tuttavia, cinque stagioni dopo mi ritrovo mio malgrado a essere salita sulla barca dei Bellarke, quando il #maiunagioia chiama, difficile resistere.
So che ci sono decine e decine di triangoli, ma questi sono quelli che più mi sono rimasti nel cuore, e adesso scusatemi ma devo andare a versare un po' di lacrime su Youtube perché mi è partita la nostalgia per tutte queste mie ship.
E voi amate i triangoli? Quali?