Bentornati a un altro weekend dedicato alla pianificazione dell'itinerario ideale per il vostro prossimo viaggio a tema telefilmico (se vi siete persi i precedenti articoli li trovate tutti qui). Dopo essere tornati in Europa grazie al meraviglioso articolo di Sam sulle location parigine di Gossip Girl e Sex & the City, attraversiamo di nuovo la Manica, questa volta superando Londra e dirigendoci verso la verde Irlanda.
Questa settimana mi cimenterò con una destinazione che non mi è ancora capitato di andare a visitare personalmente, ma da brava nerd ossessionata sto programmando questa spedizione per il mio prossimo compleanno, quindi semplicemente condividerò qui quello che DOVREBBE essere il mio personale itinerario, ancora in divenire, tra i luoghi di Game of Thrones in Irlanda del nord.
Inoltre stavolta non ci concentriamo su un'unica città ma su un territorio molto più ampio, con location sparse in più punti, quindi dimenticate metro e bus e montiamo in macchina: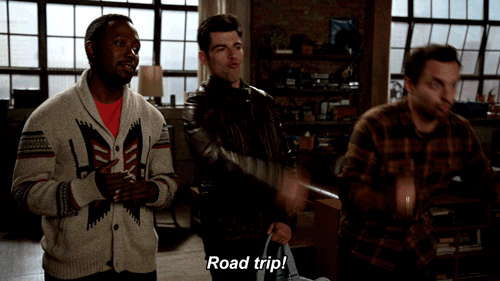 1) Castle Ward Estate
Iniziamo il viaggio dirigendoci a nord di Dublino (o a sud di Belfast, a seconda di quale sia la vostra capitale di partenza… per me sarà quest'ultima), nella Contea di Down, in cui incontreremo diversi luoghi familiari ai fan della famiglia Stark (e delle loro infinite traversie). All'interno della tenuta di Castle Ward, una residenza del XVIII secolo, si trovano il cortile e le scuderie usate per ricreare gli esterni di Winterfell e una torre del XV secolo "raddoppiata" per creare le Twins, viste per la prima volta nella prima stagione durante il viaggio di Robb Stark e dei suoi vassalli verso Sud (anche per l'accampamento di Robb si sono usate location all'interno dei territori di Castle Ward, così come per parte del percorso intrapreso da Brienne per volere di Catelyn con Jaime come prigioniero).
2) Inch Abbey
Queste evocative rovine appartenevano a un'abbazia cistercense del XII secolo costruita per volere del cavaliere anglo-normanno John de Courcy, che la eresse come atto di espiazione per la distruzione per mano sua di un'altra abbazia situata qualche chilometro più a sud. Nella prima stagione è qui che vediamo Catelyn allontanarsi in composto dolore alla notizia della decapitazione del marito, e poco dopo è all'interno del complesso diroccato che abbiamo la scena dell'acclamazione di Robb come King in the North.
3) Tollymore Forest
Si tratta di una tenuta di oltre 600 ettari a ovest dell'Abbazia di Inch, in cui sono state girate scene chiave come quella che dà inizio all'intera serie (il ritrovamento da parte di un Guardiano della Notte dei corpi dei suoi confratelli smembrati nei boschi a nord della Barriera) o, sempre per amore degli Stark, la scena in cui la famiglia trova il metalupo morto lungo un fiume e ne "adotta" i 6 cuccioli.
4) Carrickfergus Castle
Lasciamo ora la Contea di Down, dirigendoci a nord verso la Contea di Antrim, in cui per primo incontriamo questo castello normanno del tardo XII secolo (costruito dallo stesso committente della Inch Abbey) situato lungo la costa settentrionale della baia di Belfast. Gli interni della fortezza sono stati usati per ricreare alcuni angoli del cortile interno di Castle Black.
5) Magheramorne Quarry
Altro luogo utilizzato per ricreare parti di Castle Black e della Barriera, nonché l'insediamento di Hardhome nell'omonimo episodio della quinta stagione, si tratta di una cava situata a qualche chilometro a nord di Carrickfergus, sempre lungo la costa. Come è possibile vedere dalle immagini delle riprese qui sotto, nonostante la Barriera abbia richiesto un notevole impiego di green screen e CGI per renderne la mastodontica imponenza, una piccola parte del set è reale e addossato a una sezione di questa cava abbandonata.
6) Cushendun Caves
A oltre 50km più a nord, continuando a costeggiare il mare, si giunge alle grotte di Cushendun, situate poco fuori l'omonimo paesino. Queste formazioni rocciose di oltre 400 milioni di anni fa sono state scelte come location per una delle scene più sinistre delle primissime stagioni: quella in cui Melisandre, accompagnata da Ser Davos, si rintana in tutta segretezza in una grotta per dare alla luce il demone d'ombra con le sembianze di Stannis che… beh, ci ricordiamo tutti com'è andata.
7) Murlough Bay
Rimanendo in tema Stannis, in molti ricordano il confronto a viso aperto tra lui e suo fratello minore Renly, entrambi autoproclamatisi legittimi eredi al trono dopo la morte di re Robert, verso l'inizio della seconda stagione. L'incontro avviene su una piana erbosa con vista sul mare, uno scenario meraviglioso che è in realtà la bellissima Murlough Bay, lungo la costa più settentrionale della contea di Antrim.
8) Larrybane Chalk Quarry
Continuando a costeggiare il mare in direzione ovest, si giunge a questa lunga scogliera di roccia bianchissima che è stata la location per l'accampamento di Renly in attesa di fronteggiare suo fratello Stannis. La stessa area è stata inoltre riutilizzata nella sesta stagione per le Isole di Ferro, in particolare per la scena della Kingsmoot.
9) Ballintoy Harbour
A pochi passi dalla scogliera troviamo anche il porto del piccolo villaggio (meno di 200 abitanti) di Ballintoy, scelto nella seconda stagione come l'approdo di Pyke, nelle Iron Island. È qui che Theon arriva per convincere il padre a unirsi alla ribellione di Robb, e sempre qui poco dopo, contrariamente a quanto promesso all'amico, rinnova la sua fede da Uomo di Ferro. Se vi trovate a passare consiglierei però di non uscire in mare in barca: la zona è infatti stata usata anche per la scena in cui Gendry fugge da Dragonstone a bordo di una barca a remi, ormai qualche stagione fa… non si hanno più sue notizie da allora.
10) Portstewart Strand
Lasciamo temporaneamente la Contea di Antrim ed entriamo in quella di Londonderry: proseguendo lungo la costa incontriamo questa lunga striscia di spiaggia sabbiosa che, nella quinta stagione, ha visto l'arrivo di Jaime e Bronn sulle coste di Dorne (le scene in cui attaccano dei soldati dorniani), in missione per riportare Myrcella nella capitale.
11) Downhill Beach
Sempre nella Contea di Londonderry, sempre lungo la costa, sempre una spiaggia… scena totalmente diversa. Questa suggestiva location dominata dall'alto della scogliera dal Mussenden Temple è stata usata per delle riprese notturne, nello specifico le scene della premiere della seconda stagione in cui conosciamo Stannis e il suo seguito, al momento intenti in un rito guidato da Melisandre (l'estrazione di "Lightbringer" dalle fiamme) sulle spiagge di Dragonstone… ovviamente il tempio Mussenden è abilmente nascosto dalla CGI.
12) Binevenagh Mountain
Non solo Winterfell, Iron Island e Stormlands: alcune location nella verde Irlanda del Nord sono servite anche per riprodurre zone di Essos, come in questo caso l'altopiano in cui Daenerys atterra con Drogon dopo essere fuggiti insieme dalle Fosse da Combattimento di Meereen, poco prima che la Regina dei Draghi venga accerchiata da un'orda di Dothraki nel finale della quinta stagione.
13) Dark Hedges
Torniamo nella Contea di Antrim per viaggiare lungo la King's Road, percorsa da molti personaggi nell'arco della storia (inclusa Arya sotto mentite spoglie in fuga da King's Landing). Nella realtà questa strada costeggiata da imponenti faggi dai rami nodosi è un tratto di Bregagh Road denominata The Dark Hedges e si trova a circa 20km a sud della famosa Giant's Causeway (Sentiero del Gigante).
14) Shane's Castle
Concludiamo riavvicinandoci a Belfast, con una sosta alle rovine di questo castello del XIV secolo, non lontano dalle coste del lago Neagh. Questa location è stata utilizzata nella prima stagione per le scene del Torneo in onore del nuovo Primo Cavaliere (esatto, proprio quello in cui Ser Gregor decapita il suo cavallo perché sì…).
Che dire, l'Irlanda ha decisamente fascino da vendere quando si tratta di paesaggi mozzafiato, antichi castelli diroccati e quant'altro, non serve di certo il background di Game of Thrones per spingere chiunque a farci un pensierino… ma diciamo che è una cosa in più!
Personalmente non so se riuscirò a includere proprio tutte queste soste, attendo anche pareri da chi c'è stato o, come me, programma di andare presto: voi cosa vedreste/avete visto e a cosa rinuncereste di più a cuor leggero?
Per quest'anno è tutto, spero di avervi dato qualche spunto interessante anche se in pochi appuntamenti e di riuscire a riprendere l'anno prossimo, magari dedicando uno dei prossimi articoli sempre a GoT ma dirigendoci verso altri lidi (Spagna? Croazia? Preferenze?). Vi invito inoltre a passare dalla pagina Emilia Clarke Italy per rimanere aggiornati sullo show e molto altro ancora.
Alla prossima, buon viaggio e buon resto dell'estate!