Questo è decisamente l'anno di Milo Ventimiglia.
Non solo tornerà a Stars Hollow per rivestire i panni di Jess Mariano nel revival di Gilmore Girls: A Year in the Life che Netflix, Babbo Natale moderno, ci porterà in dono il prossimo mese (sia sempre lode a Netflix per questo), ma anche perché fa parte del cast di uno dei telefilm-rivelazione dell'attuale stagione televisiva: This Is Us, in cui interpreta il ruolo di Jack, marito affettuoso di Rebecca (Mandy Moore), con la quale è diventato ben presto una delle coppie fictional emergenti più romantiche. Due minuti dopo l'inizio del pilot (qui il nostro commento) e già li shippavamo come se non ci fosse un domani. (Non farò ulteriori spoiler).
Naturalmente ha aiutato molto a creare un legame, diciamo così, empatico con il telefilm, il fatto che, in apertura, l'attore si mostrasse coperto solo da un minuscolo telo che non nascondeva quasi nulla delle sue grazie.
Vogliamo parlarne?


Come se non bastasse, nel suo personale scrigno dei tesori dell'anno 2016, c'è anche la notizia (qui) che Fox ha scelto il suo progetto per una serie televisiva thriller, Kin, creata in tandem con l'amico Lenchewski  e dalla compagnia di produzione DiviDe Pictures, fondata da Milo e Russ Cundiff.
È un periodo d'oro per l'attore e per questo motivo, oltre al fatto che è Milo Ventimiglia, ho deciso di renderlo il protagonista della rubrica Guys and Dolls, rispolverata per l'occasione.

Milo Anthony Ventimiglia nasce ad Anaheim, in California (che, tutto sommato, viene comodo se si vuole fare l'attore), l'8 luglio 1977 (segno zodiacale: cancro. Oh, il caso, sono cancro anche io…) da Peter Ventimiglia, di origini italiane e Carol Wilson, madre statunitense con origini irlandesi, inglesi, scozzesi, francesi e cherokee. Direi che la genetica ha prodotto un risultato molto apprezzabile, no? Si laurea in teatro alla UCLA.
La sua prima apparizione televisiva è del 1995 in Will, il principe di Bel-Air. (Ho dovuto guardarlo a lungo. Non mi sembrava nemmeno lui!).


Esperienza che ricorda così:
I had one line on The Fresh Prince of Bel-Air, but I met Will Smith and he took 20 minutes out of his day to talk to the kid with one line. To this day, I think that guy is amazing because of that.
Dopo alcune parti come guest star in altrettanti telefilm (Sabrina, CSI: Crime Scene Investigations, Boston Public e Law & Order), il primo ruolo importante arriva nei panni di Jess Mariano in Gilmore Girls (2001-2004), il "bad boy" fidanzato di Rory, che la comunità di Stars Hollow vive come una vera e propria calamità naturale.
Visto il successo, era stato avanzato il progetto di fare uno spin off della serie, di cui avrete sicuramente sentito parlare, in cui si sarebbe approfondito il rapporto del giovane "ribelle" con il padre assente, ma l'idea è stata accantonata dal network per i costi troppo alti dovuti location scelta: Venice, California. Doveva intitolarsi "Windward Circle". A quanto pare Milo aveva già firmato per sei episodi (capisco i problemi di budget, ma non si poteva proprio risolvere l'impedimento, in qualche modo?). In seguito Milo farà solo alcune apparizioni in Gilmore Girls, ma non sarà più un membro regolare del cast.
Penso che ricorderemo tutti per sempre questo bacio.
Dal 2006 al 2010 è stato invece Peter Petrelli in Heroes, dove diventa un infermiere specializzato e si dedica all'assistenza di malati terminali, determinato a fare del bene, spinto dal desiderio di salvare il mondo.
Nel frattempo partecipa a molti film, sia di larga distribuzione che del circuito di quelli indipendenti e si dedica attivamente alla sua compagnia di produzione, vendendo show a diverse emittenti, tra cui NBC, SyFy e FX. Qui trovate tutta la sua filmografia.
Ha partecipato anche alla web serie di azione/thriller Chosen (CH:OS:EN), di cui è sia produttore che interprete. Recita il ruolo di Ian Mitchell, un avvocato penalista che scopre di essere stato scelto da una misteriosa organizzazione chiamata The Watchers per partecipare a un gioco letale e pericoloso.
Curiosità
– Milo è lacto-vegetariano fin da quando era bambino.
– Ha voluto diventare attore dall'età di otto anni, pronosticando ai genitori che nel giro di vent'anni avrebbe vinto un Oscar.
– Ha avuto una relazione con Alexis Bledel, sua co-star in Gilmore Girls, dal 2002 al 2006 e con Hayden Panettiere, sua collega in Heroes, conclusasi nel 2009.
– Uno degli enti benefici che supporta, insieme al cast di Gilmore Girls, è la Pediatric Brain Tumor Foundation.
– Il suo episodio preferito di Gilmore Girls è "Teach Me Tonight" (2×19, quello in cui lui e Rory hanno l'incidente in auto).
– Ha donato la giacca di pelle di Jess ad un'asta  per The Musicians Assistance Program.
– Ha interpretato Rocky Balboa Jr. nel sesto episodio del franchising.
– Ha un'auto (Chevelle del '67) di nome Evelyn e una Chevy Tahoe del 2002 chiamata Sylvia (io ringrazio).
Citazioni
I'm a homebody, I'd rather be in the kitchen cooking than hanging out in a bar. (Sposiamolo!)
I just try not to subscribe to the ways of celebrity. I'm not a celebrity, I'm a working actor. A lot of the events – the parties and the premieres that people go to to get noticed – I'm just not into. I'll hang out with my friends, go see punk shows, read at home. At the same time, I have a production company, which is a lot of work. (Sposiamolo di nuovo!).
If you have your mind in the right direction, and your heart is full of the right kind of stuff, you'll succeed and you'll triumph over adversity, over really anything. 
My sisters and mom raised me to respect women and open doors for them. (L'ultimo dei gentleman)
Ecco cosa dice dell'opportunità di far parte del revival di Gilmore Girls:
When Amy [Sherman-Palladino] first told me [that it was happening], my first response was, "Yes. Absolutely. I'll be back. I don't care if I'm in Tunisia doing a movie. I'll fly home, I'll be Jess, because I love you guys so much. And then I'll go back to my job in Tunisia. (Qui l'intervista completa in italiano).
E del suo "periodo magico" attuale:
This is now my 21st year in front of the camera, professionally; I feel like I'm at the beginning. I feel like the last 21 years were prep for this moment right now, where I'm able to experience the moments a little more fully.
"Somebody said it takes a lifetime to become a master; up until that point, you're only a student. I hope to always be a student — open to looking at life and taking it in whole-heartedly and just entertain and be kind, decent and cool". (qui la traduzione).
Come nota personale, confesso di aver perso un po' di vista Milo dopo Gilmore Girls, ma di averlo piacevolmente riscoperto grazie a This Is Us mentre aspettavo la premiere, leggendo tutti gli articoli e le interviste a disposizione. Trovo che sia un attore molto preparato e che la sua performance come Jack sia molto valida. Mi sembra anche un grande lavoratore e una persona umile e riconoscente per le opportunità che il suo lavoro gli propone. Quella sua apparenza alla James Dean mi aveva un po' tratto in inganno, non permettendomi di andare oltre, cosa che sono invece felice di avere l'opportunità di fare grazie a This Is Us.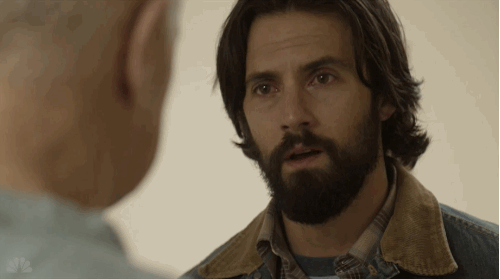 Per finire, una carrellata di foto di Milo!
Per rimanere informati sulle novità di Milo Ventimiglia, ricordate di passare da Milo Ventimiglia Italia.