Vivere nel proprio tv show preferito è un sogno condiviso da molti Telefilm Addicted, ma spesso anche nei mondi che sembrano più innocui si annidano pericoli di ogni genere, ecco perché avere con voi una copia dei consigli contenuti in questa Guida, può fare la differenza tra successo e disfatta.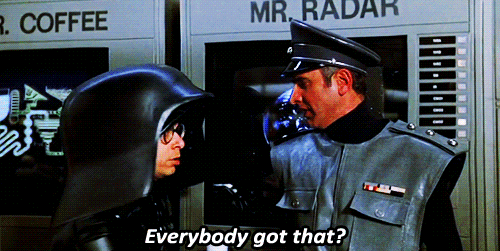 1. Orientarsi.
Con una conoscenza anche basilare della realtà telefilmica alcuni mondi sono più facili da identificare rispetto ad altri. Per esempio, potete riconoscere agilmente BlueBell,
in quanto è l'unico posto al mondo in cui a offrirvi un passaggio è un avvocato facoltoso e belloccio, invece del molto più probabile maniaco panciuto, completo di briciole nella barba. 
2. Mimetizzarsi.
Per farvi individuare come parte integrante di questa piccola comunità, dovrete superare una serie di prove escogitate per testare la vostra compatibilità con la ristretta popolazione di questo paesino.
Questa Guida vi mette a disposizione, quindi, un semplice test al fine di prepararvi al meglio:
1) Complicated is the way.
Sarete messi alla prova più volte affinché dimostriate che la linearità e la logica vi sono completamente estranei.
Un vostro amico ha un pezzo di qualcosa non meglio identificato tra i denti, voi:
A. Gentilmente glielo dite.
B. Fate finta di nulla.
C. Escogitate un piano che prevede l'utilizzo di panna, un costume d'epoca e un pesce martello per far si che questo si guardi allo specchio, senza che voi dobbiate dire nulla.
2) Io Tarzan, Tu Jane.
I rapporti di coppia sono complicati, si sa, ma una certa dose di maturità sentimentale rende possibile instaurare una buona comunicazione, che facilita sempre le cose. Bene, questo non è il vostro caso.
Il vostro amore si dimentica l'anniversario e passa la giornata a giocare ai videogames:
A. Con calma, glielo fate notare, aspettandovi che trovi un modo per farsi perdonare.
B. Cominciate a fare una lista di parti del suo corpo che gli servono meno.
C. Enigmaticamente non gli rivolgete più la parola, perché deve arrivarci da solo.
3) L'arbitro ovvero "quel cornuto".
Ogni comunità ha uno sport che predilige, e conoscerne le regole e gli ultimi sviluppi può essere un'ottima occasione di aggregazione.
Se vi chiedono quale sia il vostro sport preferito, voi rispondete:
A. Tennis.
B. Golf.
C. Football.
4) La ragione di tutti i mali.
Avere un nemico comune può far nascere spirito di squadra e cameratismo, ottimi per l'integrazione.
Avete la possibilità di tornare indietro nel tempo per uccidere un personaggio storico, scegliete:
A. Hitler.
B. Stalin.
C. Il fondatore di Fillmore.
Se le vostre risposte sono a maggioranza C, complimenti siete un perfetto abitante di BlueBell!
Se così non fosse, continuate a lavorare su voi stessi per raggiungere il livello di idoneità richiesto.
Infine, potrete godere delle molte attività ricreative di questa cittadina, tra le quali si annoverano: eventi 'ricorrenti' ma mai organizzati più di una volta, un lago di cui non si riesce a vedere il fondo ma che forse è meglio così, la pesca, dei lama e qualche sporadico matrimonio.
3. Cosa non fare.
Questa CSN (Cittadina Sperduta nel Nulla) è tristemente nota per l'impossibilità di optare per una vita sentimentale serena e tranquilla, di fatto per diventare membri stimati della comunità dovrete mandare all'aria almeno un matrimonio e due relazioni di cui non siete uno dei partner.
Non fatevi prendere dal panico, se vi ritrovate nel mezzo di un numero musicale, voci confermano che qualche volta questi sono previsti, ma non sono poi così comuni da non poter chiedere cosa succede senza temere per la vostra incolumità, al contrario di Lima.
4. Lati Positivi.
Nei momenti di sconforto, può essere di consolazione ripetersi cosa c'è di buono. Per voi, ecco una lista di suggerimenti:
-Non siete caduti preda di un maniaco panciuto, completo di briciole nella barba.
-Chi non vuole sperimentare il famoso spirito del Sud?
-Potrete scegliere tra ben due posti alternativi dove mangiare.
-Non tutte le ondate di caldo vengono per nuocere.
Seguire questi consigli aumenterà le vostre possibilità di sopravvivenza in Hart of Dixie al 97%. Buona fortuna!