"I'm starting to think you enjoy being hurt."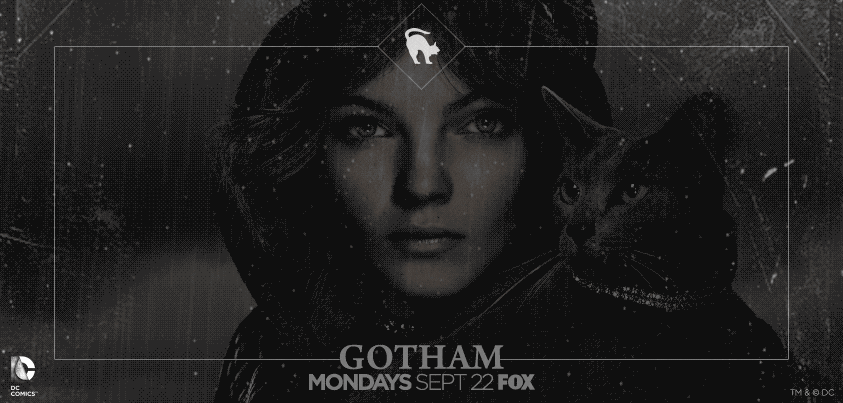 Credo di avere un problema e che questo si ripercuota sulla mia imparzialità nel giudizio di questa serie. Gotham mi sta mandando letteralmente fuori di testa, tutti i più piccoli riferimenti, le sottotrame, i personaggi… TUTTO… TUTTO (o quasi, poi vedremo di smetterla di fangirlare e fare i seri!) E' PERFETTO!
Questo nono episodio ha avuto come scopo principale quello di portare avanti la trama orizzontale, introdurre così Harvey Dent, vedere un primo tête-à-tête tra Pinguino e Liza, e dare il via a un rapporto tra Bruce Wayne e Selina Kyle. Il "villain of the week" invece, è stato abbastanza sottotono, ma la trama esigeva questo (anzi ho apprezzato veramente molto il riportare in scena Blackgate e Arkham) e quindi non ne faccio una colpa agli autori che, nonostante il centinaio di sottotrame, riescono ancora ad incastrare i tasselli del puzzle nel modo migliore…
o quasi…
Siccome è inutile che mi tenga questo sasso nella scarpa per tutto il mio commento, vediamo di toglierci sto peso. Il mio problema continua ad essere Barbara, il suo modo di comportarsi e di agire, il suo non essere ancora ben definita e delineata, il suo non essere praticamente nulla se non una spina nel fianco di Gordon. Due settimane fa rischia il tutto per tutto, in modo incosciente anche, per il suo grande amore, poi inizia ad avere paura (ok ci sta che quello che ha passato con Zsasz sia stato traumatico, ma queste reazioni diametralmente opposte no!), ora è nel letto con Montoya che pensa a Jim ma intanto si materassa lei.
Questo pseudo triangolo ci potrebbe anche stare, ma al momento attuale non è gestito per nulla bene e mi sembra soltanto un tentativo per introdurre una dinamica amorosa all'interno di uno show (il rapporto Bruce/Cat non rientrerà mai in questo, loro sono nell'età dell'innocenza!) in cui questa potrebbe benissimo essere esclusa.
Non so quale sia stata la mia parte preferita di questo episodio, però ho sicuramente fangirlato come un demente, applaudendo e saltellando, quando ho visto roteare QUELLA moneta in aria. Harvey Dent ha fatto il suo ingresso in Gotham nel migliore dei modi e partendo in quarta a spalleggiare la crociata di Jim per scoprire l'identità dell'assassino dei Waynes.
Ho amato alla follia anche il richiamo alla sua dualità, la moneta a due teste, il suo eccezionale contegno e l'apparire come una persona a modo per poi invece rivelare la sua altra natura con Lovecraft.
"Don't you ever threaten me. I will rip you open. It's good to see you, Dick."
E' interessante anche vedere la fotografia di questa scena, Dent aveva letteralmente il volto diviso in due dalla luce, una parte completamente illuminata e l'altra oscurata. Un ottimo richiamo al suo futuro! Well done!


E' stato perfetto in tutto, ma come alcuni momenti ci hanno fatto intendere (il continuo richiamo di Jim alla segretezza sulla identità di Cat e sulla propria) molto probabilmente Gordon si pentirà molto presto di questa alleanza.
Venendo poi a Cat e Bruce devo dire che le loro dinamiche sono state veramente fantastiche. Selina è perfetta in tutto, nelle movenze, nella curiosità, nella indifferenza, sembra di avere a che fare con un gatto al 100%. Mi è piaciuto molto anche il modo in cui ha iniziato a instillare interesse in Bruce che sta avendo una sua evoluzione, sta lasciando quel momento di isolamento e cercando un contatto umano (oltre a quello con il suo mentore, Alfred). E' stato anche interessante entrare nella testa di Cat, risentire le bugie che si racconta a se stessa e vedere come la ragazza metabolizza la sua situazione utilizzando un modo totalmente diverso da quello di Bruce (il suo continuo mettersi alla prova che Cat stessa stenta a capire e anzi sottolinea incuriosita con "Perchè lo fai?! Hai tutto quello che un ragazzino potrebbe volere").
In ogni caso il mio applauso più grande va alla Bicondova, per essere solo una ragazzina ha una capacità recitativa e di movenze assolutamente straordinaria.
Cambiano storyline arriviamo a quella di Mooney e Pinguino. Oswald è un ganzo, non c'è altro da dire, il modo in cui riesce a carpire i segreti di tutti e a tenerseli lì pronti in un cassetto per usarli quando ne avrà più bisogno è eccezionale (lo testimonia il suo incontro finale con Liza). Adoro questa sua caratteristica e questo suo essere così calcolatore. La scena in cui si intrufola nell'appartamento è stata magnifica, con una fotografia e una colonna sonora incredibile.
La camicia da notte rubata sono certo che la rivedremo molto presto!
Fish invece si sta comportando esattamente all'opposto, sta perdendo il suo fare calcolatore e sta, forse, commettendo delle mosse troppo avventate. Il suo primo attacco a Falcone è stato fatto, ma siamo sicuri che questo non sia così riconducibile a lei?!
Notiamo poi che nell'appartamento di Liza c'è una foto che la ritrae con Falcone. Perchè mai la ragazza dovrebbe tenere un oggetto simile se non nutrisse qualcosa (un amore paterno) nei confronti del Boss?! Sono sempre di più dell'idea che quel bigliettino fosse parte di un piano ben più grande e che non fosse altro che un'abile mossa per segnare la definitiva discesa di Mooney.
COMMENTI RANDOM
-Mi ha fatto sorridere il modo in cui hanno sottolineato in due momenti ben precisi (Ed che parla di videogiochi e i cellulari usati come detonatori) il fatto che Gotham sia ambientato in questa realtà contemporanea alla nostra e non nel passato. Mi piace veramente molto questo mixaggio tra "nuovo" e "vecchio" che ci viene proposto, il tutto inserito lì per far sentire lo spettatore più partecipe e far percepire lo show più "vicino" senza però snaturare la storia del tutto.
-Nygma, anche se per poco ha fatto la sua comparsa anche questa settimana. Adoro il suo apparire dal nulla e il modo in cui viene trattato con sufficienza… anzi con noncuranza… da parte degli altri.
-Mi fa così tenerezza il ricercare il latte (aka cibo) di Cat.
-Vedere Alfred in quel ruolo che costantemente viene messo alla prova da Cat è stato esilarante e il suo rapporto con Master Bruce mi fa veramente tanta tenerezza.
-Arkham Asylum, il manicomio criminale ha ufficialmente riaperto i battenti (contrapposto ancora una volta a Blackgate per la tipologia di criminali detenuti) ed è stato menzionato Lovecraft, seppur indirettamente, ridando così paternità all'autore dal quale si è preso spunto per la sua creazione.
Bene, anche per oggi credo di avervi annoiato abbastanza, NON DIMENTICATE di lasciare un commento per farmi sapere se la serie vi sta entusiasmando quanto lo sta facendo con me e soprattutto per farmi sapere le vostre opinioni a riguardo!
Non tralasciate anche di passare a trovare queste pagine facebook sempre così ricche di news, spoiler e immagini!
Spero di ritrovarvi qui la prossima settimana!