"And I think that once you hear my story, you'll agree that I could be a great asset for you, sir."


Bentornati a Gotham, la metropoli con il più alto tasso di criminalità esistente. Questa settimana Gordon e Bullock hanno dovuto saltare il loro pranzo per inseguire un ladro di bancomat dai super poteri. Nygma ha dato sfoggio della sua bravura riuscendo a scoprire una droga mai vista prima, la Viper, che dona euforia e forza sovrumana a chiunque la inali, aiutando così i due poliziotti a mettere in salvo la città e a chiudere i conti con il "cattivo della settimana".
Dall'altra parte della città, Oswald, ormai promosso all'interno del ristorante Maroni, vuoi per sfortuna, vuoi per il suo voler emergere, vuoi per la sua incapacità di farsi gli affari propri, viene coinvolto in una rapina al casinò di Falcone. Mooney nel frattempo è ancora tutta presa dalla sua missione: creare l'arma perfetta contro il suo acerrimo nemico Falcone!
Bene, partiamo subito con il parlare delle cose che mi hanno mandato fuori di testa.
Al primo posto c'è la protagonista del "case of the week". Non so se ci avete fatto caso, ma se conoscete un po' il bat-universo, o avete semplicemente visto i film, allora non potete non aver fatto capriole di gioia e aver urlato "I knew it!".
La Viper, come è stato sottolineato dal professore, non era altro che la fase beta di un altro farmaco, il Venom, vi dice niente questo nome?! E' lo steroide che viene iniettato nel corpo a Bane, tramite dei cavi direttamente collegati con le sue vene, e in grado di donargli la sua forza straordinaria! Gli autori per questa integrazione e per aver saputo giocarsi bene la mitologia della serie si meritano un applauso, punto e basta.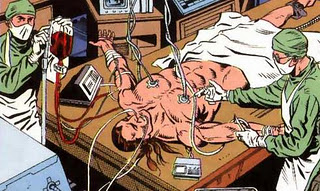 Ho amato alla follia l'introduzione della suddetta droga nell'opening, vedere il cartello dello squattrinato in cui non finge nemmeno di suonare perché il gusto di farlo, ma solo per racimolare il denaro per continuare a drogarsi. In questo modo ci viene offerto nuovamente uno spaccato di quella Gotham marcia fino al midollo che non si cura nemmeno un po' delle apparenze, ma che nel contempo riesce ad affascinare e a catturare.
Visto che sto parlando di tutti i momenti che mi sono piaciute allora non posso far a meno di menzionare la crescente complicità tra il piccolo Bruce e Alfred.

Vado contro corrente lo so, ma a me Alfred sta piacendo a dismisura, è perfetto in ogni decisione, in ogni scena è il personaggio che ci aspetteremmo, da tutore del ragazzo si sta trasformando, scena dopo scena, nell'aiutante che lo segue nell'ombra, nell'uomo che siamo stati abituati a vedere nella versione cartoon della serie, certo è ancora abbastanza rude e non le manda di certo a dire, ma io continuo a vederlo azzeccatissimo nel ruolo che deve ricoprire. Bruce dal canto suo sta incanalando tutte le sue energie verso la strada che lo porterà a trasformarsi in Batman. Non è un cambiamento radicale ma, un passo alla volta, nei suoi gesti e nelle sue parole vediamo un piccolo e inarrendevole supereroe emergere.
Durante questo episodio ho notato maggiormente la suddivisione tra le storie parallele, la labile coesione tra loro, forse perché la vicenda Viper ha avuto un ruolo predominante oppure forse solo a causa del fatto che le vicende di Fish e di Oswald stanno appena ingranando per poter arrivare al momento di esplosione massima che vedremo in futuro.
Fish l'abbiamo vista tutta emozionata, per quanto la donna riesca ad esternare certe emozioni, nel plasmare la sua arma. La ragazza non nego mi stia piacendo a dismisura e la sua noncuranza con cui fronteggia la stessa Mooney è sorprendente, non esita un attimo, lo stereo le da noia e lo spegne senza farsi problemi, ma Fish sa benissimo come metterla in riga. La scena finale poi mi ha fatto letteralmente fangirlare, vederla tendere l'amo a Falcone e il cadere nella rete di questo è stato sorprendente. Sono assolutamente curioso di scoprire il piano che sta sotto a tutto!
Oswald invece, come avevo accennato in precedenza, è riuscito a mettersi nuovamente nei guai, ma, grazie anche a un pizzico di fortuna, ad uscirne tirando un grande sospiro di sollievo da parte di tutti. La lotta tra Maroni e Falcone sta diventando sempre più predominante e l'essersi definitivamente schierato da quella che sembra essere la parte giusta avrà sicuramente delle grosse conseguenze, soprattutto ora che è uscita allo scoperto la sua ex appartenenza al gruppo di Mooney. Giuro che questa lotta al potere mi affascina sempre di più, è ormai ovvio che Falcone verrà tagliato fuori dai giochi per il dominio della città, ma le dinamiche tra Maroni e Fish mi affascinano, la donna non prenderà per nulla bene la ricomparsa di Oswald che però ora è, volente o nolente, legato al capo mafioso e quindi Fish, probabilmente, non potrà esporsi così tanto sin da subito. E come farà questo pesce (scusate il gioco di parole tremendo) a rimanere a galla quando dovrà fronteggiarsi con Maroni? Dovrà essere scaltra e abile nel sostituire prontamente Falcone per avere dalla sua i mezzi per contrastare la famiglia rivale senza farsi sottomettere. In ogni caso questa è una dinamica che non ci è stata ancora svelata, ma che senz'altro ci regalerà dei bei momenti di tensione e colpi di scena.
Prima di chiudere vorrei lasciarvi con dei COMMENTI RANDOM:
-Barb è riscomparsa, c'è stato un breve accenno solo nella conversazione tra i due poliziotti, ma nulla di più. Questa è una cosa che non amo particolarmente nei telefilm, il vedersi comparire e scomparire personaggi in maniera totalmente casuale, ma capisco anche che, allo stato attuale, ci sono talmente tanti characters sulla scena e talmente tante storylines parallele che è difficile integrarle e amalgamarle tutte in 40 minuti.
-Lo stesso discorso vale anche per Selina, ricomparsa dal nulla e poi scomparsa altrettanto velocemente, è un peccato, ma d'altra parte ci sarà un tempo anche per questa esplorazione.
-Nygma è sempre Nygma… Quanto mi piacerebbero degli episodi spinoff dedicati e incentrati solo su di lui e sul suo essere così vicino a uno dei miei personaggi preferiti: Dexter.
-Mi è piaciuto molto anche l'intreccio delle indagini, anche se sempre un po' superficialotte, che hanno coinvolto Potolsky e il professore di filosofia.
-Le indagini che vanno sempre a finire con delle prostitute… ah Sin Gotham City quanto ti amo!


-Il confronto tra Jim e Maroni, il portare allo scoperto gli antefatti e soprattutto l'aver rivelato il segreto del poliziotto al capo malavitoso cosa comporterà? Jim ora è facilmente ricattabile e potrebbe essere manovrato con tanta facilità.
"I try to be civil, Jim.
But I'm not the kind of
man that likes to ask twice."
-Quello che amo di Jim è proprio il suo voler sapere a tutti i costi che l'ha portato fino al molo 39 e a ficcanasare su qualcosa che dovrebbe rimanere segreto, su qualcosa che stanno insabbiando, ma che sicuramente a breve vedremo. JIM SIAMO TUTTI CON TE! Mathis cosa ci nascondi? Fino a dove arriva il marcio nella Wayne Enterprises? Che ci sia il suo zampino nella prematura morte di Thomas?
Bene, anche per oggi vi ho annoiato abbastanza! Non mi resta che invitarvi nuovamente a mettere mi piace e a seguire queste pagine sempre ricche di news e spoiler.
Sperando di ritrovarvi qui la prossima settimana vi lascio con il trailer.