Amici di Game of Thrones, 
come anticipato nell'articolo "Game of Thrones – Le morti più soddisfacenti", eccoci ritornati con un pezzo dedicato all'hobby preferito della saga: uccidere personaggi e farlo in maniera più scioccante possibile.
Si sa, se ami soffrire GoT ha molto da offrire, ma se alcune morti (come dimostrato nel precedente articolo) ci hanno sconvolto in positivo, facendoci esultare dalla gioia… altre decisamente no.
Preparati i fazzoletti?
Bene, diamo quindi il via alla carrellata di quelle che per noi sono state le morti più dolorose di Game of Thrones.
1) Robb e il Red Wedding
Per quanto le Nozze Rosse possano aver provato mentalmente e fisicamente la maggior parte degli spettatori Figli dell'Estate, da un punto di vista logico era quasi ovvio che Robb sarebbe caduto vittima della guerra che stava combattendo… non solo perché stava vincendo una battaglia dietro l'altra e la vittoria non sembra mai una condizione permanente nella sfiga che si porta dietro questa famiglia, ma perché in generale, in una storia in cui era chiaro come il sole dagli albori dei tempi che Jon fosse quello che sarebbe emerso dal nulla e si sarebbe fatto strada nella mischia, tenere in vita il suo fratellone più bravo, più figo e più Richard Madden avrebbe offuscato non poco il povero Snow.
La cosa che rattrista però, al di là di qualunque spiegazione logica, è che a porre fine all'ascesa di Robb sia stato uno stratagemma bieco e vile, architettato da uno che (come giustamente argomentato nell'articolo di ieri da Angy) meritava solo il peggio, che sul campo mai nulla avrebbe potuto contro quella che si stava dimostrando una certa capacità strategica innata nel Giovane Lupo. E sì, si potrebbe controbattere che parte di questa finaccia Robb se la sia andata a cercare (nello show più che nei libri, dove non è meramente quello che tira più di un carro di buoi a farlo sbarellare ma un più "eddardiano" senso dell'onore e del dovere); si potrebbe addirittura argomentare che dopo aver provato a mettere una pezza alla bell'e meglio a un patto non rispettato per via di una sbandata magari non ti presenti a casa del tradito a braccetto con suddetta sbandata, per giunta già ingravidata e incline alle effusioni in pubblico… ma qualunque giustificazione non basta a controbilanciare il fatto che fa ancora male pensare a un essere repellente come Walder Frey che contravviene alle sacre regole dell'ospitalità ("He shared bread and salt with the Starks. He offered them guest right. The gods will have their vengeance… Frey will burn in the seventh hell for what he did") e, in un solo colpo, d'accordo con gli altrettanto maledetti uomini Bolton, anch'essi comprati dal denaro di Tywin, fa fuori Robb, moglie, madre, alleati e, ahinoi, ennesimo metalupo (una delle scene più pesanti da guardare nella già di certo non leggera 3×09).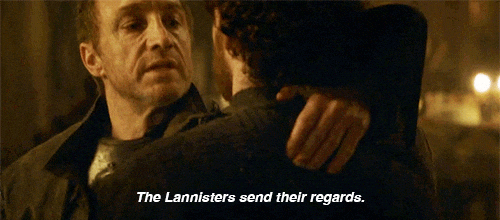 Devo dare onore allo show che, nonostante fossi (o meglio, pensassi di essere) già preparata dai romanzi a quanto stava per accadere, lo svolgimento della sequenza è stato un pugno allo stomaco dopo l'altro: davvero ben realizzata in tutto il suo devastante orrore.
– Ale
2) I metalupi
Io vorrei spezzare una piccola e velocissima lancia in favore di queste povere bestie. Se ne stavano lì belli tranquilli, a morire serenamente di stenti nella foresta, e invece no! Devono arrivare gli Stark e adottarli con fare magnanimo. Un'opera di bene, direte voi… magari! 'Ste povere stelle sono state nell'ordine decapitate, cacciate a pietrate nei boschi, decapitate ancora e ancora, sventrate di brutta maniera dagli Estranei… roba che l'inedia sarebbe veramente stata una benedizione al confronto.
Io non so cosa abbia Martin contro i cani, ma se fossi in Ghost farei il desaparecido ancora per un po' usando come scusa i costi della computer grafica, perché se tanto mi dà tanto la peggio fine è solo a un episodio di distanza.
3) Lady Olenna Tyrell
Come diceva Po in Kung Fu Panda, «Non c'è prezzo per la miticità» e mai citazione fu più adatta a Lady Olenna Tyrell. Dopo la morte di Margaery e Loras sapevo che sarebbero arrivati anche a lei, per cui mi aspettavo che, a un certo punto, l'avrei dovuta salutare. L'intera scena, ricordo, mi aveva tenuta col fiato sospeso, incollata allo schermo dalla tensione: Jaime, in un atto di compassione, decide che il modo più umano per giustiziare – di fatto – la nemica di sua sorella, una donna anziana e nobile, fosse il veleno. Non poteva essere consapevole dell'enorme ironia nascosta dietro quel mezzo. Quando Lady Olenna, con grazia e la sua solita arguzia, rivela a un basito Jaime di essere lei la mente dietro l'assassinio di Joffrey, tutti noi in fondo abbiamo pensato che Olenna se ne fosse andata like a boss, come è sempre vissuta. Tutto ciò ha alleviato, però, solo in parte il dolore per la dipartita di un personaggio così eccezionale.
4) Oberyn Martell
Quando si parla di morti dolorose, lasciando da parte Robb (Ned era palese sin dall'inizio, che si fosse già lettori come quasi tutte noi qui o solo spettatori, perché doveva essere il casus belli) e Lady Olenna Tyrell (per la quale sono d'accordo con la nostra The Lady And The Band… e a tal proposito, a me è anche dispiaciuto che, dopo aver costruito le alleanze tra Yara, Dorne, Lady Olenna e Daenerys in modo così meraviglioso nella sesta stagione, le abbiano poi distrutte in quattro e quattr'otto; certo, serviva per far essere Jon quello a cui Daenerys doveva rivolgersi, ma un paio di scene in più potevano darcele, soprattutto tra la Queen of Thorns e la Madre dei Draghi), non si può non mettere ai primi posti Oberyn Martell.
Oberyn, un uomo un mito, così SPLENDIDO. Quando è entrato in scena (libri o show non fa differenza) e ha detto a Tyrion "Riferisci a tuo padre che non solo i Lannister pagano i loro debiti", è stato impossibile non pensare "L'eroe che stavamo aspettando"! E la folla era in delirio.
Il seguito non è stato meno entusiasmante: di volta in volta, Oberyn non ha fatto altro che diventare sempre più meraviglioso, così sicuro di sé, così spavaldo e sagace, così rilassato ed esempio di un pensiero molto più aperto (e più giusto) di quello del resto di Westeros, portatore di uno degli atteggiamenti più giusti della saga (le colpe dei padri non ricadono sui figli, poi ribadito da Jon e Danerys), fino ad arrivare al suo momento più alto: il dialogo con Tyrion nella cella. Riportiamolo perché merita.
E poi è morto in un modo stupido e orribile. Perché? Perché fondamentalmente Martin non sa gestire personaggi magnifici. Ma questo è un discorso per un altro articolo. Al momento limitiamoci solo a ricordare Oberyn Martell.
– Sam
Bene, questo è il nostro elenco delle morti più sconvolgenti che abbiamo visto in Game of Thrones.
Le vostre quali sono? Concordate con le nostre scelte o avreste inserito altre morti di Game of Thrones che per voi sono state ancora più dolorose? Fatecelo sapere!
Appuntamento a domani!
E ricordatevi di passare in queste pagine per notizie sul mondo british e sull'universo di A Song of Ice and Fire!