Carissimi, a volte ritornano… e infatti eccomi qua!
Questa nuova stagione mi ha portato delle piacevoli novità:
The Last Kingdom, basato sui romanzi storici "The Saxon Stories" con la sua violenza, i suoi intrighi e gli scontri tra popoli e con lui, l'aldermanno (o quasi) Uhtred of Bebbanburg (tanta roba Alexander Dreymon), sinonimo di tenacia, impulsività e giustizia (a suo modo, ma in un mondo in cui la giustizia è frutto di prese di posizioni non del tutto eque, forse la sua giustizia è quella più vera)
(e ho detto tutto…)
Quantico con i rapidi e continui cambiamenti temporali flashback-presente che ti tengono sempre sul chi va là, sempre attento e con l'attenzione alta… e poi c'è lei Priyanka Chopra, che ispirerebbe sexxo anche ad un pavimento probabilmente
e, infine, Blindspot
Devo dire che mi ha incuriosita la storia di questa ragazza che, ritrovata in una borsa in Times Square ha il corpo pieno di tatuaggi, ognuno dei quali connesso all'altro e allo stesso tempo collegato a degli eventi che stanno (o si sono) per verificarsi. Affascinante. E devo dire che il tutto è molto ritmato, veloce e persino i due protagonisti ti saltano all'occhio come coppia per cui shippare (seppure lui non sia esattamente un belloccio, almeno per i miei gusti).
Ma quello di cui voglio parlarvi è una scena presente nel terzo episodio (ok lo so, siamo tipo al decimo episodio, però proprio perché piena di significato mi è rimasta in mente!): Jane e Weller sono in macchina e lei ripensa al flashback che le è venuto in mente: ha ucciso una suora, in una chiesa, questo fa di lei una persona malvagia? Perché lei non si ricorda chi sia, non ricorda il suo passato e si vede come un'assassina. Un'assassina. Teoricamente di una figura clericale che dovrebbe essere immacolata e innocente… come potrebbe essere diversamente? E allora ecco che Jane dice: "Un singolo giorno, un singolo momento definisce la tua intera vita?" E Weller le risponde "Le persone vengono definite dal loro passato", e lei gli fa eco "Certe cose sono difficili da dimenticare".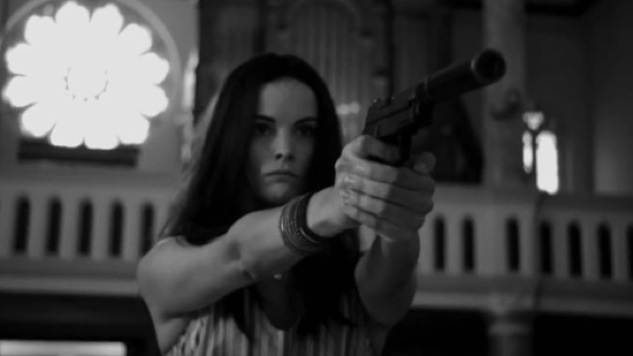 Devo confessare che da quando Damon Salvatore ha fatto la sua comparsa nella mia vita in #TVD il suo personaggio mi ha totalmente rapita. Un po' perché i bravi ragazzi non mi sono mai piaciuti, troppo finti, troppo "capelli da eroe" (e no, non è un riferimento a Stefan, quindi non me ne vogliano le sue fan, ok forse solo un piccolo riferimento), troppo io sì e tu (gnè gnè) no.
Cosa posso farci…Quel "Hello Brother" e il suo mezzo sorriso sornione ti fanno capire che beh, sì, questo qui avrà qualcosa da raccontare. E in effetti è stato proprio così… Ci hanno presentato Damon come il fratello cattivo, colui che non guarda di fronte a nulla pur di raggiungere i suoi scopi (che poi, quali erano questi scopi? Erano davvero così meschini?) e questa immagine di sé gli è rimasta cucita addosso fino almeno alla quinta stagione… tanto che la sua parola preferita per descriversi è sempre stata "egoista".
https://www.youtube.com/watch?v=MBnrOwP8XJ8
Eppure, sappiamo tutti benissimo che Damon è sempre stato tutt'altro che egoista. Non con le persone a cui tiene di più quanto meno, sicuramente queste non rappresentano una lista lunghissima, ma per loro darebbe la sua vita, letteralmente. E poi Damon è lì, pronto a fare quel che serve anche a costo di averlo sulla propria coscienza. Una delle mie scene preferite in assoluto è quella in cui Damon, soggiogato da Kol, è nelle segrete di casa Salvatore e Klaus è con lui. Klaus ha uno dei suoi rari momenti di introspezione condivisi (incredibilmente, in modo molto velato, col mondo esterno) e Damon gli spiega esattamente quello che LUI STESSO è:
https://www.youtube.com/watch?v=k1ZikLqIMbE
"Se vuoi essere cattivo devi esserlo per un motivo, altrimenti non si può essere perdonati" (più o meno). Ecco, Damon è il cattivo del gruppo ma non gli importa di esserlo perché qualcuno deve pur ricoprire quel ruolo, qualcuno deve sporcarsi le mani però, perché c'è un però, queste azioni cattive devono essere in un certo senso legittimate, perchè solo così, in qualche modo, si è giustificati (che poi ci sta come i cavoli a merenda e solo perché siamo in un mondo soprannaturale MA, proprio perché SIAMO in un mondo soprannaturale il discorso a mio avviso ha una logica che condivido in pieno).
Scusatemi, non volevo fare un trattato (peraltro neanche troppo approfondito) sul carattere e la personalità di Damon ma avevo bisogno di spiegarvi ciò di cui voglio parlarvi.
Fin qui (ed era la quarta stagione) Damon sapeva chi era: passionale, cattivo con uno scopo, impulsivo ed egoista (dipende dai punti di vista). Eppure, tre stagioni dopo, tre stagioni durante le quali ha vissuto il suo rapporto con Elena, un rapporto che, a quanto pare, l'ha privato della sua identità.
"Dear Elena, yes you heard that correctly. Hell has frozen over. I'm writing it all down. Granted, I'm half a bottle in thanks to my 1950 Chateau Cheval Blanc, a bottle I waited 65 years to open. I used to spend nights sitting in my wine cellar convincing myself I could hear it age, tannins growing, fermenting, but appreciating its beauty didn't make time go by any faster. The bottle just laid there on its shelf, torturing me while I waited for Katherine and time stood still. Eventually I convinced myself that no sip of that wine could ever taste as good as I dreamt it would. And that is the story of why I drink bourbon. I don't know who I am without you, but I know that as long as I'm with you, time will stand still. So who is Damon Salvatore without Elena Gilbert? A selfish friend, a jealous brother, a horrible son? Or maybe with a little luck, I'll do right by you. Because you may be a thousand miles away or a hundred years away, but you're still here with me and my heart is right there in that coffin with you. Until you come back to me"
Ecco, questa è la pagina di diario che Damon scrive nella settima stagione, poche puntate fa e io sono sincera: questa scena mi è sembrata davvero tanto reale. Da un lato mi ha emozionata perché non c'è niente di più bello del Delena quando non lo puoi avere (ebbene, anche senza Elena…incredibile) e in più è in pieno stile Damon. Lui che ha aspettato centinaia di anni Katherine, annebbiato dall'amore che provava per lei tanto da contare ogni singolo secondo che lo separava dal rivederla. E si sa: quando ti metti a guardare le lancette, queste sembrano davvero ferme. E credo anche che, dopo un rapporto lungo e intenso ci si plasmi con la propria metà e allora la propria individualità un po' svanisce, si mischia con quella dell'altra persona. (Certo: tra tutte le peripezie che hanno affrontato non è che Damon ed Elena si siano vissuti poi così tanto eppure… l'hanno fatto intensamente). Ed ecco che cosa si chiede Damon nel momento in cui ha detto "arrivederci" ad Elena: chi sono io? sono "un amico egoista" (perché guarda più al suo dolore che a quello dei suoi amici)? "Un fratello geloso" (perché suo fratello vive una storia d'amore che a lui è negata)? Un "figlio orribile" (perché disprezza sua madre e in fondo questo lo destabilizza)?
Non è facile trovare la propria strada, ma io mi chiedo (e vi chiedo): sono veramente le persone che fanno parte della nostra vita a definirci?
Ed ecco che qua ci ricolleghiamo a Blindspot e al dialogo tra Jane e Weller. Un singolo momento può definirti? Come si risponde a questa domanda? In che modo riusciamo a definirci come persone, come identità? Non dovremmo essere noi stessi a definirci?
Definirsi in funzione di una persona credo porti soltanto a perdere di vista quelli che sono i propri interessi, le proprie attitudini personali. Stando con una persona si crea la coppia e, nella coppia, le persone si plasmano, si modellano l'una con l'altra senza MAI ridefinirsi davvero. Questo perché è importante mantenere la propria identità. Ma allora? Sono ripetitiva lo so, ma sto cercando di capire, di provare a pensare a come funziona.
Scorrendo indietro nel tempo volgendosi a guardare il proprio se stesso di qualche anno fa o anche solo qualche giorno fa (alle volta addirittura qualche minuto) è possibile che la nostra memoria si soffermi ad un episodio ben preciso, un profumo particolare o semplicemente un evento che è stato il crocevia di quelli a seguire. Ecco. Ognuno di noi è fatto di tantissimi, diversi ricordi e questi ricordi rappresentano dei momenti specifici… delle esperienze. E le esperienze sono ciò che ci permette di essere ciò che siamo. Perché sono le nostre esperienze a formare il nostro carattere, a plasmare le nostre debolezze e la nostra forza, a renderci le persone che siamo.
Quando si è piccoli si è come delle spugne: i nostri genitori sono il nostro modello, sono il nostro punto di riferimento (così come le persone che abitualmente gravitano nella nostra vita) e così ogni loro singolo gesto, ogni singola parola entra dentro di noi e, seppur spesso inconsciamente, rimane lì come un piccolo seme che, col tempo, germoglierà e diventerà una pianta. La differenza la fa l'entità di quei gesti: una sberla o una carezza, un rimprovero o una parola gentile e così via. Noi siamo ciò che viviamo.
Ed è proprio ciò che dice il dottore a Jane quando lei esausta e afflitta gli dice di non ricordare nulla: (non sono le parole esatte ma sono il senso del discorso) "se non provi i ricordi non potranno mai riaffiorare e, se non dovessero tornare, avrai comunque scoperto qualcosa di nuova che contribuirà a definirti". Con le nuove esperienza definisce la sua personalità. Definisce se stessa.
Ci definiscono gli eventi, ed è ciò che nella vita ci accade a plasmarci e a farci diventare ciò che siamo. E, in tutto questo, ci troviamo spesso e volentieri di fronte a delle scelte: la strada che decidiamo di percorrere è quella che contribuisce a far germogliare il seme che l'esperienza ha messo in noi. In fondo Damon non sarebbe la persona che è se Katherine non l'avesse trattato così, se Lily non fosse stata una madre sadica e rigida e se lui non avesse deciso di aspettare colei che gli ha rapito il cuore oppure se non provasse quel pesante senso di colpa per voler punire quella persona che, nonostante tutto, è colei che l'ha messo al mondo.
Il passato è ciò che ci permette di essere ciò che siamo e le scelte che compiano nel presente ci portano verso il nostro futuro.