Eccomi rientrata! Promesso, per un po' non vi lascerò più senza rubrica! Quindi andiamo subito a vedere cosa ci riserva la Gran Bretagna per i prossimi mesi!
SHERLOCK
Se pensavate di averle subite tutte le trollate di Moffat & Co., non sapete l'ultima. Considerata l'alta affluenza sul set di fan della serie durante le riprese degli episodi della season 3, Jeremy Lovering ha rivelato che, girando "The Empty Hearse", hanno ingannato il pubblico presente, filmando delle scene che non hanno assolutamente nulla a che fare con l'episodio e che quindi non vedremo sullo schermo. Sto cercando di immaginare le reazioni a questa notizia, dei fan presenti durante le riprese ma davvero non ci riesco. A seguire potete vedere la clip in cui il regista parla di questo espediente e della sua esperienza con Sherlock.
NEIL CROSS: IL FUTURO DI LUTHER E I NUOVI PROGETTI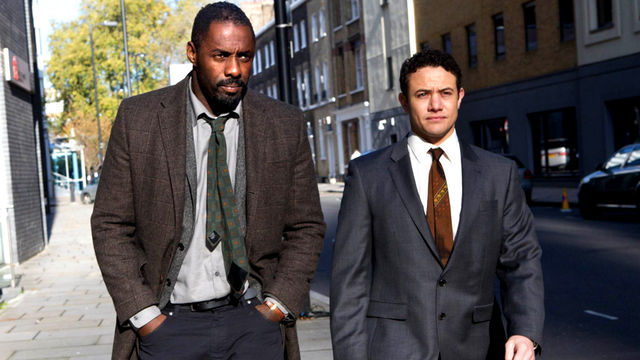 E si, lo sapevamo già tutti, anche se infondo speravamo in un cambiamento dell'ultima ora,
Luther
termina con la terza stagione, ma non corriamo troppo, c'è sempre in ballo l'idea del film, è lo stesso autore della serie Neil Cross a confermarlo durante alcune interviste al Festival di Edimburgo:
"Credo che ci sarà un film su Luther, o almeno è questo il piano. Ho già lavorato allo script e speriamo di riuscire a preparare il film per l'anno prossimo"
. Il film porterà sullo schermo il primo libro della trilogia (scritta sempre da Cross) dedicata all'ispettore, seguirà la sua carriera da giovane, quando era ancora sposato con Zoe, e la scena finale sarà la prima che abbiamo visto nel pilota della serie Tv. Questo film-prequel permetterà all'autore di riportare sulla scena alcuni dei personaggi cardine della serie, come Justin Ripley (Warren Brown), Ian Reed (Steven Mackintosh) e Zoe ( Indira Varma), ma anche di far capire meglio allo spettatore come John Luther è diventato quello che tutti noi conosciamo. Il cammino di Cross non si ferma però con Luther, infatti l'autore sarà impegnato con due nuove serie:
"Il prossimo mese inizieremo a girare uno show per l'NBC e poi ci sarà una nuova serie britannica, per la quale ho giusto qualche idea."
CASTING & NEW SERIES
Iniziamo con le aggiunte ai cast delle serie già menzionate negli articoli precedenti della ubrica prima di passare alle nuove commissioni. La nuova comedy You, Me And Them, affianca ai già annuciati protagonisti Anthony Head ed Eve Myles altri tre attori: James Alexandrou (EastEnders), Ken Collard (Cuckoo) e Su Douglas (Coronation Street). Si allarga anche il cast della miniserie in 2 parti di ITV Lucan, tra i nuovi arrivi troviamo Angus Wright (Murder On The Home Front), Julian Firth (Secret State), Alistair Petrie (Sherlock) e Michael Gould (The Bletchley Circle). Nuovi arrivi
anche in The Game, il drama storico della BBC vedrà tra i protagonisti anche Shaun Dooley (Misfits), Rachael Stirling (Snow White & The Huntsman) e Georgina Rich (Sherlock). Passiamo ora alle nuove produzioni, From There To Here è un nuovo drama di tre episodi della BBC, creato da Peter Bowker e diretto da James Strong (Broadchurch), diverse fonti rivelano che il personaggio principale sarà interpretato dal noto Philip Glenister (Life On Mars, Big School, Mad Dogs). Rimaniamo sempre in casa BBC con un'altra miniserie da tre episodi dal titolo 37 Days, riguardante la seconda guerra mondiale, nel cast troviamo Ian McDiarmid (Star Wars), Tim Pigott-Smith (The Great Train Robbery), Sinéad Cusack (Camelot), Kenneth Cranham (In The Flesh), Bill Patterson (Law & Order: UK), Ian Beattie (Game of Thrones) e Nicholas Farrell (Secret State).
Concludendo per la BBC abbiamo ancora The Interceptor, serie da otto episodi, scritta da Tony Saint (Strike Back), riguardante un team top secret che si occupa di trovare alcuni dei criminali più noti della Gran Bretagna. Cambiamo emittente e passiamo ad ITV che ha recentemente ordinato un drama in tre parti dal titolo Prey. La serie parlerà dell'amato Detective Constable Marcus Farrow, costretto a fuggire dalla sua città e dalla sua famiglia dopo essere stato trovato sulla scena di un brutale crimine, la sua non è una semplice fuga, ma una ricerca della verità sull'accaduto ed ovviamente non sarà da solo in quest'impresa. Il ruolo principale sarà di John Simm (Life On Mars, Doctor Who), per quanto riguarda il resto del cast al momento non ci sono notizie. Passiamo infine a Channel4 che ha per noi Indian Summers, un drama storico di 10 ore co-prodotto con PBS e creato da Rutman, che narrerà del declino dell'Impero Britannico e della nascita dell'India moderna.
RENEWED SERIES

Settimana all'insegna di rinnovi in casa ITV, che ha infatti ordinato una seconda stagione per Vicious (con mia immensa gioia) nonostante le critiche altalenanti, ma non solo. Sempre in tema comedy, tornerà anche The Job Lot, che si sposterà su ITV 2, dove farà compagnia a Plebs, anche quest'ultima rinnovata per una seconda stagione. E' arrivato in questi giorni anche il rinnovo per la quarta stagione del drama Scott & Baley, precedentemente l'emittente aveva già rinnovato diverse serie, tra cui vi ricordo Broadchurch, Endeavour, Mr Selfridge, Foyle's War e Whitechapel, che andrà in onda a partire dal 4 settembre alle 21.00.
TRAILERS
The Gulty, nuova minisere targata ITV farà il suo esordio il 5 settembre e qui potete vedere il primo trailer dello show.
Venerdì Sulla BBC andrà in onda il terzo episodio della comedy Big School, con Catherine Tate, Philip Glenister, David Williams e Frances de la Tour, di seguito troverete una breve clip dell'episodio.
Da settembre su BBC 2 andrà in onda un nuovo drama dal tema gangster:
Peaky Blinders
. Cillian Murphy (Inception) interpreterà lo spietato leader di una nota gang di Birmingham dopo la guerra, nel cast troviamo inoltre Sam Neill (Jurassic Park), Helen McCrory (Harry Potter), Annabelle Wallis (The Tudors), Iddo Goldberg (Secret Diary Of A Call Girl) and Charlie Creed-Miles (Wild Bill).
Atlantis
è una delle serie britanniche più attese della prossima stagione telefilmica, la BBC ha quindi ben pensato di iniziare a pubblicare qualche teaser trailer per stuzzicare la notra attenzione ed ingannare un po' l'attesa.
Anche
Downton Abbey
ci fa dono di un teaser trailer nell'attesa che quello completo per la quarta stagione venga messo online il 31 agosto.
Geri Halliwell, sì proprio lei, quella delle Spice Girls, sta lavorando ad una sua comedy.
Geri: Life Sucks
è venuto alla luce come progetto dopo che l'artista ha caricato sul suo canale youtube un teaser per lo show, che potete vedere qui sotto.
A concludere vi propongo un altro teaser trailer, un po' più vecchio, ma che ancora non vi ho proposto in rubrica, è quello riguardante la nuova miniserie di Sky Atlantic,
Fleming
. Dominic Cooper interpreterà colui che ha dato vita al personaggio di James Bond e sarà affiancato da Lara Pulver (Sherlock), la quale vestirà i panni dell'amante di Fleming, Ann O'Neill.
Anche per questa settimana ho finito con le notizie, v'invito come al solito a diventare fan di un alcune splendide ed aggiornatissime pagine dedicate all'universo seriale britannico:
British Artists Addicted,
Broadchurch Italia
,
David Tennant Italian Page
,
Doctor Who Italy
,
Dottò CHI?
,
Downton Abbey Italia
,
Sherlock (BBC) Italia
,
The Paradise Italian FanPage
,
The Politician's Husband Italia
,
The White Queen Italia
e ad iscrivervi al gruppo
Noi…Telefilm Addicted
se non l'avete già fatto.
Se avete qualche pagina facebook relativa a serie britanniche o attori di serie britanniche, non esitate a contattarmi e pubblicizzerò anche le vostre.
Ora, sotto coi commenti! Fatemi sapere cosa ne pensate delle news di questa settimana e segnalatemi pure altre notizie!