Questo terzo appuntamento di agosto è in gran parte dedicato alle novità seriali che ci aspettano tra la fine di quest'anno ed il prossimo, ed ovviamente alle serie che sono tornate o ritorneranno.
DOWNTON ABBEY
A quanto pare sono terminate le riprese per l'attesissima quarta stagione del period drama più celebre degli ultimi anni. Maggie Smith, Daisy Lewis ed Allen Leech sono stati visti sul set di Bampton Oxfordshire alle prese con le ultime scene. La quarta stagione sarà ambientata circa sette mesi dopo il finale della terza e seguirà le vicende dei protagonisti dal 1922 fino all'estate dell'anno successivo. Ci saranno molti interessi amorosi sia per Tom Branson che per Lady Mary Crawley, la quale sarà corteggiata da tre uomini interpretati: Lord Gillingham interpretato da Tom Cullen, Gary Carr sarà Jack Ross e Julian Ovenden vestirà i panni di Charles Blake.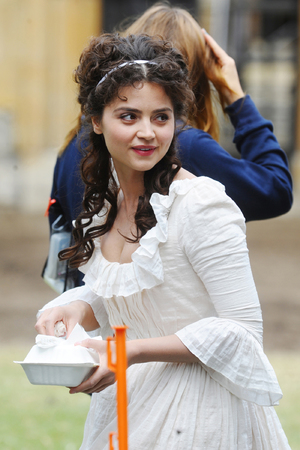 CASTING & NEW SERIES
Death Comes To Pemberley, sequel di Orgoglio e Pregiudizio, scritto da Jane Austen, è una miniserie da tre episodi in costume che andrà in onda quest'autunno su BBC One e combinerà la storia della Austen con un misterioso omicidio. Il cast è molto nutrito e pieno di volti noti: Matthew Rhys (The Americans) sarà Darcy, Anna Maxwell Martin (The Bletchley Circle) interpreterà Elizabeth e Matthew Goode (Dancing on the Edge) sarà Wickham. Troviamo poi Jenna-Louise Coleman (Doctor Who), Trevor Eve (Waking The Dead), Rebecca Front (The Thick Of It), James Fleet (The Vicar of Dibley), Penelope Keith (To The Manor Born), Joanna Scanlan (Stella), Tom Ward (Silent Witness), Eleanor Tomlinson (The White Queen), James Norton (Doctor Who), Hayley Doherty (Accused), Lewis Rainer (Crash) e Stephen Casey (Emmerdale).
Siccome alla BBC i drama non mancano mai arriva The Game creato da Toby Whithouse. La serie è ambientata nel 1970 e racconta la storia di una guerra invisibile combattuta dall'MI5 per proteggere la nazione dalle minacce della Guerra Fredda. Lo show di sei episodi trova nel cast finora Victoria Hamilton ( Jericho, Whate Remains) e Tom Hughes (Dancing On The Edge, Silk), la produzione è iniziata questo mese e la messa in onda è prevista per il prossimo anno.

UKTV and Hat Trick Productions sono alle prese con una nuova comedy dal titolo You, Me and Them, creata da Steve Turner, racconta la storia di Lauren ed Ed follemente innamorati nonostante la differenza d'età (20 anni) e delle loro famiglie che ovviamente remano contro la relazione. Ed sarà interpretato da Anthony Head (Buffy) e Lauren da Eve Myles (Torchwood), inoltre nel cast ci sono anche Marcus Garvey (White Van Man), Daisy Beaumont (EastEnders), Jeff Rawle (Drop The Dead Donkey), Lindsay Duncan (Alice In Wonderland), Susie Blake (Mrs Brown's Boys), Alice Felgate (Some Girls), Miller Henderson, Nigel Betts (Emmerdale) e Joshua McGuire (The Hour).

S'infoltisce il cast di By Any Means, infatti oltre agli attori già annunciati, ci saranno David Harewood (Homeland), Amy Nuttall (Downton Abbey), Nick Moran (Mr Selfridge), Honor Blackman (Goldfinger), Michael Maloney (The White Queen) ed Harriet Walter (Law & Order: UK).
A concludere questa sezione di notizie, la BBC ha commissionato per il prossimo anno un nuovo Thriller dal titolo Breakdown, scritto da Jack Williams ed Harry Williams, con otto episodi da 60′. La serie seguirà Tony, alla ricerca disperata del figlio rapito in Francia, tutto questo lo distrugge emotivamente e rompe irrimediabilmente il suo matrimonio.
TRAILERS
ITV ha rilasciato un teaser trailer per la quarta stagione del drama Whitechapel che tornerà sullo schermo quest'autuno con sei nuovi episodi.
Si conclude domenica, con il decimo episodio
The White Queen
il drama a sfondo storico riguardante la Guerra delle due Rose, di seguito potete vedere un clip tratta dall'ultimo episodio.
La scorsa settimana è tornata su BBC One
The Field Of Blood
, la miniserie di due episodi basata sull'omonima novella di Denise Mina, adattata e diretta per la tv David Kane e con David Morrisey, Jayd Johnson, Ford Kiernan, Katherine Kelly, Amy Manson, David Hayman e Michael Nardone. Se siete interessati ed ancora non l'avete vista qui sotto potete vedere il trailer
Appuntamento per il 22 agosto con
Chickens
. La comedy andrà in onda su Sky1, dopo che il pilota è statto trasmesso per la prima volta a settembre 2011 su Channel 4. Nel cast abbiamo Simon Bird, Joe Thomas, Jonny Sweet, i quali interpreteranno tre giovani che non sono partiti per combattare nella prima guerra mondiale.
Fa ritorno su Sky 1 il 25 agosto
A Touch of Cloth
, parodia di un poliziesco procedurale, basata su una storia di Boris Starling, creata e scritta da Charlie Brooker e Daniel Maier. Nella serie troviamo
John Hannah, Suranne Jones e Julian Rhind-Tutt. Già il titolo prende in giro una serie sui detective, A Touch of Frost, fa poi riferimento ad uno scurrile eufemismo britnnico: "to touch cloth".
Sempre il 25 Agosto, BBC One presenterà un nuovo drama di quattro episodi dal titolo
What Remains
. Nel cast troviamo David Threlfall (Shameless), Russell Tovey (The Job Lot), Stephen Mackintosh (Inside Men), David Bamber (The Hollow Crown), Victoria Hamilton (Toast), Indira Varma (Luther), Claudie Blakely, Amber Rose Revah, Jessica Gunning ed Alexander Arnold (Skins). La serie è stata scritta da Tony Basgallop (Inside Men)
Anche per questa settimana abbiamo concluso con le news telefilmiche britanniche, per la prossima mi toccherà lasciarvi nuovamente a bocca asciutta, però mi farò perdonare al mio ritorno, con il primo articolo di settembre. Come sempre vi segnalo alcune pagine amiche di questa rubrica dedicate all'universo seriale britannico, sempre aggiornatissime e ricche di news:
Broadchurch Italia
,
David Tennant Italian Page
,
Doctor Who Italy
,
Dottò CHI?
,
Downton Abbey Italia
,
Sherlock (BBC) Italia
,
The Paradise Italian FanPage
,
The Politician's Husband Italia
,
The White Queen Italia
e ad iscrivervi al gruppo
Noi…Telefilm Addicted
se non l'avete già fatto. Vi aspetto coi commenti! Fatemi sapere cosa ne pensate e segnalatemi pure altre notizie o consigli, buona lettura e buon fine settimana.