Siccome, la scorsa settimana il nostro appuntamento è saltato, ma sono arrivate tantissime news, in questi sette giorni avrete 2 articoli per la rubrica! Su, ditemelo che siete contenti 🙂
Detto questo possiamo subito entrare nel vivo dell'articolo.
DOCTOR WHO
La scorsa settimana è stato annunciato live il nuovo volto del Dottore più famoso dell'universo, Peter Capaldi! Questa a lato è la prima immagine promozionale per l'attore riguardante la serie. Sempre riguardo la scelta della nuova incarnazione del Dottore, recentemente Neil Gaiman, uno degli scrittori della serie, ha rivelato su suo blog che il ruolo del dodicesimo, prima di essere offerto a Capaldi, è stato offerto ad un attore di colore che ha però rifiutato. Secondo voi di chi si tratta?
Grazie a Jenna Coleman sappiamo inoltre che le riprese per la stagione 8 di Doctor Who non inizieranno prima di gennaio 2014 quindi, dopo lo speciale di Natale di quest'anno, ci toccherà una lunga e scommetto poco piacevole attesa.
Se ancora non avete avuto modo di vedere l'annuncio di Peter Capaldi come dodicesimo dottore, trovate di seguito la clip tratta dal programma.

BROADCHURCH
Questa serie si riconferma un MUST SEE del 2013! Broadchurch approda anche negli Stati Uniti dove raccoglie ottime critiche e tanto  amore dal pubblico,  a breve verrà inoltre trasmessa anche in Russia, Norvegia, America Latina, Germania e Svezia, speriamo che prima o poi si decidano a mandarla anche qui in Italia.
Arthur Darvill (Doctor Who) che nella serie interpreta il reverendo Paul Coates, in una recente intervista per MTV ha rivelato che sarà nel cast della seconda stagione della serie, che per il momento è ancora avvolta nel mistero.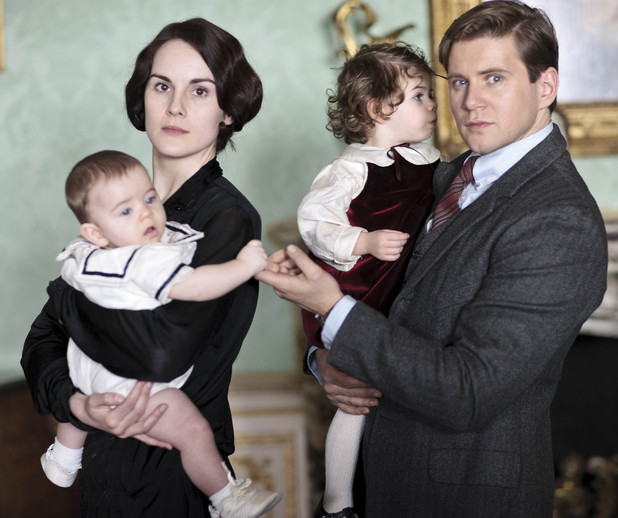 DOWNTON ABBEY
Il british drama in costume più acclamato degli ultimi anni ci riserva molto per la prossima stagione! Intanto sono già state rese note diverse immagini promozionali, tra le quali quella qui a lato, le altre potete vederle qui. Recentemente Michelle Dockery ha rivelato che il suo personaggio, Lady Mary Crawley ed il personaggio del collega ed amico Allen Leech, Tom Branson, non saranno legati romanticamente. Si avvicineranno molto, considerato quando in comune stanno affrontando, ma per Tom c'è all'orizzonte un nuovo interesse amoroso interpretato dall'attrice Daisy Lewis.
THE PARADISE
Passiamo da un drama in costume ad un altro! Come accennatovi qualche settimana fa, anche gli attori di The Paradise hanno fatto ritorno sul set: Joanna Vanderham (Denise Lovett), Emun Elliott (Moray), Matthew McNulty (Dudley), Sarah Lancashire (Miss Audrey), Stephen Wight (Sam) Elaine Cassidy (Katherine) e Sonya Cassidy (Clara) ritorneranno tutti nei loro ruolo per la prossima stagione, ma non mancano nuovi arrivi! Diversi saranno infatti i personaggi che faranno il loro primo debutto nella seconda stagione della serie, abbiamo Lisa Millett (Five Daughters) nei panni della cuoca Myrtle, Katie Moore (Merlin) come Susy, Adrian Scarborough (Upstairs, Downstairs) nei panni di Fenton e Ben Daniels (House of Cards, Law & Order: UK) interpreterà Tom Weston, un ex soldato enigmatico. Oltre la foto a lato scattata sul set, potete vederne altre qui.
CASTING & NEW SERIES
In uno degli articoli di questa rubrica, vi ho già parlato di Atlantis, la nuova serie che prenderà il posto di Merlin nel palinsesto della BBC. Abbiamo già la prima foto promozionale dello show, qui a lato, che inizierà quest'autunno.
Nuovi arrivi nel cast di New World, infatti si aggiungeranno ai membri del cast già noti da qualche settimana Morfydd Clark, Amy Marston (Rome) e Malcolm Storry (The Making of a Lady).La produzione della serie è iniziata la scorsa settimana e la messa in onda è prevista per il 2014.
Nuovo drama in cantiere per la BBC! The Ark, scritto da Sarah Phelps, porterà sullo schermo in sei episodi una delle storie, riguardante la prima guerra mondiale mai raccontate. In un ospedale sul campo della costa francese un team di dottori, infermiere e volontarie si trova a lavorare insieme per curare il corpo e la mente dei soldati feriti in trincea. L'ospedale è una frontiera tra il campo di battaglia e casa, tra le vecchie regole, le gerarchie, le distinzioni di classe ed un nuovo modo di pensare. Nel cast troviamo Hermione Norris (Spooks) nei panni della proprietaria dell'ospedale,
Suranne Jones (Scott & Bailey) sarà la sorella Joan Livesey, Oona Chaplin (The Hour) come Kitty Trevelyan, Kevin Doyle (Downton Abbey) interpreterà Lt Col Roland Brett il capo ufficiale dell'ospedale, Kerry Fox (An Angel At My Table) nei panni dela sorella Margaret Quayle, Marianne Oldham (WPC 56) sarà Rosalie Berwick, Alice St Clair (Atlantis) come Flora Marshall. Inoltre troveremo anche Jack Gordon (Captain America: The First Avenger) nei panni del caporale Peter Foley, Alex Wyndham (Little Dorrit) come Captain Miles Hesketh-Thorne, Jeremy Swift (Oliver Twist) sarà Reggie Soper e Richard Rankin (Black Watch) interpreterà il Capitano Thomas Gillan.
TRAILERS
Come anticipatovi la scorsa settimana, dal 16 agosto andrà in onda Big School, la nuova comedy tagata BBC One, con Catherine Tate, Philip Glenister, David Williams, Frances de la Tour, Joanna Scanlan, Steve Speirs e Daniel Rigby. Di seguito trovate il primo trailer dello show

Torna per il penultimo appuntamento il drama storico The White Queen, potete vedere qui sotto una clip tratta dall'episodio in questione

La scorsa settimana è iniziato un nuovo drama targato C4: Southcliffe. La serie racconta di una piccola cittadina inglese, devastata da diverse sparatorie avvenute nello stesso giorno. Nel cast abbiamo: Rory Kinnear (Black Mirror), Sean Harris (Prometheus), Shirley Henderson (Anna Karenina), Eddie Marsan (Tyrannosaur), Anatol Yusef (Boardwalk Empire), Nichola Burley (Wuthering Heights), Joe Dempsie (Game of Thrones) e Kaya Scodelario (Wuthering Heights). A seguire trovate il trailer.

Per oggi finisce qui, ma vi ricordo che in settimana avrete un nuovo articolo! V"invito come al solito a diventare fan di un alcune splendide ed aggiornatissime pagine dedicate all'universo seriale britannico: Broadchurch Italia, David Tennant Italian Page, Doctor Who Italy, Dottò CHI?, Downton Abbey Italia, Sherlock (BBC) Italia, The Paradise Italian FanPage, The Politician's Husband Italia, The White Queen Italia e ad iscrivervi al gruppo Noi…Telefilm Addicted se non l'avete già fatto. Vi aspetto coi commenti! Fatemi sapere cosa ne pensate e segnalatemi pure altre notizie o consigli!