Buongiorno e buon lunedì a tutti voi fan delle serie d'oltremanica! Pronti a tuffarci nelle news di questa settimana?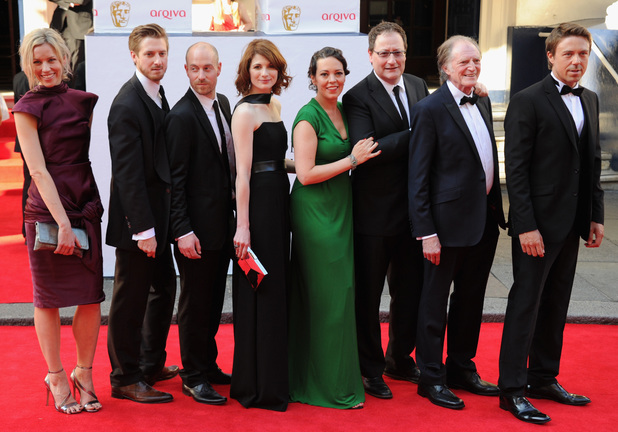 Apriamo parlando dei BAFTA, andati in onda ieri sera, che hanno visto protagonisti nomi interessanti. La serie che porta a casa più premi è Broadchurch che vince nella categoria Best Drama Series 2014, Davi Bradley viene premiato nella categoria Best Supporting Actor 2014 ed Olivia Colman si aggiudica il premio di Best Actress 2014. Anche The IT Crowd si porta a casa qualche premio tra cui Best Female performance in a comedy per Katherine Parkinson, Best Male Performance In A Comedy a Richard Ayoade. Breaking Bad si porta a casa il premio come Best International Series, In The Flesh vince come miglior miniserie, Sean Harris vince il premio come miglior attore protagonista per la sua performance in Southcliff mentre Doctor Who: Day Of The Doctor si aggiudica il Radio Times Audience Award in 2014.
Spostiamoci ora sull'argomento casting, particolarmente ricco anche questa settimana. Gli appassionati di Dexter sicuramente riconosceranno la nuova arrivata per la seconda stagione di Broadchurch in casa ITV: Charlotte Rampling è infatti entrata nel cast dello show e non come guest star. Come sempre le informazioni sono tenute segretissime quindi per il momento non ci è concesso sapere altro. La scorsa settimana abbiamo parlato anche del nuovo show BBC Puppy Love che vede allungare ulteriormente la lista dei suoi protagonisti, si aggiungono infatti ai già menzionati Tobias Menzies e Gerard McCarthy nel ruolo di guest star, li vedremo quindi in un solo episodio.
Altra serie già discussa è One Child, co-prodotta da BBC e Sundance Channel, che vede aggiungersi al cast Elizabeth Perkins, Donald Sumpter, Mardy Ma e Sebastion So.

Infine c'è una nuova aggiunta anche per l'ottava stagione di Doctor Who: Frank Skinner sarà guest star nello show in un ruolo che però è ancora segreto. Sappiamo solo che il suo personaggio sarà presente nell'episodio scritto da Jamie Mathieson (Being Human) e diretto da Paul Wilmhurst (Strike Back) in cui figurano già i nomi di: David Bamber, Daisy Beaumont, Janet Henfrey e Christopher Villiers.
Quirke ha finalmente una data di messa in onda su BBC One. Il drama in tre parti con protagonisti Gabriel Byrne (Vikings), Colin Morgan (Merlin), Michael Gambon (Harry Potter), Nick Dunning (The Tudors), Geraldine Somerville (Harry Potter), Sara Stewart (Batman Begins), Stanley Townsend (The Shadow Line), Brian Gleeson (Snow White & The Huntsman) ed Aisling Franciosi (The Fall) andrà in onda a partire dal 25 maggio alle ore 21.00.
BBC Three ha rilasciato un nuovo trailer animato per In The Flesh che potete vedere qui sotto.
Arriva da BBC One l'ordine per una nuova comedy dal titolo Woody, ambientata in una fittizia isola spagnola e seguirà le avventure di uno dei migliori reporter britannici soto copertura. Woody (Novak) sarà costretto a fuggire dalle autorità britanniche dopo essere stato incastrato dal suo corrotto editore. Woody cercherà l'unico uomo di cui si può fidare, il suo ex mentore al giornale, Brutus (Walsh), ora titolare di un bar e uomo di vita tranquilla, non proprio contentissimo di rivedere l'amico. Infine però capisce che può trarre vantaggio dalla situazione mettendo il suo protetto combinaguai a lavoro.
Nuove serie in cantiere anche per ITV, abbiamo infatti un drama in due parti intitolato Code of a Killer, il cui protagonista sarà David Threlfall. La serie seguirà il Detective David Baker (David Threlfall) che nel 1984 era a capo dell'indagine sul brutale omicidio di due studentesse di Leicestershire: Lynda Mann e Dawn Ashworth.
L'altro lavoro è un drama in tre parti dal titolo Arthur & George, basato sul racconto di Julian Barnes riguardante Sir Arthur Conan Doyle, con protagonista Martin Clunes.
Voglio segnalarvi poi la pagina British Power: A Sherlock and Doctor Who Italian Convention il cui intento (come capirete facilmente dal nome) è quello di organizzare una convention italiana per noi fan di Doctor Who e Sherlock, senz'altro un'iniziativa che mi sta particolarmente a cuore e credo che lo stesso valga per molti di voi. Quindi mi raccomando facciamola crescere!
Il nostro appuntamento di oggi termina qui e come sempre vi consiglio di seguire le pagine facebook affiliate alla rubrica,  ricche di news, foto e scleri vari riguardanti i nostri show preferiti, quindi sicuramente da non perdere:
All Things Benedict Cumberbatch
Amanda Hale Italia
Anglophilia.
Andrew Scott Italia
Atlantis Italia
Blends of Scotland, Ireland, UK: Ladies' perfect Tea
British Actors Do It Better
British Artists Addicted
British Series
Broadchurch Italia
David Tennant Italian Page
Doctor Who Italy
Dottò CHI?
Downton Abbey Italia
Howard Charles Italia
Luke Pasqualino Italia
My Doctor
Peter Capaldi Italia
Santiago Cabrera Italia
Sei Telefilm Addicted se…
Sherlock (BBC) Italia
The Musketeers Italia
The Paradise Italian FanPage
The White Queen Italia
Se anche voi avete una pagina riguardante serie o attori di serie tv british che vorreste affiliare alla rubrica, scrivetemi pure nei commenti, in pagina, su twitter… Insomma dove siete più comodi!

Rinnovo come sempre l'invito a iscrivervi al nostro gruppo facebook Noi…Telefilm Addicted e vi aspetto numerosi nei commenti, al prossimo lunedì!