Cari british addicted rieccoci al consueto appuntamento settimanale con le news riguardanti le serie britanniche.
Partiamo subito parlando di Black Mirror. Il creatore dell'acclamata serie, Charlie Brooker, ha rivelato di aver già pronte due nuove inquietanti e reali storie da regalare agli spettatori, ma non si sbottona più di tanto in merito alle date di messa in onda. Inoltre Robert Downey Jr ha acquistato i diritti per "The Entire History of You", primo episodio della seconda stagione della serie, ma Brooker è all'oscuro dei suoi piani in merito e non prevede un suo coinvolgimento futuro.
Diverse novità sono in cantiere anche per Mr. Selfridge, che ancora non debutta con la seconda stagione ed è già rinnovato per una terza! Jeremy Piven, attore protagonista della serie lo ha fatto sapere ai fan tramite twitter ed ha aggiunto che le riprese inizieranno ad aprile. Inoltre la seconda stagione non debutterà subito sull'emittente madre ITV, ma ogni episodio verrà rilasciato tre giorni prima della messa in onda effettiva su iTunes. Nell'attesa del debutto della season 2 dello show, a seguire trovate un video introduttivo di questo nuovo arco narrativo della serie con nuove scene e commenti degli attori.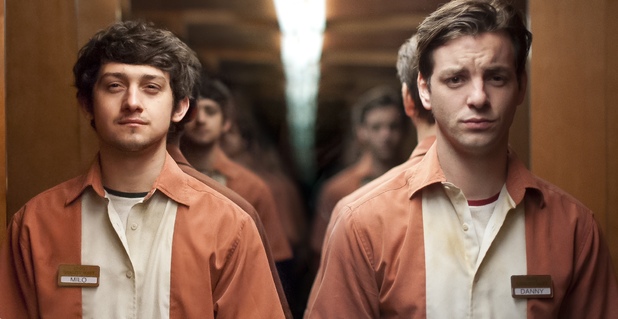 E4 ha il pilot di un nuovo drama tra le mani. L'episodio pilota di ALT durerà 60 minuti, scritto da Jamie Mathieson (Being Human) e diretto da Ben Caron (My Mad Fat Diary) vedrà la luce durante la primavera 2014. Nel cast troviamo Gethin Anthony (Game of Thrones) nei panni del ventiquatrenne Danny, che si ritrova trasportato in un universo parallelo insieme al suo ex migliore amico Milo, interpretato da Craig Roberts (Submarine). Sarà il nuovo successore di Misfits?

Qualche settimana fa vi parlavo della serie che seguirà la comedy di successo del 2012 Twenty Twelve, dal titolo W1A, oggi è disponibile una prima immagine promozionale nella quale vediamo il nuovo team dello show. Hugh Bonneville riprenderà il suo ruolo di Ian Fletcher, così come Jessica Hynes quello di Siobhan Sharpe.
Manca poco al ritorno, non ancora annunciato con precisione, di My Mad Fat Diary, quindi per ingannare l'attesa eccovi il trailer della seconda stagione.

Torniamo a parlare dei nuovi progetti della BBC. Scritto da Gwyneth Hughes, Remember Me è una miniserie di tre episodi che racconta la storia di Tom Parfitt che lascia la sua casa nello Yorckshire per andare in una casa di riposo. L'uomo sarà l'unico testimone di una morte violenta. La sua giovane infermiera Hannah ed il detective Rob Fairholme, proveranno a venire a capo del mistero e verranno trascinati in un mondo pericoloso di amori perduti e tradimento. Nel cast troviamo Michael Palin nei panni del protagonista, Mark Addy sarà il detective ed Hannah sarà interpretata da Jodie Comer.

Parliamo ora di Sherlock e di alcune novità che orbitano intorno ad essa.
Partiamo dal ritorno in grande stile di Moriarty durante il finale della terza stagione. Andrew Scott ha rivelato che il ritorno del suo personaggio era stato già messo in conto dagli autori da parecchio tempo.
"Non c'era bisogno che mi convicenssero a tornare perché tutti abbiamo sempre saputo che Jim Moriarty sarebbe tornato. E' una cosa che era già stata pianificata. Tutti continuavano a chiedermi, dopo il finale della seconda stagione, se c'era la possibilità di rivedere nuovamente Moriarty, io ero solito rispondere in merito che potevano fare congetture in merito di loro piacimento. Era una domanda alla quale era preferibile non rispondere"
Come forse già sapete dall'Apple store sarà disponibile a breve, a circa 3£, un'app chiamata Sherlock: The Network. Conterrà più di 30 minuti di video esclusivi con protagonisti gli attori della serie, ci saranno giochi e misteri da risolvere insieme a loro.
Sherlock Holmes ha un messaggio per tutti noi fan, ha bisogno del nostr aiuto per risolvere alcuni casi. Tramite quindi i nostri cellulare potremmo navigare le strade di Londra alla scoperta di indizi e risolvendo puzzle per arrivare alla risoluzione del caso. E' disponibile un trailer dell'app che potete vedere qui sotto

Infine vi ricordo che ieri sera è iniziato su BBC One, The Musketeers, quindi se non l'avete ancora visto, correte a vederlo e scaricate i nostri sottotitoli preparati dallo splendido team di >NoWaySubs< che si è anche occupato di subbare il trailer del secondo episodio, disponibile qui sotto.

Infine come sempre vi invito a seguire le pagine affiliate con la rubrica che fanno sempre un gran bel lavoro nell'intrattenere tutti noi fan con news, immagini e post divertenti: Atlantis Italia, British Artists Addicted, British Series, Broadchurch Italia, David Tennant Italian Page, Doctor Who Italy, Dottò CHI?, Downton Abbey Italia, My Doctor, Peter Capladi Italia, Sherlock (BBC) Italia, la nuova arrivata The Musketeers Italia, The Paradise Italian FanPage, The White Queen Italia. Se anche voi avete una pagina su serie o attori di serie tv british che vorreste affiliare alla rubrica, scrivetemi pure! Rinnovo come sempre l'invito a iscrivervi al nostro gruppo facebook Noi…Telefilm Addicted e vi aspetto numerosi nei commenti!
Alla prossima settimana 🙂