Buon inizio settimana cari British Addicted! Questi ultimi giorni di settembre sono stati ricchi di nuove serie, trailer e news, direi quindi di andare subito a scoprire un po' di queste novità insieme!
DOCTOR WHO
Whovian in giro per il mondo, non siate arrabbiati su. La BBC questa volta è stata più che chiara in merito al materiale riguardante il cinquantesimo episodio di Doctor Who, trasmesso prima e dopo la messa in onda di Atlantis. Abbiamo infatti ora due teaser, privi di qualsivoglia indizio sull'episodio, raffiguranti uno il logo e l'altro l'hashtag #SaveTheDate e la promessa da parte dell'emittente che il trailer sarà splendido e arriverà a breve sui nostri schermi, perchè in post produzione. Nel video caricaro sul canale Youtube della BBC i due teaser sono montati in uno unico video che potete trovare di seguito.

All'inizio della scorsa settimana la BBC ha rilasciato un altro dei suoi trailer comprensivi di più serie, alcune di ritorno ed alcune nuove. Come già fatto per lo scorso trailer, anche oggi andremo a vedere insieme di cosa trattano gli show citati.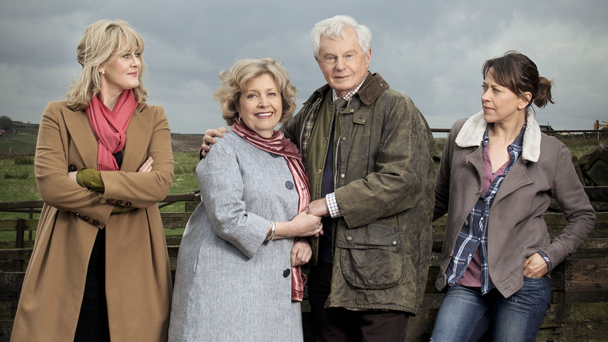 Last Tango in Halifax
è una commedia romantica, giunta alla seconda stagione con protagonisti Derek Jacobi ed Anne Reid. Alan Buttershaw (Jacobi) e Celia Dawson (Reid) sono due vedovi settantenni. Quando i loro nipoti li iscrivono a Facebook, entrambi riscoprono i sentimenti che provano l'uno per l'altra, intensi come quelli di sessan'anni fa, quando erano giovani. Questa loro storia è la celebrazione del potere dell'amore a qualsiasi età. Ma non finisce qui, perchè infatti sia la famiglia di Alan che quella di Cecilia, hanno alle spelle storie particolari ed interessanti. Non c'è ancora una data per la premiere, ma la serie dovrebbe tornare in onda a Novembre.
Altro show di ritorno con la seconda stagione è
Call The Midwife
, un period drama che segue le vicende di Jenny Lee, levatrice particolarmente preparata. La donna lavora in un convento e dovrà affrontare anche le difficoltà portate dalle malattie note nel 1950.
Siamo pronti e scalpitanti anche per la seconda serie di
The Paradise
, altro period drama di casa BBC. Ambientato nel 1870, per lo più in un nuovo grande magazzino, tra pizzi e merletti ci porterà alla scoperta delle storie d'amore e dei segreti che ruotano intorno alla vita dei vari protagonisti. C'è anche una news riguardante il cast della serie: Sarah Lancashire non vestirà più i panni di Miss Audrey. La Lancashire sarà presente solo in qualche episodio della seconda stagione, in quanto le riprese per The Paradise e quelle per Last Tango In Halifax coincidevano e non le hanno permesso di prendere parte ad entrambe le serie. In ogni caso la porta è sempre aperta per un possibile ritorno a tempo pieno. Di seguito potete vedere il trailer per la seconda stagione dello show.
Tra le nuove miniserie del trailer troviamo
Death Comes to Pemberley
di cui avevo già parlato in
questo
post.
Altra novità di quest'autunno è la miniserie in due episodi
The 7.39
, scritta da David Nicholls (One Day, Starter For Ten) e con David Morrissey (The Walking Dead), Sheridan Smith (Mrs Biggs), Olivia Colman (Broadchurch) e Sean Maguire (Scott & Bailey). Carl Matthews (Morrissey) ha 45 anni e la sua vita è diventata routine, ogni mattina fa le corse contro il tempo per pendere il treno delle 7.39 e vedere le stesse tristi persone. Felicemente sposato con la sua migliore amica dal college, Maggie (Colman), insieme hanno due bellissimi figli, ma la vita di Carl è ormai prevedibile. Sally Thorn (Smith) si è recentemente trasferita fuori Londra, dove però continua a lavorare come manager per un centro benessere, ma non è sicura di volere questa vita. Non capisce se dipende dal trasloco in periferia o dalla prospettiva di sposare Ryan (Maguire), affascinante personal trainer che freme dalla voglia di sposarsi, sistemarsi e metter su famiglia. Nonostante queste premesse, Sally non è certa che Ryan sia l'uomo della sua vita. Le vite di Carl e Sally s'incrociano proprio sul treno delle 7.39, quando i due iniziano a litigare per un posto a sedere, conversazione che apre la strada a tante altre nei giorni a venire, rendendo il viaggio in treno più interessante e piacevole.
A seguire abbiamo anche
Truckers
, che inizierà il 10 ottobre su BBC One. Scritto da William Ivory, lo show seguirà diversi personaggi dal carattere irascibile, uomini e donne che lavorano per la stessa compagnia come autisti di camion. In ogni episodio uno di questi autisti s'imbarcherà in un'avventura che gli cambierà la vita e porterà con sè il pubblico. Nel cast troiamo Stephen Tompkinson (DCI Banks), Ashley Walters (Inside Men), John Dagleish (Lark Rise To Candleford), Harry Treadaway (Control), Sian Breckin (Donkey Punch) e Jenn Murray (The Fades). A seguire potete vedere il trailer integrale per la serie.
Infine, nel trailer è possibile vedere anche qualche spezzone di un nuovo film di 90″ per la tv dal titolo
Common
che vede protagonisti Nico Mirallegro (My Mad Fat Diary), Daniel Mays (Mrs Biggs), Susan Lynch (Monroe), Jodhi May (The Ice Cream Girls), Andrew Tiernan (Prisoners' Wives), Robert Pugh (Game of Thrones), Philip Hill-Pearson (Good Cop), Ben Smith (Hidden), Andrew Ellis (This Is England '86), Harry McMullen, Michelle Farley (Game Of Thrones), Jack McMullen (Waterloo Road) e Sir Michael Gambon (Harry Potter)
ALTRE NEWS

La nuova comedy di Gold, You, Me, Them con Anthony Head ed Eve Myles protagonisti farà il suo esordio il 23 Ottobre alle 21.00.
Nel frattempo la BBC allarga il cast per il suo nuovo drama di 3 episodi Jamaica Inn. Nella serie vedremo anche Jessica Brown Findlay (Downton Abbey), Matthew McNulty (The Paradise), Sean Harris (The Borgias), Ben Daniels (House of Cards), Joanne Whalley (The Borgias) e Shirley Henderson (The Crimson Petal and The White).
Per concludere con le news volevo segnalarvi un nuovo drama, sempre di casa BBC, scritto da Abi Morgan, vincitrice agli Emmy nella categoria 'Writing, Miniseries or Movie' per la serie The Hour. La nuova serie s'intitolerà River e sarà composta da 6 episodi. Seguirà le vicende di John River, un brillante poliziotto il cui genio deriva dalla sua fragile mente. L'uomo quindi si troverà a camminare lungo la linea sottile tra una patologia estrema a tal punto da farlo licenziare per sempre ed uno stato mentale ottimale, una cura, che però porterebbe via il suo dono.
PROMO
Allora avete visto il primo episodio di Atlantis con i nostri sottotitoli? Vi è piaciuto? In Gran Bretagna è stato sicuramente apprezzato se guardiamo gli ascolti (5.6 milioni di spettatori con uno share del 25%). A seguire troverete il promo del secondo episodio sempre con i sottotitoli del nostro efficientissimo team di >NoWaySubs<.

I sottotitoli della serie sono disponibili nella
sezione apposita
ed usciranno ogni domenica. Rimanendo in tema vi ricordo che il nostro splendido
team
pubblicherà ogni lunedì anche i sottotitoli di un'altra serie britannica:
By Any Means
e che la sottoscritta recensisce anche, quindi stay tuned!
Anche per questa settimana siamo arrivata alla conclusione e come sempre vi consiglio di seguire le aggiornatissime pagine affiliate con la nostra rubrica: Atlantis Italia (che è anche alla ricerca di amministratori, se qualcuno fosse interessato) British Artists Addicted, Broadchurch Italia, David Tennant Italian Page, Doctor Who Italy, Dottò CHI?, Downton Abbey Italia, Sherlock (BBC) Italia, The Paradise Italian FanPage, The White Queen Italia, mi raccomando, correte a mettere un bel MI PIACE se non l'avete ancora fatto!
Rinnovo come sempre l'invito ad iscrivervi al nostro gruppo facebook Noi…Telefilm Addicted. Vi aspetto numerosi nei commenti e spero di ritrovarvi la prossima settimana! Buona Lettura 🙂