Bentornati cari amici addicted con la rubrica che raccoglie per voi tutte le news provenienti dal mondo british. Questa settimana ci divideremo tra drama, con le nuove uscite e gli attesi ritorni di grandi successi, e una sana dose di romanticismo, richiamando l'atmosfera del San Valentino appena passato.
Cominciamo proprio da una coppia che ci ha fatto tanto sospirare, ovvero Mrs Skerrett e Francetelli dalla serie ITV "Victoria". L'assistente della Regina e il cuoco di palazzo si sono finalmente dichiarati il loro amore nello scorso speciale natalizio (con mia somma gioia), ma questi sentimenti potrebbero essere ostacolati dalle loro rispettive professioni. Ferdinand Kingsley, interprete di Francatelli, dice, a proposito, che tutto è nelle mani della creatrice della serie Daisy Goodwin, mentre Nell Hudson, interprete di Skerrett, si è dimostrata più ottimista nella sua ultima intervista per RadioTimes, dicendo che possiamo essere certi che il loro amore è sincero, anche se devono ancora capire quale strada prendere. Insomma, manteniamo vive le speranze.
Sempre per restare in tema di grandi speranze, parliamo ora di "Poldark" e della difficile situazione del matrimonio tra Ross e Demelza. In occasione di San Valentino la BBC ha rilasciato infatti un video speciale con alcuni estratti dei momenti più romantici che vedremo nella prossima stagione, dove abbiamo potuto ammirare i coniugi Poldark in una ritrovata armonia; in particolare la scena nella vasca da bagno fa davvero ben sperare che Ross e Demelza possano superare le difficoltà nel loro rapporto ed i rispettivi tradimenti. Aidan Turner ha affermato che tutta la vicenda è stata trattata con assoluto realismo – poiché questi sono problemi che possono capitare in qualsiasi relazione e matrimonio nella vita vera – ed è proprio per questo che il pubblico potrebbe immedesimarsi ed apprezzare ancora di più questa quarta stagione.
Passiamo invece alla sezione drama.
Channel 4
A discapito dell'opinione comune, non tutte le serie made in Italy sono proprio da buttare. A partire da febbraio, infatti, l'emittente inglese ha trasmesso la serie "Maltese: il romanzo del commissario" (andata in onda lo scorso maggio su Rai1 e con protagonista Kim Rossi Stuart) ribattezzandola "Maltese: The Mafia Detective". Per una volta potremo dire di aver avuto un'anteprima, invece di dover aspettare l'uscita dei sottotitoli.
ITV
ITV propone invece il ritorno di tre grandi successi: "Marcella" torna a febbraio con la seconda stagione; "Midsomer Murders" (in Italia conosciuto come "L'Ispettore Barnaby") tornerà in tarda primavera per celebrare il suo ventesimo anniversario; e infine "Unforgotten" tornerà quest'estate con la terza stagione, le cui riprese sono iniziate questo mese.
BBC1
Questa settimana è tornata la serie "Shetland" con la sua terza stagione, mentre Idris Elba ha ufficialmente iniziato le riprese della nuova stagione di "Luther" che andrà in onda questo autunno. Il cuore del nostro staff però si è rianimato per l'imminente ritorno di "Strike" con la seconda serie "Career of Evil" basata sul terzo romanzo della serie di JK Rowling (pubblicata sotto lo pseudonimo di Robert Galbraith). Aspettatevi una recensione su Telefilm Addicted, io ve lo dico.
BBC2
Ad aprile andrà in onda "The City and the City", un adattamento del romanzo di China Mieville che vedrà come protagonista David Morrissey (attualmente impegnato con "Britannia"). Ha avuto invece la sua première questa settimana il nuovo drama "Collateral" con un cast a dir poco stellare, che vede, oltre alla protagonista Carey Mulligan, la presenza di due grandissimi volti di "Doctor Who": Billie Piper e John Simm. La serie in quattro puntate, prodotta in collaborazione con Netflix, seguirà le indagini del detective Kip Glaspie (Mulligan) per portare alla luce la verità su un caso di omicidio che, come di consueto, nasconde ben più di quello che le prime impressioni vogliano suggerire. Billie Piper interpreta una madre un po' allo sbando e sarà proprio davanti alla sua porta che incontreremo per la prima volta la vittima; John Simm invece ha il ruolo di un parlamentare laburista che però al momento vive una grande conflittualità con il suo leader e la sua carriera – per scoprire quale sarà il suo coinvolgimento con il caso di omicidio dovrete seguire questa serie.
Ed infine una news fresca fresca, che non fa puramente riferimento ad una serie british, ma che farà sicuramente contenti molti fan di "Doctor Who": la straordinaria Michelle Gomez è entrata a far parte del nuovo progetto Netflix per il reboot di "Sabrina, The Teenage Witch" dove interpreterà Mary Wardell, un'insegnante posseduta dal demonio che tenterà di trascinare la giovane strega verso l'oscurità. Ammetto che questa notizia potrebbe farmi rivalutare completamente la possibilità di dare una chance a questo show, solo per te Michelle.
Per la sezione news chiudiamo qui, ma restiamo in tema drama e sempre legati al buon John Simm per il consiglio di questa settimana: vi lascio nelle mani di Syl.

Trauma, la miniserie divisa in tre parti, fresca fresca di messa in onda, è in grado di farvi venire un'ansia tremenda creare una suspance tale da farmi pentire di averla seguita quotidianamente. Avrei dovuto aspettare e poi guardarmela tutta d'un fiato, senza dover far pausa 24 ore tra un cliffhanger e l'altro e intanto tenere a bada la mia impazienza per vedere come sarebbe andata a finire tra i due "contendenti", i due protagonisti maschili al centro del drama.
Trauma è uno psico-thriller dal ritmo molto intenso, ideato dallo stesso creatore di Doctor Forster,  Mike Bartlett, i cui ruoli principali sono interpretati da John Simm, nei panni di Dan Bowker, che, senza alcun preavviso, si trova a vivere la peggiore giornata della sua vita – viene licenziato e il  figlio adolescente, Alex, è accoltellato per futili motivi – e Adrian Lester, l'impeccabile dottor Jon Allerton, il traumatologo che accoglie Alex al pronto soccorso, senza riuscire a salvarlo, a causa dell'apparente gravità delle sue condizioni. E fin qui tutto bene, parrebbe.

Il punto di partenza, così intriso di tragedia dal sapore quasi persecutorio che si abbatte su Dan e la sua famiglia, prende subito una svolta inaspettata, che costituirà il telaio narrativo portante. Dan si convince in modo ossessivo, senza alcun valido motivo né fatti comprovati, che il dottor Allerton sia colpevole della morte del figlio per un errore medico e che non stia dicendo tutta la verità. Si fissa a tal punto da perdere lucidità e rischiare di mandare all'aria la sua vita per una paranoia che rasenta livelli di ostinazione inconcepibili.
Naturalmente è immediato l'interrogativo che lo spettatore, insieme al dottor Allerton, si pone: perché Dan se la prende tanto con lui, invece che con l'esecutore materiale dell'aggressione? Diciamo che ognuno ha i suoi modi di (non) reagire a una perdita tanto devastante compreso, probabilmente, fissarsi furiosamente sull'unica cosa che è in grado di non mandarlo in pezzi: dimostrare la colpevolezza di Jon.
Dan non è solo travolto dal dolore, da un'aggressività maldiretta e da un desiderio di giustizia (o di vendetta) per cui sarebbe necessario un intervento più esperto (decisamente non quello che va a cercarsi), ma, soprattutto, vive con profondo rancore, maturato nel tempo, la differenza di classe sociale, e di ricchezza materiale che ne consegue, che permette a Jon di vivere nel lusso e a lui di non avere i soldi per vivere.
Jon è l'incarnazione di tutto quello che lui non è, e che avrebbe voluto essere: è benvoluto, elegante, composto, il migliore nel suo campo, è stimato e si muove nel mondo con la sicurezza che, se continuerà a comportarsi correttamente, tutto andrà bene. È impossibile non stare dalla sua parte, non sentirsi soffocare dai tentativi a cui si spinge Dan per metterlo a disagio e molto di più, e non apprezzare la sua infinita pazienza e calma.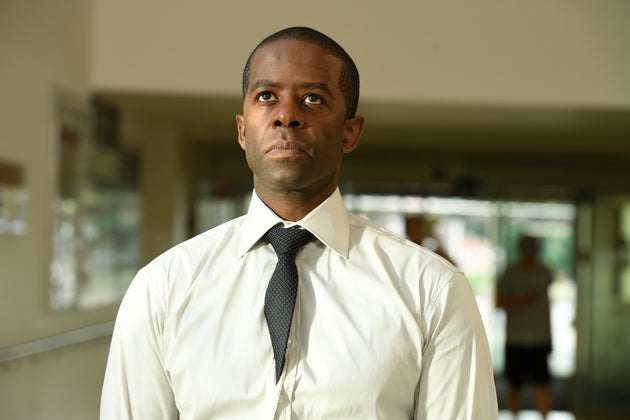 D'altro canto, invece, è impossibile provare un briciolo di simpatia per Dan, che normalmente avrebbe diritto a un minimo di misericordia e che, invece, non vediamo l'ora che scompaia per sempre in un buco nero. E più si va avanti con la storia, e più l'intolleranza per Dan raggiunge livelli epici.


Ma sarà sempre così? La nostra opinione rimarrà la stessa fino alla fine o i fatti ci faranno cambiare idea? Di più non posso dirvi, o farei degli enormi spoiler, quindi vi lascio il trailer e vi consiglio di dare a questa serie una possibilità, se avete voglia di qualcosa che vi tenga sul serio con il fiato sospeso fino all'ultimo!
https://youtu.be/DENJDpZH7Ek
Per questo appuntamento ci fermiamo qui.
Un saluto alle pagine affiliate e a rileggerci tra due settimane!
Gli attori britannici hanno rovinato la mia vita – British Artists Addicted – Sherlock Italy – Sherlock BBC Italia – Sherlock Italia – take care of Jenna Louise Coleman Italia – » Same old, same old just Jenna Coleman & Peter Capaldi – Don't be a warrior, be a D o c t o r ϟ – Emma Watson Fans – Downton Abbey Italia – The Crown Italia – An Anglophile Girl's Diary – The White Queen Italia