Chi ha un minimo di confidenza con il mondo seriale britannico ben sa che gli attori in quel di Albione sono circa una trentina: capita molto di frequente di vedere sempre le stesse facce nei ruoli più disparati (magari anche nelle medesime location perché, si sa, anche quelle son sempre le stesse).
A volte capita di non ricordarsi dove si è già visto l'attore e guardando la filmografia ci si rende conto che lo si è visto almeno in altre ventordici serie. A quel punto inizi a preoccuparti seriamente per la tua sanità mentale, perché se nemmeno dopo 4 ruoli ti ricordi il nome di un attore che tra l'altro ritieni pure bravo, beh, allora la demenza senile ti sta raggiungendo a grandi falcate.
Ma la regola generale è che il 99% degli attori inglesi o ha avuto un piccolo ruolo in Doctor Who o ha preso parte ad Harry Potter, se non entrambe le opzioni. A meno che tu non sia Martin Freeman: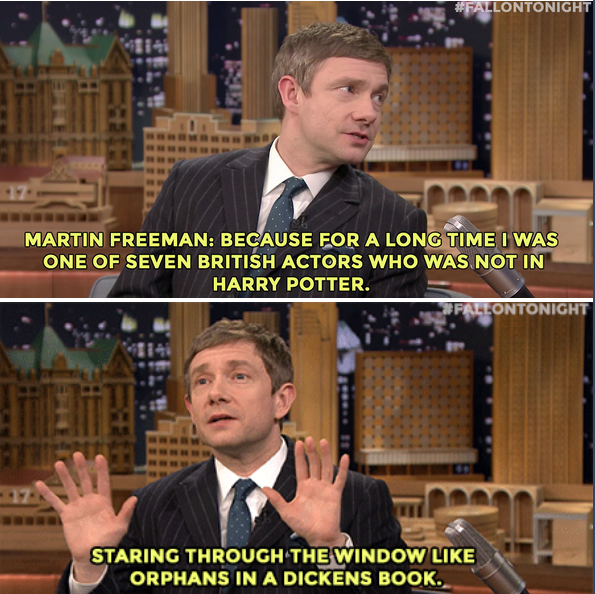 Quest'oggi voglio soffermarmi su 5 attrici, rigorosamente over 40, che ritengo siano "da pioggia di premi". Le vedi recitare e vorresti urlare: DATE UN EMMY A QUELLA DONNA! (o un BAFTA, per rimanere in terra britannica).
5 attrici assolutamente straordinarie che meriterebbero molta più fama di quella che hanno.
Va bene, lo ammetto subito e mi tolgo il sassolino dalla scarpa: sono spudoratamente pro-attori inglesi, trovo che il loro background teatrale, e nello specifico shakespeariano, conferisca loro un fascino ed un'autorità recitativa differente rispetto ai colleghi americani.
Ho nominato Martin Freeman e mi pare giusto partire dalla compagna AMANDA ABBINGTON.
Classe 1974, è conosciuta al grande pubblico per interpretare la moglie di John Watson in Sherlock, che altri non è se non Martin Freeman. Una serie che si potrebbe definire "a conduzione familiare", visto l'alto tasso di parenti coinvolti nella lavorazione. E' uno di quei casi in cui ti chiedi se la BBC sia di manica strettissima e gli attori siano costretti a portarsi oggetti da casa (ops, succede anche questo) o se ci sia una spiccata via preferenziale per amici e parenti.
Bando alle ciance, la Mary Morstan di Amanda Abbington è PERFETTA.
Perfetta per Watson, perfetta per Sherlock. Ha quel piglio autoritario necessario per evitare di farsi scavalcare da Sherlock e allo stesso tempo ha tutte le qualità per suscitare l'ammirazione ed il rispetto di quest'ultimo. La Abbington riesce benissimo nel mostrare queste qualità.
Pur amando Mary Morstan, il ruolo che porto nel cuore è quello di Josie Mardle in Mr Selfridge.
Pur essendo una serie basata sulle gesta dell'imprenditore americano fondatore del grande magazzino che porta il suo nome, Mr Selfridge è una storia che trova la sua forza narrativa nei personaggi femminili. La Miss Mardle di Amanda Abbington è di gran lunga il mio preferito, pacato e posato ma allo stesso tempo con una grandissima forza d'animo, capace di far venire i lacrimoni anche ai più algidi.
A proposito di pianti, quanti me ne ha fatti fare MAXINE PEAKE!
Anche lei classe 1974, l'ho conosciuta la prima volta in The Hollow Crown. L'amore è scattato con The Village, quella che ritengo una delle migliori serie della BBC (se poi magari decidesse anche di fare una terza stagione noi saremmo tutti contenti).
Chi ha visto la prima stagione della serie capirà bene di cosa parlo, non dico nient'altro per non influenzare chi vorrebbe recuperare The Village. Vi dico solo che dopo 6 puntate potreste ritrovarvi circondati da molti fazzoletti.
E' Martha Costello in Silk, legal procedural in salsa inglese che vi farà sentire molto disorientati per via del sistema giudiziario molto diverso a quello a cui siamo abituati (dove ci si mette in mezzo anche quello americano).
E' riuscita ad essere uno dei pochi raggi di luce di una miniserie senza infamia e senza lode (Room at the top); chi ha visto La teoria del tutto l'avrà riconosciuta nel ruolo dell'infermiera Elaine.
Io la considero una delle migliori attrici della sua generazione, insieme a colei di cui vi parlerò qui di seguito.
OLIVIA COLMAN, una donna, un  mito.
Anche lei del 1974 (a questo punto verrebbe da esclamare "Grande annata!"), si è fatta conoscere al grande pubblico interpretando il Detective Ellie Miller, per gli amici MILLAH, in Broadchurch.
Non ho abbastanza parole per descrivere il lavoro immenso fatto dalla Colman nel portare sul piccolo schermo un personaggio come Ellie, costretta a dover far fronte a verità orrende e destabilizzanti.
Nemmeno la seconda stagione, che reputo nettamente inferiore alla prima, ha scalfito la sua bravura, uno dei pochi casi in cui una sceneggiatura non brillante non è in grado di intaccare l'interpretazione dell'attore.
Negli ultimi mesi l'abbiamo vista in The Night Manager, al fianco di Tom Hiddleston. Tra i momenti più belli, un dialogo tra i due in treno, tra le montagne. Anche qui dimostra come sia una fuoriclasse assoluta (anche uno dei pochi esemplari di attrice in grado di non "scomparire" nelle scene con Hiddleston, perché qui si fa un po' fatica a tenere alto il livello di concentrazione quando c'è lui in scena. La regia di Susanne Bier, con primi piani strategici, non ha aiutato per nulla).
Tra i tanti lavori – passa agevolmente dalla comedy al drama – mi piace ricordare la miniserie in due parti 7:39.
Chi ha visto My Mad Fat Diary l'avrà riconosciuta subito.
Lei è CLAIRE RUSHBROOK, madre di Rae Earl.
Se non avete visto My Mad Fat Diary chiudete tutto e andate subito a recuperarlo.
Avete presente la classica serie teen? Ecco, la storia di Rae Earl è quanto di più lontano ci possa essere dai teenager a cui ci ha abituato la tv negli ultimi anni.
E' una serie splendida, in grado di trattare temi delicati con sufficiente spensieratezza. E' da 10 e lode in tutte le sue parti.
Io non vedo l'ora di rivedere Claire Rushbrook nella seconda stagione di Home Fires. Se la serie, ambientata all'inizio della seconda guerra mondiale, risulta essere nella norma, senza che si possa gridare al capolavoro, l'interpretazione che la Rushbrook fa del suo personaggio, Pat Simms, è decisamente notevole. Personalmente, io la vedo già candidata ai BAFTA come miglior attrice non protagonista (e la farei anche vincere). La sua prova mi ha convinto al 100%.
Per chi volesse scoprire qualcosa di più su Home Fires, qui trovate il mio "Telefilm Addicted consiglia…". La seconda stagione è in partenza domenica 3 aprile.
Ed arriviamo all'ultima attrice, la più grande anagraficamente.
SARAH LANCASHIRE è la dimostrazione che le attrici cinquantenni, con i ruoli giusti, spaccano i culi più delle loro colleghe ventenni.
Non ve lo dirò mai abbastanza: recuperate Happy Valley!
La Lancashire interpreta la protagonista Catherine Cawood, badass a tutto tondo, poliziotta multifunzione, poco tatto, tanta voglia di prendere a schiaffi la gente.
La sua è una storia drammatica, non aspettatevi niente di "Happy". E' appena terminata la seconda stagione che si è dimostrata addirittura migliore dell'ottima prima.
Se invece volete rilassarvi e vedere qualcosa di più leggero (ma ricordatevi che il dramma è sempre dietro l'angolo, quando meno te lo aspetti), vi consiglio Last tango in Halifax. Storia di due vecchietti che erano stati fidanzati da adolescenti e le cui strade si erano poi divise. Si ritroveranno grazie a Facebook, scoprendo di non essersi mai dimenticati.
La Lancashire interpreta la figlia della "simpaticissima" protagonista, ruolo per il quale ha anche vinto un BAFTA come miglior attrice non protagonista.
Inoltre, chi ha visto The Paradise se la ricorderà come la severa Miss Audrey.
Conclusa la mia lista delle magnifiche 5, vi faccio una domanda: quante di loro hanno partecipato a Doctor Who?