Gli attori, si sa, dimostrano la loro bravura anche passando da un ruolo a un altro del tutto diverso dal precedente, interpretando ora un bravo ragazzo, ora un perfido serial killer, ora un amante disposto a tutto per la propria donna. E, se il pensiero di tutti va a Penn Badgley e ai suoi personaggi molto differenti di Gossip Girl e di You, qui abbiamo cercato di ricordare quei 5 attori in ruoli completamente opposti che forse non ricordate.
1) Iwan Rehon
via GIPHY
Il volto di Iwan è diventato noto per la sua partecipazione a Misfits, dove interpretava il timido e insicuro Simon, il ragazzo capace di rendersi invisibile – esattamente come si sentiva lui stesso agli occhi degli altri. Simon cambiava nel corso della serie, ma non drasticamente come lo vedremo in seguito interpretate Ramsay Bolton ne Il Trono di Spade: Ramsay è sadico, malvagio, privo di scrupoli, tutto ciò che non sarebbe mai stato Simon. A sottolineare l'ottimo lavoro di Iwan è la sua contemporanea collaborazione a Vicious, dove interpretata Ash, una sorta di ritorno alle origini; vicino di casa dei personaggi di Ian McKellen e Derek Jacobi, Ash è buono e sempre disponibile per i suoi anziani amici, e la messa in onda della serie in contemporanea a quella della HBO non fa che evidenziare il suo trasformismo. Ultimo, ma non ultimo, lo vediamo poi interpretare Adolf Hitler accanto a Rupert Grint in Urban Myths.
2) Robert Sheehan
via GIPHY
Collega di Iwan in Misfits, Robert mette in scena un personaggio che, come Ramsay, è incompatibile con Simon: si tratta dello spericolato e – siamo onesti – insopportabile Nathan, che aveva acquisito il potere dell'immortalità. Nathan è estroverso, privo di limiti, pronto a tutto pur di divertirsi, ed è interessante che abbiano usato il suo volto per il personaggio di Simon nella trasposizione cinematografica di Shadowhunters. Molto simile al Simon di Iwan Rehon, quello interpretato da Robert è un amico fedele e un ragazzo divertente, che farebbe di tutto per Claire. A distanza di anni, però, viene chiesto a Robert di prestare il proprio volto a un personaggio parecchio distante dal precedente, e si tratta dell'iconico Klaus di The Umbrella Academy.
3) Aidan Turner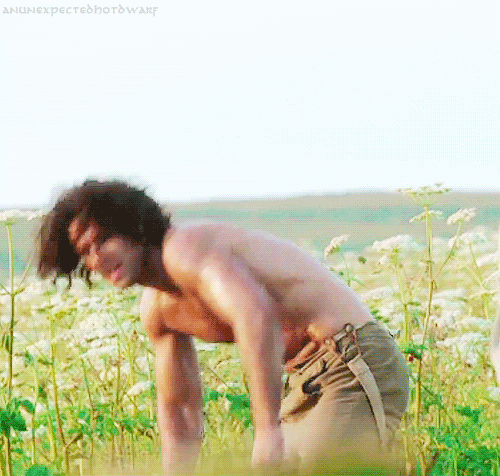 Sul set di Shadowhunters insieme a Robert nei panni del licantropo Luke, Aidan è noto principalmente come il nano Kili della trilogia Lo Hobbit. Si tratta in entrambi i casi di personaggi positivi, buoni ed eroici, ed è infatti incomprensibile la scelta di usare Aidan per ruoli che non rispecchiano per niente i precedenti. Stiamo parlando in primo luogo di Dante Gabriel Rossetti in Desperate Romantics, il pittore che insieme a Millais riprodusse Lizzie Siddal e ne poi rimase sedotto, sebbene per le sue vanità e ambizione finisse per metterla sempre al secondo posto, distruggendola; lo vediamo poi in Dieci Piccoli Indiani come Philip, e chiunque conosca la storia sa già che non si può trattare di un personaggio positivo; infine lo ricordiamo in Being Human come il vampiro Mitchell, che sebbene meno negativo dei due ruoli precedenti si distanzia parecchio dal licantropo Luke. Il suo ultimo lavoro gli fa intraprendere una nuova strada, il serio e rispettabile Ross Poldark nell'omonima serie televisiva.
4) Adam Brody
via GIPHY
Il personaggio iconico di Adam è senza alcun dubbio l'autoironico Seth Cohen di The O.C., adolescente nerd prima che la categoria iniziasse a venire rivalutata. Seth è innamorato da sempre di Summer, è un eterno bambino, è pronto a tutto per la propria famiglia e gli amici, e sebbene abbia momenti di puro e sano egoismo niente avrebbe fatto pensare al Nikolai di Jennifer's Body, satanista e privo di scrupoli. Piuttosto è più naturale ricollegarlo al suo primo ruolo di rilievo, quello di Dave, il primo fidanzato di Lane in Una mamma per amica. Ancora una volta, però, la pellicola Finché morte non ci separi torna a ricordare quanto poco angelico possa rivelarsi il volto di Adam.
5) Joe Dempsie
via GIPHY
Tra gli attori citati, Joe è l'unico ad avere messo in scena personaggi completamente opposti che fossero però lo stesso amati dal pubblico. Il suo primo ruolo è quello di Chris nella prima generazione di Skins, un ragazzo abbandonato dai genitori e dedito ad alcol, fumo e sesso sfrenato, l'idolo delle feste, lo studente innamorato della professoressa, colui che si riscopre pazzo per la sua migliore amica, un adolescente complicato con un brutto segreto nascosto che ha deciso di vivere la propria vita senza perdersi nessuna occasione. Un ruolo di transizione è quello di Cline in un episodio di Doctor Who, prima di approdare sul set de Il Trono di Spade come il giovane fabbro Gendry, figlio illegittimo di re Robert, ottimo guerriero, fedele alleato. Un personaggio secondario che non si dimentica facilmente.
E voi quali ricordate come attori in ruoli completamente opposti?