Ecco tornata la rubrica di Telefilm Addicted che ci fa sempre sorridere pensando ai personaggi delle nostre serie tv preferite!
Questa settimana seguiremo le orme di un personaggio più unico che raro, al di fuori del tempo e dello spazio, un Dottore che non è un medico, il protagonista di una serie che a giorni spegnerà 50 candeline… Sto parlando del nostro amato Doctor!
Questa guida su come diventare the Doctah, si rifà in gran parte alle ultime stagioni, a partire dal 2005, in quanto sono ancora in fase di recupero della serie originale, quindi i riferimenti a quest'ultima saranno limitati.
Siete pronti allora a scoprire come fare per diventare i prossimi Dottori? Ecco qualche semplice regola che sicuramente vi aiuterà in quest'impresa!
1) A prescindere dal periodo storico in cui vi ritrovate, vestite sempre in modo originale e strambo, qualsiasi cosa fuori moda da più di qualche decennio va bene. Con la sola eccezione di un jeans e una giacca di pelle, il vostro armadio dev'essere popolato da capi d'epoca, non importa quale, purché non sia quella attuale.
2) Gli accessori sono fondamentali e voi siete dei professionisti in questo campo, non rinunciate mai a papillon, cravatte, fez, texani, gambo di sedano nella giacca, sciarpe, occhiali e chi più ne ha più ne metta… Because they are cool!
3) Prendete in prestito una cabina telefonica della polizia inglese e fatene la vostra macchina del tempo, la vostra casa, la vostra compagna di sempre.
I requisiti fondamentali saranno:
– Dev'essere più grande dentro…Ma di parecchio.
– Al centro deve avere una console ricca di aggeggi, leve e pulsati, di cui, nel 90% dei casi ne userete solo uno e sempre lo stesso.
– Date le dimensioni, potete divertirvi a metterci dentro di tutto: piscina, mega libreria, armadio gigante in cui entrate una volta, massimo 2 a rigenerazione, tutto quello che potete raccattare durante i vostri innumerevoli viaggi e letti a castello per gli ospiti, anche per quelli sposati,
– Per quanto riguarda l'arredamento non fatevi problemi, alla rigenerazione successiva cambia tutto in automatico, meglio che in cerco casa disperatamente!
– Quando siete soli con la vostra TARDIS, coccolatele la console e datele nomignoli dolci e sensuali, la renderete sicuramente felice ma fate attenzione! Come tutte le donne che si rispettino una volta umana si divertirà a farvi fare figuracce con gli amici raccontando dei vostri momenti intimi.
Siccome sarà difficile però reperire una di queste cabine oggi, potete sempre pensare di costruirne una da voi e per il bigger on the inside , potete sempre metterla in giardino e costruirci una casa sotto!
4) Lasciate correre la vostra fantasia! Inventate strani termini che nessuna delle persone intorno a voi riuscirà a capire nell'immediato presente! Dilettatevi con le lingue straniere, perché ogni tanto buttar lì qualche parola in una lingua diversa dalla propria fa sempre figo e trovate qualche termine che v'identifichi, una catchphrase!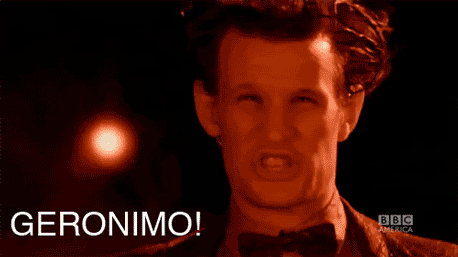 5) L'universo in giro da soli non è bello, avete bisogno quindi di compagnia! Se siete a corto di nipoti ripromettetevi di trovare compagni in giro per il mondo, anche se poi nel 90% dei casi finirete per trovarli al centro di Londra.
6) Dovete essere credibili e per voi non sarà mai difficile. Avete bisogno innanzitutto di un foglio bianco messo in un portatessere, altrimenti chiamato "Psychic Paper", che farà magicamente leggere a chi è vicino a voi quello che voi volete ci sia scritto sopra, (attenzione ci sarà parecchio da esercitarsi) poi è fondamentale che, per qualsiasi crisi, domanda esistenziale, fine del mondo, cambio di stagione abbiate sempre la risposta pronta: "Trust me, I'm The Doctor" vi tirerà fuori da tutte le situazioni.
P.S.
Quando e se vi dovessero chiedere "Doctor Who?" tenetevi sul vago, non vi piace molto parlare di voi.
7) Non fate l'errore che fanno tutti, non importa quante volte sconfiggerete Dalek, non gioite perché torneranno SEMPRE, peggio delle rate del mutuo.
8) Se invitati ad una festa su qualsiasi pianeta voi siate, con chiunque voi siate, ricordate sempre di portare una banana perché sono buone e a quanto pare svoltano la serata!
9) Portate con voi sempre il vostro cacciavite sonico, utile per qualsiasi cosa: aprire porte, rilevare campi magnetici, analizzare sostanze, fare il caffè, scaricare il bagno, insomma di tutto e di più purché non abbia a che fare col legno, in quel caso mi dispiace per voi ma siete fregati.
10) Avete bisogno di tenervi in forma! il Dottore passa gran parte delle sue giornate correndo, quindi nella vostra TARDIS trovate un angolino e piazzateci una palestra!
11) 900 anni e rotti e non sentirli! Nonostante il Dottore sia sempre la persona più intelligente nella stanza riesce sempre e facilmente a rendersi ridicolo agli occhi di chi ha vicino senza accorgersene. L'importante è essere giovani dentro e il Dottore è sicuramente un bambinone dentro.
12) Tutti si sentiranno attratti da voi: compagni, figlie dei compagni, regine, star del cinema, alieni, forse pure vostra figlia! Anche se non vi è ancora ben chiaro il perchè di tutto questo provarci continuamente, l'importante è tenere sempre a portata di mano delle mentine perchè, in quasi 1000 anni, di baci ce ne sono parecchi da dare e voi non dite mai di no!
13) In 904 anni e quasi 12 rigenerazioni, c'è sempre qualcosa di costante, un problema che non riuscite a superare in alcun modo, qualcosa che vi lascia con l'amaro in bocca… E' inutile, per quanto possiate provarci o impegnarvi non riuscirete ad essere ginger, fatevene una ragione.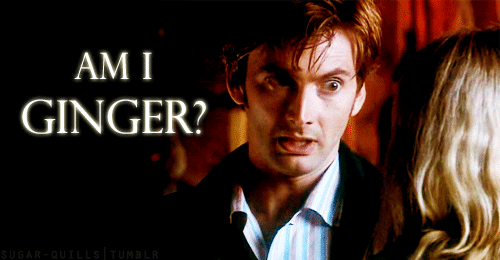 Su come aggirare la storia dell'età ci sto ancora ragionando, in alternativa bisognerebbe chiedere ai membri del cast di Beautiful se utilizzano particolari congelatori per mantenersi sempre uguali!
Ora siete pronti a diventare dei veri
mad men with a box
, be proud! E se avete bisogno di fare un breve ripasso di queste semplici regole, le trovate più o meno tutte nel video qui sotto. Spero vi sia piaciuto, alla prossima!
Enjoy!