Solitamente lasciamo questo spazio per parlare di serie meno conosciute, nelle quali vediamo, da telefilmaddicted quali siamo, del potenziale. Oggi la storia è un po' diversa perchè si parla di una serie sicuramente più nota di altre precedentemente descritte, considerata la settimana non possiamo anche in questa rubrica, non parlare di Doctor Who.
Questa serie fantascientifica britannica viene mandata in onda sulla BBC per la prima volta il 23 novembre del 1963, l'idea iniziale era quella di una serie per bambini, che potesse essere vista tranquillamente da tutta la famiglia al completo il sabato sera sul divano. Per un certo periodo di tempo (dal 1989 al 1995) la produzione della serie si ferma, nel 1996 una co-produzione tra BBC e FOX porta all'uscita di quello che doveva essere l'episodio pilota di una nuova serie con protagonista l'Ottavo Dottore ma che sarà solo un film per la tv. Nel 2003 la BBC afferma di aver ripreso le trattative per continuare la serie che nel 2005 riprenderà sotto la guida di Russel T Davies e Julie Gardner; i due lasciano il timone della serie a Steven Moffat nel 2010.

La serie parla di un Signore del Tempo, un alieno dalle sembianze umane, che vaga nel tempo e nello spazio con la sua "macchina", la TARDIS (Time And Relative Dimention In Space), una cabina telefonica blu della polizia, in uso appunto negli anni '60, che però è più grande al suo interno. La TARDIS non è solo una macchina è ben altro, è dotata di volontà propria e nell'episodio The Doctor's Wife scopriamo che ha un'anima senziente e che è stata lei a scegliere il Dottore come "mezzo" per esplorare l'Universo. In questi suoi meravigliosi e spaventosi viaggi non è mai da solo, ci sono sempre compagni a fargli compagnia, che siano nipoti, amici o scelti "casualmente" nella maggior parte dei casi questi sono umani, un popolo che affascina il Dottore in particolar modo. Altra peculiarità dello show è che il suo protagonista non muore ma si rigenera, fattore che ha sicuramente contribuito alla lunga vita della serie, all'alba dei suoi 50 anni, e a mantenerla sempre nuova ed originale. Ad oggi il Dottore ha cambiato "faccia" 11 volte e questo Natale vedremo per la prima volta la sua Dodicesima incarnazione. Questa caratteristica permette a chi scrive gli episodi e a chi li interpreta come Dottore, di arricchire sempre più il personaggio, di analizzarne sfaccettature diverse, di parlare dei suoi trascorsi e del lanciarlo in nuove avventure; in questo modo lo show si mantiene sempre fresco ed in evoluzione.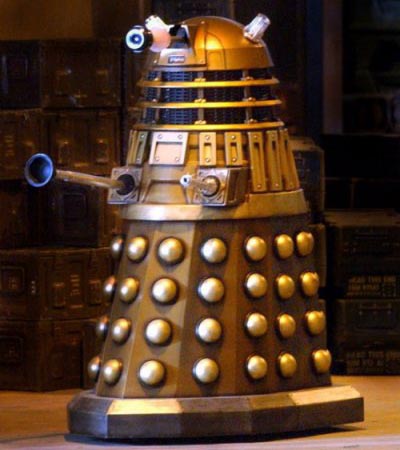 I viaggi del Dottore non sono privi di rischi nè per lui nè per i suoi compagni, infatti si troverà sempre a dover affrontare "cattivi" ovunque lui si trovi nel tempo o nello spazio, per salvare pianeti e popoli; i nemici più famosi e presenti del Dottore sono i Dalek, creati da Davros.  Questi ultimi hanno combattuto contro i Signori del Tempo la cosiddetta Guerra del Tempo che ha portato alla distruzione di entrambe le specie, lasciando il Dottore come unico superstite della sua razza o almeno così abbiamo creduto per un po', infatti i Dalek continuano ad essere presenti nelle nuove stagioni della serie ed anche il Dottore non è poi così solo come Time Lord.  Altri nemici che si vedranno nel corso degli anni sono i Cyberman, i Weeping Angels, i Sontaran, gli Ice Warriors, gli Zygons, gli Ood e tantissimi altri.
La serie è da sempre un MUST in UK e nel corso degli anni il Dottore ha conquistato sempre più nazioni, rendendola oggi una delle serie più amate dal pubblico.
Non è fantascienza classica, non si parla solo di mostri e battaglie: fa volare la nostra fantasia, parla d'amore, di amicizia, di quanto ognuno di noi a suo modo è unico e speciale e lo fa in modo strambo, con un personaggio singolare, quasi millenario ma che dentro, per certi aspetti è ancora un bambino, utilizzando buffi attrezzi come cacciaviti sonici per risolvere tutti (o quasi) i problemi e nemici dalle sembianze di patate giganti o che ricordano i cassonetti della differenziata. E' una serie che ha molto da insegnare ai bambini ma anche a noi adulti, ci fa riflettere come mai avremmo pensato di fare guardando uno show televisivo, ci commuove e ci diverte, ci intrattiene senza renderci schiavi di giochi mentali o di effetti speciali che offuscano quello che è il contenuto di questa splendida e longeva storia.
Vi ricordo che per domani è prevista l'uscita dell'articolo in cui abbiamo raccolto tutti i pensieri dei fan, inclusi quelli della sottoscritta e di alcuni membri del nostro staff, riguardanti questa meravigliosa serie, le sue storie ed i suoi personaggi, cosa significa per voi e cosa avete amato di più quindi se non l'avete ancora scritto v'invito a lasciarlo nei commenti qui sotto, o sotto questo post nel nostro gruppo Facebook, o su twitter @tfaddicted con l'hashtag #DWAddicted. Vi anticipo che molti dei vostri pensieri mi hanno già fatto venire i lucciconi agli occhi leggendoli di sfuggita, quindi per domani fate scorta di kleenex che non si sa mai!
Spero che con quest'articolo e quello di domani, chi di voi non ha ancora iniziato a vedere questa serie si lanci a capofitto nel suo recupero perchè ne vale assolutissimamente la pena!
Infine vi lascio con  un divertentissimo video che il cast e la crew di Doctor Who hanno girato prima di lasciare la serie nelle mani di Moffat, che sicuramente vi strapperà un sorriso e vi catapulterà nello spirito della serie.