Ladies and gentlemen, telefilm addicted cari, bentornati al nostro talk show! In realtà, avete già avuto un piccolo spoiler su chi sarà il nostro ospite oggi alla fine della scorsa puntata.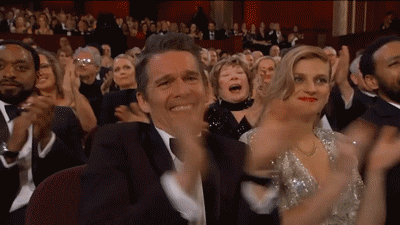 E quindi, diamo il benvenuto all'altra metà del duo di cacciatori più temuto sulla terra (e probabilmente anche in Inferno e Paradiso e Purgatorio and everything in between)… Dean Winchester!
Dean, è un onore averti qui. Spero che quel piccolo problema con Sammy alla fine dell'episodio dedicato a lui si sia risolto per il meglio.
Nah, sono cose che capitano, tra fratelli. Tutto normale.
Beh, io di solito non inseguo mio fratello minore con un'ascia, ma non importa. Siamo sollevati di sapere che tutto stia andando bene tra i Winchester boys. Come state, in questo periodo?
Non posso lamentarmi, in realtà. Il Marchio se n'è andato, ad ogni stagione che passa invecchio come un buon vino, ho ancora la mia Baby… certo, c'è quella piccola questione dell'Oscurità in giro per il mondo o qualcosa del genere, ma sono stato in situazioni peggiori.
Ma davvero?
Hai mai provato a farti trascinare nell'eterna dannazione da un segugio infernale? Non è una bella esperienza, posso garantirtelo, signorina.
In effetti, ammetto che manca nella mia lista di 'cose fatte'. Così come mi manca anche l'essere salvata da un angelo che mi abbia stretta forte e sollevata dalla perdizione, giusto per fare una citazione colta.
Ehm, già.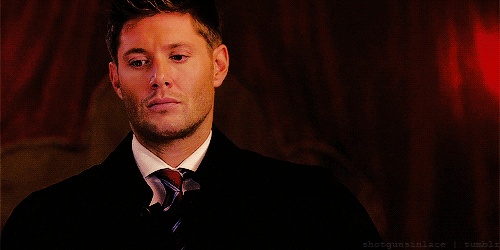 Dean, ti vedo imbarazzato. Abbiamo toccato un tasto delicato? Dicci, come sta Castiel?
Mah, sì, insomma, penso bene. Non che io sappia per filo e per segno degli spostamenti di Cas. Abbiamo avuto qualche piccolo problema con Rowena e gli incantesimi e Crowley e simili, ma direi che tutto sommato non ce la passiamo così male. Di nuovo, abbiamo vissuto momenti peggiori.
Intendi la vostra scampagnata in Purgatorio? O magari quando ti sei fatto un salto nel futuro per combattere l'Apocalisse?
Ma passiamo ad altro. Dean, ma è vero che sei stato contattato da Steve Rogers in persona per entrare a far parte di una segretissima società?
Non così tanto segreta, se siete venuti a saperlo.
Siamo molto informati.
L'ho notato. Comunque sì, ho avuto un paio di conversazioni con Steve, e non sul progetto Avengers. Ma non so se sono molto interessato.
E perché mai?
Forse non sono molto allineato con i loro ideali. Steve Rogers è un tipo okay, ma poi c'era anche quel ragazzino iperattivo con la jeep scassata – e un interesse preoccupante per i lupi mannari -, un vichingo che non faceva altro che parlare di preti e Paradiso – e no grazie, ho già dato -, una ragazza abbastanza carina ma forse un po' troppo presa ad ideare piani di sopravvivenza nella foresta in cui vive – sono sicuro stesse progettando una bomba o qualcosa del genere-, e soprattutto un tipo vestito di arancione con un accento ridicolo che diceva di venire da Westeros? Insomma, non so se il gruppo dei 'Bisexuals do exist' sia proprio il posto per me.
'Bisexuals do exist', eh? Proprio non so perché ti abbiano contattato…
Nemmeno io.
Cambiamo discorso. A Sammy abbiamo fatto un paio di domande sulle sue espressioni più note, quindi dicci, qual è il segreto della tua perfetta single man tear? Le hanno anche dedicato una canzone!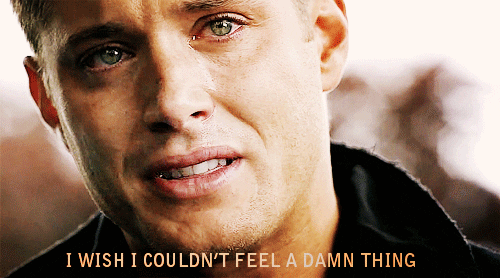 È un'arte. E per favore, non parliamo di quel musical. Semplicemente— no.
Oh, andiamo. Lo sappiamo tutti che sei un grande amante della musica! Rock classico…
… persino pop!
Sì, ecco… È un guilty pleasure.
Non ti preoccupare, ti capisco benissimo. La vita è troppo corta per far finta di non amare Taylor Swift. E adesso, qualche tweet!
Mia madre ha la stessa personalità di Dean Winchester e non me ne sono resa conto. Quindi mio padre é Castiel. LA DESTIEL È CANON.

— 海 (@mareainteriore) 11 Luglio 2015
VOGLIO UN DEAN WINCHESTER NELLA MIA VITA

— America//Winchester (@boovks) 5 Luglio 2015
one does not simply watch supernatural and doesn't go all crazy about Dean Winchester — Mariana (@siragluvare) 2 Luglio 2015
good night dean winchester and castiel are madly in love — sel (@JENMlSH) 2 Luglio 2015
Dovevano proprio inventare un personaggio perfetto come Dean Winchester, vero? E io dovevo proprio scoprire Supernatural, vERO?

— #SaveHannibal (@mishaisaunicorn) 2 Luglio 2015
se non seguite supernatural vi perdete dean che ha attacchi isterici perchè non trova la sua baby

— Stella (@mattxgirlahs) 4 Luglio 2015
Beh, sinceramente non so come sentirmi. Sono… okay, credo? Anche se quel commento su Cas proprio non so perché continui a rispuntare.
No, certo. Non ho idea da dove possano venire fuori.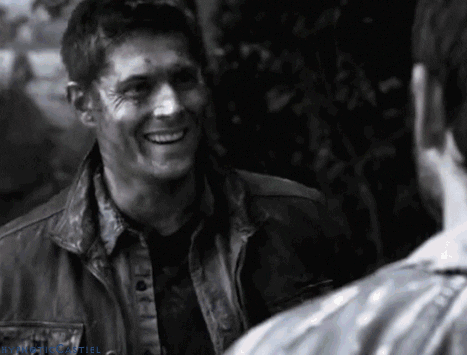 Sì, comunque…
Va bene, chiudiamo l'argomento. Dean, un'ultima cosa. Come ci si sente ad essere stato il righteous man? Ad aver salvato il genere umano così tante volte?
Vuoi la verità? A volte mi sembra sia stata un'altra persona a farlo. Mi sembra che non sia cambiato niente da quando seguivo papà tenendo in mano la pistola per la prima volta. Non penso che tutto quello che ho passato mi renda speciale. Sono sempre Dean. La parte migliore di me sono sempre gli altri.
No, Dean, io non credo. Tutto quello che hai passato ti rende un eroe. Per tanta gente. Me in primis.
Beh, grazie, dolcezza. Sei una abbastanza a posto. Almeno finché non parti a menzionare Castiel.
Oh, ma guarda chi si vede!
Cas! Che diavolo ci fai qui?
Bene, e con questo direi di concludere questo episodio. Restate con noi, stesso posto, stessa ora, un nuovo ospite. See ya, idjits!