Premettiamolo subito: no, non è il nuovo "Stranger Things", né può riempirne il vuoto nell'attesa. Non capisco perché, tutto a un tratto, ci sia questo bisogno generalizzato di spingerci a voler guardare qualcosa solo perché è simile a qualcosa d'altro. Né comprendo la smania di farci provare nostalgia per il passato (anno domini 1996, in questo caso), quando mai nella vita potrò mai rimpiangere un mondo che sopravviveva senza il servizio resi di Amazon, quando eri costretto a tenerti un libro/cd perché ti eri dimenticato di procedere con la complessissima burocrazia kafkiana di spedire indietro una cartolina per dire che non volevi ricevere un prodotto, che quindi fatalmente ti arrivava implacabile e tu zitto e impotente. No, grazie, sto bene nel futuro.
Bonus: la colonna sonora anni '90 però è fantasticamente bella! (Oasis e Tori Amos, per citarne solo due).
Vediamo nel dettaglio le caratteristiche rigorosamente spoiler free del nuovo teen drama gentilmente offerto da Netflix, dopo "Stranger Things" e "The End of the F*** World" (tutti religiosamente da me guardati, si vede che ho un debole per il genere):
1. È un telefilm che fa molta fatica a decollare, all'inizio. C'è una generale atmosfera decisamente awkward, fatta di silenzi imbarazzanti, tempi comici non pervenuti, lentezza, cliché a piovere e una goffaggine pervasiva che non definirei buffa, ma piuttosto sconcertante. Si torna effettivamente indietro ai tempi del liceo, ma è come se gli autori avessero messo insieme un'accozzaglia di piatti pronti perfettamente conservati, che però insieme non fanno un pranzo come si deve: il gruppo nerd ai margini, il gruppo al centro dell'attenzione, la ragazza popolare ma con zero empatia e anzi un po' persecutoria, cattiverie, crudeltà che generano complessi e sofferenze varie. Emarginazione, difficoltà di relazione, il senso di appartenenza a un gruppo, il contesto scolastico decisamente stereotipato. Le abbiamo tutte. Il ritmo però prende magicamente il volo dalla seconda metà della serie, in cui tutti gli elementi si compongono in qualcosa di originale, con una sua propria fisionomia, ben orchestrato, molto dolce e mai melenso. Diventa qualcosa che, se pure non necessariamente imperdibile, è in grado di comunicare molto bene il suo messaggio.

2. I due protagonisti principali sono quelli tratteggiati meglio. È notevole la cura con cui è stato creato e interpretato il personaggio di Kate, la ragazzina figlia del preside che si trova a fare i conti con la scioccante scoperta della propria sessualità, che deve ammettere faticosamente a se stessa, quando si rende conto di provare attrazione (nei primi minuti della puntata d'esordio) per qualcuno che non si aspettava. È un viaggio dentro di sé raccontato con grande delicatezza, come negli anni '90 non sarebbe mai stato possibile e l'attrice è meravigliosa nell'interpretarlo con grande naturalezza e senza nessuna retorica. Sono temi tosti, quelli che si ritrovano ad affrontare gli adolescenti di Everything sucks!: l'accettazione dell'altro per quello che è, il vero significato della parola "amicizia", imparare la flessibilità necessaria per accettare le cose per come sono e non per come vorremmo che fossero, i sogni a occhi aperti, il tema dell'abbandono, il rifiuto, l'avvicinarsi a un mondo diverso e riuscire a trovare un punto di incontro (quando i due gruppi, quello nerd e quello popolare, si incontrano per un progetto creativo). E ancora, montagne russe umorali, le prime volte, i primi insuccessi, imparare dai propri errori, voler bene, essere solidali sono tutte tematiche che trovano una loro naturale progressione e maturità nel corso del telefilm.
3. Gli adulti, come in ogni teen drama che si rispetti, sono tendenzialmente pochi, ma nondimento la storyline che li riguarda ci viene presentata in modo nuovo e "fresco": mentre i ragazzi sono impegnati fare i conti con la durezza che certe volte la vita impone, quando ti insegna lezioni fondamentali, i loro genitori (due di loro), parallelamente, possono togliersi dalle spalle qualche peso di troppo, concedendosi un tuffo nella spensieratezza e leggerezza tipicamente giovanili, che ai loro tempi, per svariati motivi, non si erano potuti permettere. Il padre di Kate e la madre di Luke sono assolutamente deliziosi e per nulla (sul serio!) stucchevoli!
4. Nel corso delle puntate sono arrivata ad amare il preside Ken, che sotto le vesti dell'uomo imbarazzante che qualsiasi figlio fingerebbe di non conoscere, nasconde un cuore affettuoso, buono, ferito dalla vita ma disposto ad aprirsi di nuovo per far entrare una improvvisa e inaspettata felicità. Il rapporto con la figlia, nonostante le premesse (cioè lui spesso sopra le righe e lei in fase di studio di se stessa) è pieno di candore, accettazione, comprensione. Tutti meriteremmo un preside Ken nelle nostre vite!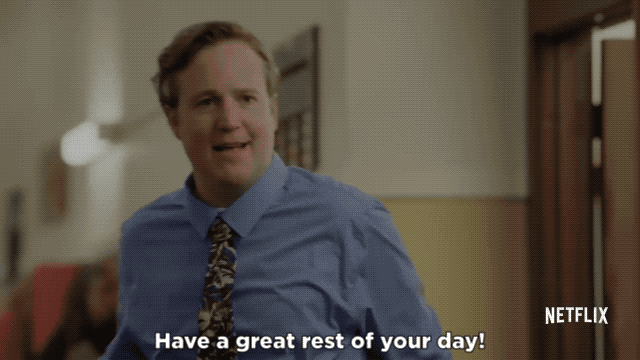 5. I personaggi adolescenti sono effettivamente interpretati da adolescenti, diversamente dai teen drama della mia infanzia, in cui erano giovani adulti che avevano già capito tutto della vita e dispensavano perle di saggezza (ma li ho amati tutti), il che garantisce credibilità e maggiore aderenza alle problematiche messe in scena.
6. La cittadina dal nome quantomai simbolico di "Boring", esiste davvero.
7. Eviterei, nel caso, di ingerire 37 cucchiai di noce moscata.
8. Quanto si fa effettivamente in fretta ad abituarsi alle novità tecnologiche che migliorano la nostra vita? Avevo quasi dimenticato il lunghissimo filo del telefono attorcigliabile con cui fare comodamente il giro dell'isolato, e il classico "prendo la telefonata in camera, abbassi tu il ricevitore?", da cui ascoltare l'intera conversazione. Vogliamo parlare poi della lentezza di connessione a Internet, che ora faremmo in tempo a guardare due serie televisive, nell'attesa?
9. Non è comunque, nonostante la dolcezza e la commozione finale, nonostante l'approfondirsi dell'analisi introspettiva nelle ultime puntate e un commiato che ti lascia con la sensazione di aver visto qualcosa che ha effettivamente migliorato le ore di vita spese a guardarlo, un telefilm che faccia gridare al miracolo. Ma è davvero necessario che lo siano tutti? Io l'ho trovato delizioso, pur con i suoi difetti, che nessuno nega.
Aspetto le vostre opinioni!
– Syl