Buon inizio settimana e ben ritrovati! Avete iniziato qualche nuova serie British? Siete in attesa di qualche succosa notizia? Vi avviso, questa settimana in Gran Bretagna qualcuno ha battuto la fiacca perchè le news scarseggiano!
In ogni caso procediamo e vediamo cosa c'è di nuovo.
Come vi avevo già anticipato, Ripper Street riprenderà con la seconda stagione a partire da stasera su BBCOne. Dopo avervi mostrato il promo la scorsa settimana è giunto il momento di un divertente video dal dietro le quinte che vede i tre protagnisti alle prese con degli scatti che proprio non riescono a farli stare seri.
Inoltre sulla nostra
pagina facebook
trovate il primo
album
con le stills e le immagini promozionali.
Vi ricordate l'episodio della prima stagione del 2005 di Doctor Who, dal titolo "The Doctor Dances"? Vi piacerebbe a questo punto vedere un episodio musicale in cui il Dottore ed i suoi compagni si esibiranno con balli e canti? C'è una possibilità che tutto ciò possa avverarsi. Murray Gold, il compositore delle colonne sonore della serie, ha rivelato in un'intervista esclusiva a Cultbox che sarebbe contento di seguire le orme di Buffy e lavorare su un episodio musical speciale. Ha commentato la cosa dicendo: "Cosa posso dire: sarebbe davvero divertentissimo!"
Nella mia breve scappatella in UK la scorsa settimana, ho approfittato per andare a rinchiudermi per un'oretta da Forbidden Planet e fare incetta di più gadget possibili… Ovviamente il bagaglio a mano non permetteva (ho lasciato parte del mio cuore al dalek con il tema dell'union jack disegnato su) quindi mi sono limitata al poster del cinquantesimo e alla copia di SFX. Le scan della rivista le trovate sulla nostra pagina facebook, mentre qui vicino potete vedere una foto della vetrina addobbata in attesa del cinquantesimo, dedicata interamente al decimo dottore.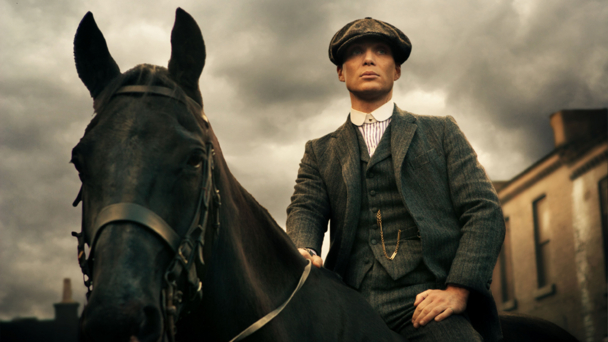 Parliamo di rinnovi! E' sempre un bell'argomento questo da trattare, infatti la BBC ha deciso di rinnovare per una seconda stagione due dei suoi show di successo di quest'autunno. Sto parlando dell'acclamato Peaky Blinders, con Cillian Murphy protagonista e di Atlantis, la serie che ha preso il posto di Merlin il sabato sera. Siete contenti di questa notizia? Ve l'aspettavate?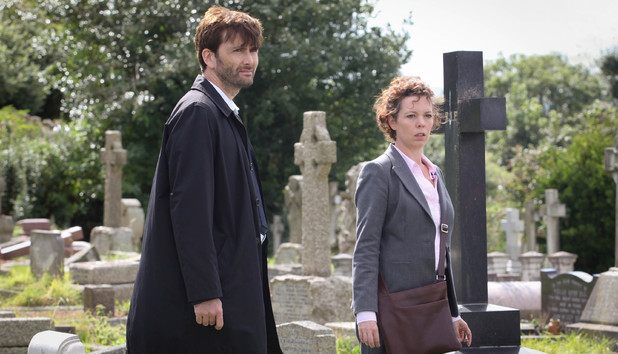 Rimanendo sempre in tema di notizie piacevoli, Broadchurch si è portato a casa un bel po' di premi questa settimana ai Crime Thriller Awards. Infatti David Tennant ed Olivia Colman si sono aggiudicati rispettivamente il premio come Best Actor e Best Actress, mentre Andrew Buchard ha vinto il premio per la categoria Best Supporting Actor. Qui sotto potete vedere il video di Tennant che accetta il premio in quel di Stratford Upon Avon, dove è impegnato onstage con Richard II (Avete già letto il mio articolo?). Inoltre dalla clip capiamo bene che nemmeno Tennant sa se il suo personaggio farà ritorno in quel di Broadchurch il prossimo anno o meno.
Altra bella notizia: per la serie è previsto uno spinoff cartaceo! Il libro, che verrà pubblicato in Agosto 2014, vedrà lo scrittore di thriller Erin Kelly collaborare con Chris Chibnall, ideatore e regista della serie.
By Any Means è andato in onda ieri sera con l'ultimo episodio di questa prima serie, nell'attesa di sapere se ci sarà o meno un proseguimento, sulla nostra pagina facebook trovate tutte le immagini promozionali e le stills dei vari episodi.
Vi ricordo inoltre che domani sera inizierà su BBC One The Escape Artist. La miniserie di tre episodi ha già riscosso ampio successo tra la critica che ha definito lo show accattivante, coinvolgente e intrigante, uno dei must di questo autunno-inverno in UK (e non solo, si spera). Per rinfrescarvi la memoria a seguire trovate il trailer della serie, mentre le immagini promozionali finora uscite le potete vedere qui.
La BBC ci fa dono di un altro trailer generico sui suoi show, sottolineando (come se non lo sapessimo) che sono girati in Galles. Tranquilli di nuove immagini rispetto ai vecchi trailer non ce ne sono, è spoiler free.
As usual vi propongo un po' di trailer per questa settimana appena iniziata, partiamo con quello dell'ultimo episodio della prima serie di
The Wrong Mans
, che andrà in onda domani sera, mi raccomando vi aspettiamo poi mercoledì in sito per scaricare i sottotitoli di
>NoWaySubs<.

http://www.youtube.com/watch?v=80wogDHigrQ
http://www.youtube.com/watch?v=qOc5FLiN-A8
Non può mancare, ovviamente il promo del prossimo episodio, il settimo, di Atlantis, subbato dall'efficientissimo e rapido team di >NoWaySubs<.

http://www.youtube.com/watch?v=9PQgf5uS5no
Downton Abbey
domenica prossima ci farà compagnia col settimo episodio di questa quarta stagione. In pagina trovate
un album
con le immagini in HQ della 4×07 e di seguito potete vedere il trailer.

http://www.youtube.com/watch?v=4kjDfCpfwPo

Vi lascio, come ormai d'abitudine, un piccolo specchietto per ricordarvi degli appuntamenti seriali di questa settimana:
LUNEDI': Ripper Street 2×01,
MARTEDI': The Wrong Mans 1×05, The Escape Artist 1×01
MERCOLEDI': The Tunnel 1×02, You, Me, Them 1×02, Misfits 5×02, Ambassadors 1×02
GIOVEDI': Truckers 1×04, Breathless 1×04
SABATO: Atlantis 1×06
DOMENICA: Downton Abbey 4×06, The Paradise 2×02
Anche per oggi la rubrica si conclude qui. Per news, foto, curiosità e quant'altro, se non l'avete ancora fatto, vi consiglio di andare a mettere un bel mi piace alle pagine affiliate con la rubrica: Atlantis Italia, British Artists Addicted, Broadchurch Italia, David Tennant Italian Page, Doctor Who Italy, Dottò CHI?, Downton Abbey Italia, Sherlock (BBC) Italia, The Paradise Italian FanPage, The White Queen Italia.
Rinnovo come sempre l'invito ad iscrivervi al nostro gruppo facebook Noi…Telefilm Addicted. Vi aspetto numerosi nei commenti!